Evolutionary and Functional Diversity of the 5′ Untranslated Region of Enterovirus D68: Increased Activity of the Internal Ribosome Entry Site of Viral Strains during the 2010s
1
Institute for Frontier Life and Medical Sciences, Kyoto University, 53 Shogoin Kawaracho, Sakyo-ku, Kyoto 606-8507, Japan
2
Hakubi Center for Advanced Research, Kyoto University, Yoshidahonmachi, Sakyo-ku, Kyoto 606-8501, Japan
3
Department of Virology, Tohoku University Graduate School of Medicine, 2-1 Seiryomachi, Aoba-ku, Sendai 980-8575, Japan
4
Frontier Research Institute for Interdisciplinary Sciences, Tohoku University, 6-3 Aramaki aza Aoba, Aoba-ku, Sendai 980-8578, Japan
*
Author to whom correspondence should be addressed.
Received: 24 June 2019 / Revised: 4 July 2019 / Accepted: 5 July 2019 / Published: 8 July 2019
Abstract
The 5′ untranslated region (UTR) of the RNA genomes of enteroviruses possesses an internal ribosome entry site (IRES) that directs translation of the mRNA by binding to ribosomes. Infection with enterovirus D68 causes respiratory symptoms and is sometimes associated with neurological disorders. The number of reports of the viral infection and neurological disorders has increased in 2010s, although the reason behind this phenomenon remains unelucidated. In this study, we investigated the evolutionary and functional diversity of the 5′ UTR of recently circulating strains of the virus. Genomic sequences of 374 viral strains were acquired and subjected to phylogenetic analysis. The IRES activity of the viruses was measured using a luciferase reporter assay. We found a highly conserved sequence in the 5′ UTR and also identified the location of variable sites in the predicted RNA secondary structure. IRES activities differed among the strains in some cell lines, including neuronal and respiratory cells, and were especially high in strains of a major lineage from the recent surge. The effect of mutations in the 5′ UTR should be studied further in the future for better understanding of viral pathogenesis.
View Full-Text
►

▼

Figures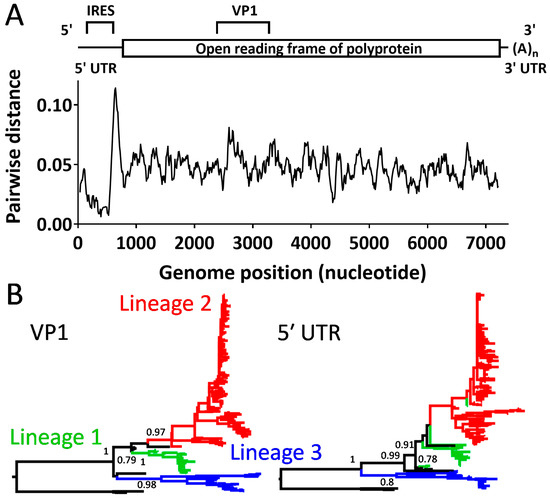 Figure 1
This is an open access article distributed under the
Creative Commons Attribution License
which permits unrestricted use, distribution, and reproduction in any medium, provided the original work is properly cited (CC BY 4.0).

Share & Cite This Article
MDPI and ACS Style
Furuse, Y.; Chaimongkol, N.; Okamoto, M.; Oshitani, H. Evolutionary and Functional Diversity of the 5′ Untranslated Region of Enterovirus D68: Increased Activity of the Internal Ribosome Entry Site of Viral Strains during the 2010s. Viruses 2019, 11, 626.
Note that from the first issue of 2016, MDPI journals use article numbers instead of page numbers. See further details here.
Related Articles
Comments
[Return to top]