The Optimal Concentration of Formaldehyde is Key to Stabilizing the Pre-Fusion Conformation of Respiratory Syncytial Virus Fusion Protein
1
National Institute of Diagnostics and Vaccine Development in Infectious Diseases, School of Life Sciences, Xiamen University, Xiamen, Fujian 361005, China
2
State Key Laboratory of Molecular Vaccinology and Molecular Diagnostics, School of Public Health, Xiamen University, Xiamen, Fujian 361005, China
*
Authors to whom correspondence should be addressed.
†
These authors contributed equally to this article.
Received: 12 April 2019 / Revised: 1 July 2019 / Accepted: 6 July 2019 / Published: 8 July 2019
Abstract
Background: To date, there is no licensed vaccine available to prevent respiratory syncytial virus (RSV) infection. The valuable pre-fusion conformation of the fusion protein (pre-F) is prone to lose high neutralizing antigenic sites. The goals of this study were to stabilize pre-F protein by fixatives and try to find the possibility of developing an inactivated RSV vaccine. Methods: The screen of the optimal fixative condition was performed with flow cytometry. BALB/c mice were immunized intramuscularly with different immunogens. The serum neutralizing antibody titers of immunized mice were determined by neutralization assay. The protection and safety of these immunogens were assessed. Results: Fixation in an optimal concentration of formaldehyde (0.0244%–0.0977%) or paraformaldehyde (0.0625%–1%) was able to stabilize pre-F. Additionally, BALB/c mice inoculated with optimally stabilized pre-F protein (opti-fixed) induced a higher anti-RSV neutralization (9.7 log
2
, mean value of dilution rate) than those inoculated with unstable (unfixed, 8.91 log
2
,
p
< 0.01) or excessively fixed (exce-fixed, 7.28 log
2
,
p
< 0.01) pre-F protein. Furthermore, the opti-fixed immunogen did not induce enhanced RSV disease. Conclusions: Only the proper concentration of fixatives could stabilize pre-F and the optimal formaldehyde condition provides a potential reference for development of an inactivated RSV vaccine.
View Full-Text
►

▼

Figures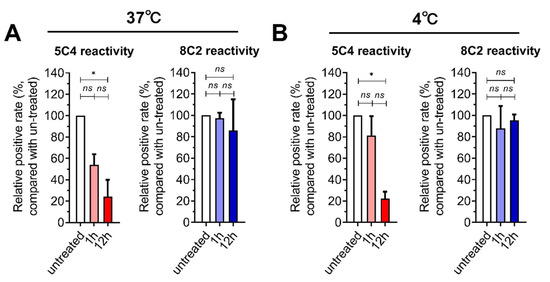 Figure 1
This is an open access article distributed under the
Creative Commons Attribution License
which permits unrestricted use, distribution, and reproduction in any medium, provided the original work is properly cited (CC BY 4.0).

Share & Cite This Article
MDPI and ACS Style
Zhang, W.; Zhang, L.-J.; Zhan, L.-T.; Zhao, M.; Wu, G.-H.; Si, J.-Y.; Chen, L.; Lin, X.; Sun, Y.-P.; Lin, M.; Yu, C.; Fang, M.-J.; Wang, Y.-B.; Zheng, Z.-Z.; Xia, N.-S. The Optimal Concentration of Formaldehyde is Key to Stabilizing the Pre-Fusion Conformation of Respiratory Syncytial Virus Fusion Protein. Viruses 2019, 11, 628.
Note that from the first issue of 2016, MDPI journals use article numbers instead of page numbers. See further details here.
Related Articles
Comments
[Return to top]