Establishment of a Cell Culture Model of Persistent Flaviviral Infection: Usutu Virus Shows Sustained Replication during Passages and Resistance to Extinction by Antiviral Nucleosides
1
Life Science & Bioengineering Building, Technical University of Denmark, 2800 Kongens Lyngby, Denmark
2
Abiopep Sociedad Limitada, Parque Científico de Murcia, 30100 Murcia, Spain
*
Author to whom correspondence should be addressed.
Received: 22 March 2019 / Revised: 2 June 2019 / Accepted: 15 June 2019 / Published: 17 June 2019
Abstract
Chronic viral disease constitutes a major global health problem, with several hundred million people affected and an associated elevated number of deaths. An increasing number of disorders caused by human flaviviruses are related to their capacity to establish a persistent infection. Here we show that Usutu virus (USUV), an emerging zoonotic flavivirus linked to sporadic neurologic disease in humans, can establish a persistent infection in cell culture. Two independent lineages of Vero cells surviving USUV lytic infection were cultured over 82 days (41 cell transfers) without any apparent cytopathology crisis associated. We found elevated titers in the supernatant of these cells, with modest fluctuations during passages but no overall tendency towards increased or decreased infectivity. In addition to full-length genomes, viral RNA isolated from these cells at passage 40 revealed the presence of defective genomes, containing different deletions at the 5' end. These truncated transcripts were all predicted to encode shorter polyprotein products lacking membrane and envelope structural proteins, and most of non-structural protein 1. Treatment with different broad-range antiviral nucleosides revealed that USUV is sensitive to these compounds in the context of a persistent infection, in agreement with previous observations during lytic infections. The exposure of infected cells to prolonged treatment (10 days) with favipiravir and/or ribavirin resulted in the complete clearance of infectivity in the cellular supernatants (decrease of ~5 log
10
in virus titers and RNA levels), although modest changes in intracellular viral RNA levels were recorded (<2 log
10
decrease). Drug withdrawal after treatment day 10 resulted in a relapse in virus titers. These results encourage the use of persistently-infected cultures as a surrogate system in the identification of improved antivirals against flaviviral chronic disease.
View Full-Text
►

▼

Figures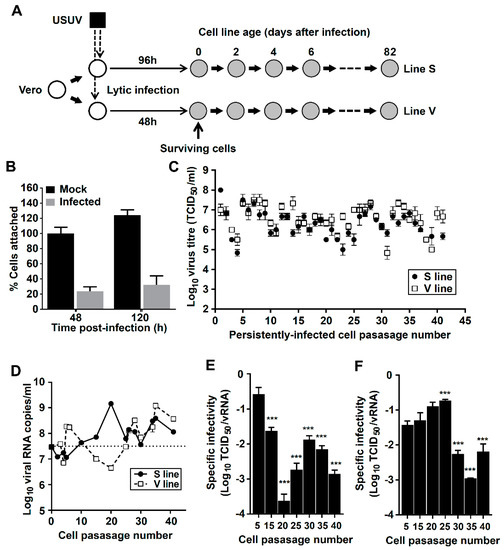 Figure 1
This is an open access article distributed under the
Creative Commons Attribution License
which permits unrestricted use, distribution, and reproduction in any medium, provided the original work is properly cited (CC BY 4.0).

Share & Cite This Article
MDPI and ACS Style
Sempere, R.N.; Arias, A. Establishment of a Cell Culture Model of Persistent Flaviviral Infection: Usutu Virus Shows Sustained Replication during Passages and Resistance to Extinction by Antiviral Nucleosides. Viruses 2019, 11, 560.
Note that from the first issue of 2016, MDPI journals use article numbers instead of page numbers. See further details here.
Related Articles
Comments
[Return to top]