Half a Century of Research on Membrane-Containing Bacteriophages: Bringing New Concepts to Modern Virology
1
Center of Excellence in Biological Interactions, Department of Biological and Environmental Science and Nanoscience Center, University of Jyväskylä, FI-40014 Jyväskylä, Finland
2
Department of Microbiology and Molecular Genetics, University of California, Davis, CA 95616, USA
3
Molecular and Integrative Biosciences Research Programme, Faculty of Biological and Environmental Sciences, University of Helsinki, FI-00014 Helsinki, Finland
*
Authors to whom correspondence should be addressed.
Received: 20 December 2018 / Revised: 15 January 2019 / Accepted: 16 January 2019 / Published: 18 January 2019
Abstract
Half a century of research on membrane-containing phages has had a major impact on virology, providing new insights into virus diversity, evolution and ecological importance. The recent revolutionary technical advances in imaging, sequencing and lipid analysis have significantly boosted the depth and volume of knowledge on these viruses. This has resulted in new concepts of virus assembly, understanding of virion stability and dynamics, and the description of novel processes for viral genome packaging and membrane-driven genome delivery to the host. The detailed analyses of such processes have given novel insights into DNA transport across the protein-rich lipid bilayer and the transformation of spherical membrane structures into tubular nanotubes, resulting in the description of unexpectedly dynamic functions of the membrane structures. Membrane-containing phages have provided a framework for understanding virus evolution. The original observation on membrane-containing bacteriophage PRD1 and human pathogenic adenovirus has been fundamental in delineating the concept of "viral lineages", postulating that the fold of the major capsid protein can be used as an evolutionary fingerprint to trace long-distance evolutionary relationships that are unrecognizable from the primary sequences. This has brought the early evolutionary paths of certain eukaryotic, bacterial, and archaeal viruses together, and potentially enables the reorganization of the nearly immeasurable virus population (~1 × 10
31
) on Earth into a reasonably low number of groups representing different architectural principles. In addition, the research on membrane-containing phages can support the development of novel tools and strategies for human therapy and crop protection.
View Full-Text
►

▼

Figures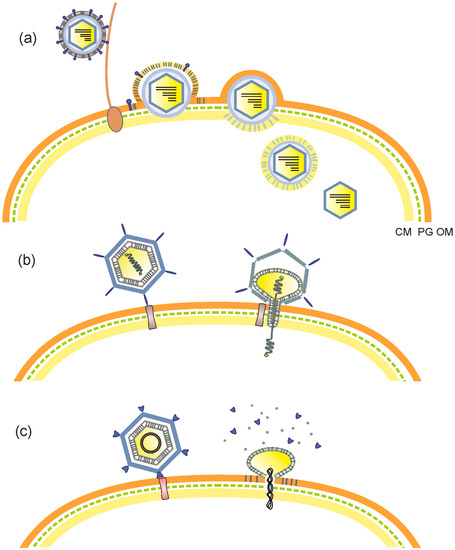 Figure 1
This is an open access article distributed under the
Creative Commons Attribution License
which permits unrestricted use, distribution, and reproduction in any medium, provided the original work is properly cited (CC BY 4.0).

Share & Cite This Article
MDPI and ACS Style
Mäntynen, S.; Sundberg, L.-R.; Oksanen, H.M.; Poranen, M.M. Half a Century of Research on Membrane-Containing Bacteriophages: Bringing New Concepts to Modern Virology. Viruses 2019, 11, 76.
Note that from the first issue of 2016, MDPI journals use article numbers instead of page numbers. See further details here.
Related Articles
Comments
[Return to top]