Comparison of Anti-Viral Activity of Frog Skin Anti-Microbial Peptides Temporin-Sha and [K3]SHa to LL-37 and Temporin-Tb against Herpes Simplex Virus Type 1
1
Laboratoire Inflammation, Tissus Epithéliaux et Cytokines, LITEC EA 4331, Université de Poitiers, 86000 Poitiers, France
2
Laboratoire de Virologie et Mycobactériologie, CHU de Poitiers, 86000 Poitiers, France
3
Sorbonne Université, CNRS, Institut de Biologie Paris-Seine, IBPS, BIOSIPE, 75252 Paris, France
4
Institut de Recherche pour le Développement (IRD), UMR 224 IRD-CNRS-Univ Montpellier 1 et 2 Maladies infectieuses et Vecteurs: écologie, génétique, évolution et contrôle (MiVegec), 34394 Montpellier, France
5
IRD, UMR 177 IRD-CIRAD, Interactions Hôtes-Vecteurs-Parasites-Environnement dans les maladies tropicales négligées dues aux Trypanosomatidae (InterTryp), 34394 Montpellier, France
6
Sorbonne Universités, Centre d'Immunologie et des Maladies Infectieuses (CIMI-Paris), INSERM U1135, Eq1, 75013 Paris, France
7
AP-HP, Hôpitaux Universitaires La Pitié Salpêtrière-Charles Foix, Service de Virologie, Centre National de Référence Herpèsvirus, 75652 Paris, France
*
Author to whom correspondence should be addressed.
Received: 24 November 2018 / Revised: 15 January 2019 / Accepted: 16 January 2019 / Published: 18 January 2019
Abstract
Temporins are anti-microbial peptides synthesized in the skin of frogs of the
Ranidae
family. The few studies to date that have examined their anti-viral properties have shown that they have potential as anti-viral therapies. In this work, we evaluated the anti-herpes simplex virus type 1 (HSV-1) activity of the temporin-SHa (SHa) and its synthetic analog [K
3
]SHa. Human cathelicidin LL-37 and temporin-Tb (Tb), previously demonstrated to have anti-HSV-1 properties, were used as positive controls. We observed that SHa and [K
3
]SHa significantly inhibit HSV-1 replication in human primary keratinocytes when used at micromolar concentrations. This anti-viral activity was equivalent to that of Tb, but lower than that of LL-37. Transcriptomic analyses revealed that SHa did not act through the modulation of the cell innate immune response, but rather, displayed virucidal properties by reducing infectious titer of HSV-1 in suspension. In contrast, pre-incubation of the virus with LL-37 suggests that this peptide does not act directly on the viral particle at non-cytotoxic concentrations tested. The anti-HSV-1 activity of LL-37 appears to be due to the potentiation of cellular anti-viral defenses through the induction of interferon stimulated gene expression in infected primary keratinocytes. This study demonstrated that SHa and [K
3
]SHa, in addition to their previously reported antibacterial and antiparasitic activities, are direct-acting anti-HSV-1 peptides. Importantly, this study extends the little studied anti-viral attributes of frog temporins and offers perspectives for the development of new anti-HSV-1 therapies.
View Full-Text
►

▼

Figures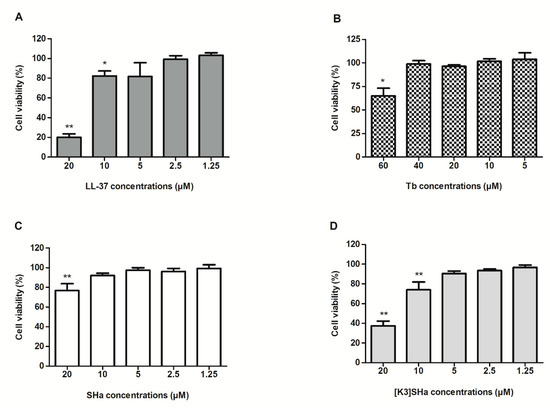 Figure 1
This is an open access article distributed under the
Creative Commons Attribution License
which permits unrestricted use, distribution, and reproduction in any medium, provided the original work is properly cited (CC BY 4.0).

Share & Cite This Article
MDPI and ACS Style
Roy, M.; Lebeau, L.; Chessa, C.; Damour, A.; Ladram, A.; Oury, B.; Boutolleau, D.; Bodet, C.; Lévêque, N. Comparison of Anti-Viral Activity of Frog Skin Anti-Microbial Peptides Temporin-Sha and [K3]SHa to LL-37 and Temporin-Tb against Herpes Simplex Virus Type 1. Viruses 2019, 11, 77.
Note that from the first issue of 2016, MDPI journals use article numbers instead of page numbers. See further details here.
Related Articles
Comments
[Return to top]