An Unprecedented Medium-Chain Diunsaturated
N

-acylhomoserine Lactone from Marine

Roseobacter

Group Bacteria

1

Institute of Organic Chemistry, Technische Universität Braunschweig, Hagenring 30, 38106 Braunschweig, Germany

2

Institute for Chemistry and Biology of the Marine Environment, University of Oldenburg, Carl-von-Ossietzky-Straße 9-11, 26111 Oldenburg, Germany

3

Helmholtz Centre for Infection Research, Department of Medical Microbiology, Group Microbial Communication, Inhoffenstr. 7, 38124 Braunschweig, Germany

*

Author to whom correspondence should be addressed.

Received: 7 December 2018 / Revised: 20 December 2018 / Accepted: 21 December 2018 / Published: 31 December 2018
Abstract
N
-acylhomoserine lactones (AHLs), bacterial signaling compounds involved in quorum-sensing, are a structurally diverse group of compounds. We describe here the identification, synthesis, occurrence and biological activity of a new AHL,
N
-((2
E
,5
Z
)-2,5-dodecadienoyl)homoserine lactone (
11
) and its isomer
N
-((3
E
,5
Z
)-3,5-dodecadienoyl)homoserine lactone (
13
), occurring in several
Roseobacter
group bacteria (Rhodobacteraceae). The analysis of 26 strains revealed the presence of
11
and
13
in six of them originating from the surface of the macroalgae
Fucus spiralis
or sediments from the North Sea. In addition, 18 other AHLs were detected in 12 strains. Compound identification was performed by GC/MS. Mass spectral analysis revealed a diunsaturated C
12
homoserine lactone as structural element of the new AHL. Synthesis of three likely candidate compounds,
11
,
13
and
N
-((2
E
,4
E
)-2,4-dodecadienoyl)homoserine lactone (
5
), revealed the former to be the natural AHLs. Bioactivity test with quorum-sensing reporter strains showed high activity of all three compounds. Therefore, the configuration and stereochemistry of the double bonds in the acyl chain seemed to be unimportant for the activity, although the chains have largely different shapes, solely the chain length determining activity. In combination with previous results with other
Roseobacter
group bacteria, we could show that there is wide variance between AHL composition within the strains. Furthermore, no association of certain AHLs with different habitats like macroalgal surfaces or sediment could be detected.
View Full-Text
►

▼

Figures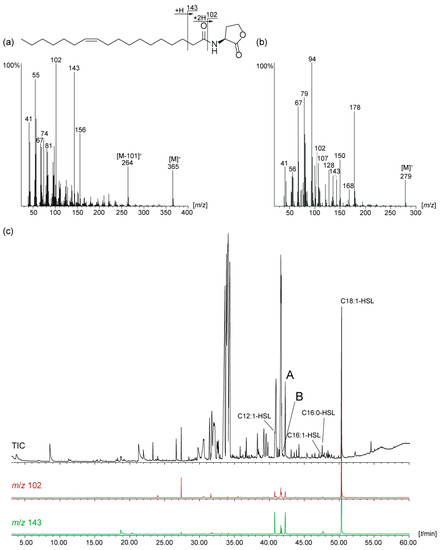 Figure 1
This is an open access article distributed under the
Creative Commons Attribution License
which permits unrestricted use, distribution, and reproduction in any medium, provided the original work is properly cited (CC BY 4.0).

Share & Cite This Article
MDPI and ACS Style
Ziesche, L.; Wolter, L.; Wang, H.; Brinkhoff, T.; Pohlner, M.; Engelen, B.; Wagner-Döbler, I.; Schulz, S. An Unprecedented Medium-Chain Diunsaturated N-acylhomoserine Lactone from Marine Roseobacter Group Bacteria. Mar. Drugs 2019, 17, 20.
Note that from the first issue of 2016, MDPI journals use article numbers instead of page numbers. See further details here.
Related Articles
Comments
[Return to top]