Chemistry and Biological Activities of the Marine Sponges of the Genera
Mycale

(

Arenochalina

),

Biemna

and

Clathria

1

Muséum National d'Histoire Naturelle, Molécules de Communication et Adaptation des Micro-organismes, Sorbonne Universités, UMR 7245 CNRS/MNHN, CP 54, 57 Rue Cuvier, 75005 Paris, France

2

Organic Chemistry Division, Chemistry Department, Faculty of Science, Mansoura University, Mansoura 35516, Egypt

3

Department of Pharmacognosy and Chemistry of Natural products, Faculty of Pharmacy, National and Kapodistrian University of Athens, Panepistimiopolis Zografou, Athens 15771, Greece

4

Department of Biochemistry, Faculty of Agriculture, Fayoum University, 63514 Fayoum, Egypt

5

Department of Pharmacognosy, University of Vienna, 1090 Vienna, Austria

6

Institute of Genetics and Animal Breeding of the Polish Academy of Sciences, 05-552 Jastrzebiec, Poland

7

Queensland Museum, Biodiversity & Geosciences Program, P.O. Box 3300, South Brisbane BC, Queensland 4101, Australia

8

ICSN—Institut de Chimie des Substances Naturelles, CNRS UPR 2301, University of Paris-Saclay, 1, Avenue de la Terrasse, 91198 Gif-Sur-Yvette, France

9

ICBAS—Instituto de Ciências Biomédicas Abel Salazar & CIIMAR, Universidade do Porto, Rua de Jorge Viterbo Ferreira, 228, 4050-313 Porto, Portugal

*

Authors to whom correspondence should be addressed.

Received: 28 April 2018 / Revised: 7 June 2018 / Accepted: 13 June 2018 / Published: 18 June 2018
Abstract
Over the past seven decades, particularly since the discovery of the first marine-derived nucleosides, spongothymidine and spongouridine, from the Caribbean sponge
Cryptotethya crypta
in the early 1950s, marine natural products have emerged as unique, renewable and yet under-investigated pools for discovery of new drug leads with distinct structural features, and myriad interesting biological activities. Marine sponges are the most primitive and simplest multicellular animals, with approximately 8900 known described species, although more than 15,000 species are thought to exist worldwide today. These marine organisms potentially represent the richest pipeline for novel drug leads.
Mycale
(
Arenochalina
) and
Clathria
are recognized marine sponge genera belonging to the order Poecilosclerida, whereas
Biemna
was more recently reclassified, based on molecular genetics, as a new order Biemnida. Together, these sponge genera contribute to the production of physiologically active molecular entities with diverse structural features and a wide range of medicinal and therapeutic potentialities. In this review, we provide a comprehensive insight and up-to-date literature survey over the period of 1976–2018, focusing on the chemistry of the isolated compounds from members of these three genera, as well as their biological and pharmacological activities, whenever available.
View Full-Text
►

▼

Figures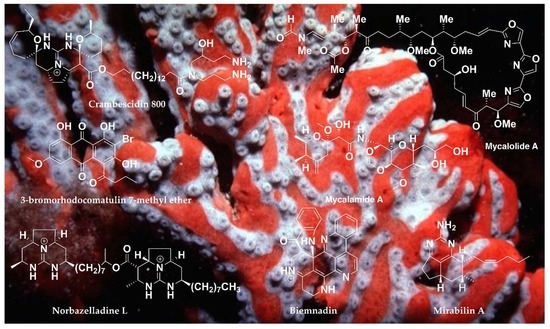 Graphical abstract
This is an open access article distributed under the
Creative Commons Attribution License
which permits unrestricted use, distribution, and reproduction in any medium, provided the original work is properly cited (CC BY 4.0).

Share & Cite This Article
MDPI and ACS Style
El-Demerdash, A.; Tammam, M.A.; Atanasov, A.G.; Hooper, J.N.A.; Al-Mourabit, A.; Kijjoa, A. Chemistry and Biological Activities of the Marine Sponges of the Genera Mycale (Arenochalina), Biemna and Clathria. Mar. Drugs 2018, 16, 214.
Note that from the first issue of 2016, MDPI journals use article numbers instead of page numbers. See further details here.
Related Articles
Comments
[Return to top]