The Roles of Spinochromes in Four Shallow Water Tropical Sea Urchins and Their Potential as Bioactive Pharmacological Agents
1
Biology of Marine Organisms and Biomimetics Unit, Research Institute for Biosciences, University of Mons (UMONS), 23 Place du Parc, B-7000 Mons, Belgium
2
Cell Biology Unit, Research Institute for Biosciences, University of Mons (UMONS), 23 Place du Parc, B-7000 Mons, Belgium
3
Cellular and Molecular Immunology Service, Giga Research, University of Liège (ULG), 1 Quartier HOPITAL, 11 Avenue de l'hôpital, B-4000 Liège, Belgium
4
Organic Synthesis and Mass Spectrometry Laboratory, Research Institute for Biosciences, University of Mons (UMONS), 23 Place du Parc, B-7000 Mons, Belgium
*
Authors to whom correspondence should be addressed.
Received: 10 May 2017 / Revised: 6 June 2017 / Accepted: 12 June 2017 / Published: 16 June 2017
Abstract
Spinochromes are principally known to be involved in sea urchin pigmentation as well as for their potentially interesting pharmacological properties. To assess their biological role in sea urchin physiology, experiments are undertaken on crude extracts from four species and on four isolated spinochromes in order to test their antibacterial, antioxidant, inflammatory and cytotoxic activities. First, the antibacterial assays show that the use of crude extracts as representatives of antibacterial effects of spinochromes are inaccurate. The assays on purified spinochromes showed a decrease in the growth of four strains with an intensity depending on the spinochromes/bacteria system, revealing the participation of spinochromes in the defense system against microorganisms. Secondly, in the 2,2-diphenyl-1-picrylhydrazyl antioxidant assays, spinochromes show an enhanced activity compared to the positive control. This latter observation suggests their involvement in ultraviolet radiation protection. Third, spinochromes present a pro-inflammatory effect on lipopolysaccharide-stimulated macrophages, highlighting their possible implication in the sea urchin immune system. Finally, cytotoxicity assays based on Trypan blue exclusion, performed in view of their possible future applications as drugs, show a weak cytotoxicity of these compounds against human cells. In conclusion, all results confirm the implication of spinochromes in sea urchin defense mechanisms against their external environment and reveal their potential for pharmacological and agronomical industries.
View Full-Text
►

▼

Figures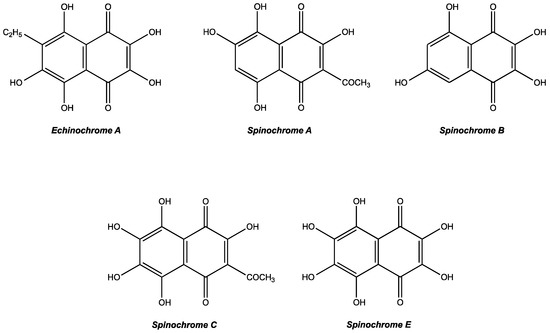 Figure 1
This is an open access article distributed under the
Creative Commons Attribution License
which permits unrestricted use, distribution, and reproduction in any medium, provided the original work is properly cited (CC BY 4.0).

Share & Cite This Article
MDPI and ACS Style
Brasseur, L.; Hennebert, E.; Fievez, L.; Caulier, G.; Bureau, F.; Tafforeau, L.; Flammang, P.; Gerbaux, P.; Eeckhaut, I. The Roles of Spinochromes in Four Shallow Water Tropical Sea Urchins and Their Potential as Bioactive Pharmacological Agents. Mar. Drugs 2017, 15, 179.
Note that from the first issue of 2016, MDPI journals use article numbers instead of page numbers. See further details here.
Related Articles
Comments
[Return to top]