Bacterial Long-Chain Polyunsaturated Fatty Acids: Their Biosynthetic Genes, Functions, and Practical Use
1
Laboratory of Ecological Genetics, Section of Environmental Biology, Faculty of Environmental Earth Science, Hokkaido University, Kita-ku, Sapporo, Hokkaido 060-0810, Japan
2
Course in Ecological Genetics, Division of Biosphere Science, Graduate School of Environmental Science, Hokkaido University, Kita-ku, Sapporo, Hokkaido 060-0810, Japan
3
Technical Solution Center First Group, J-OIL MILLS, Inc., Chuo-ku, Tokyo 104-0044, Japan
4
Laboratory of Environmental Microbiology, Division of Applied Bioscience, Graduate School of Agriculture, Hokkaido University, Kita-ku, Sapporo, Hokkaido 060-8589, Japan
5
Bioproduction Research Institute, Department of Life Science and Biotechnology, National Institute of Advanced Industrial Science and Technology (AIST), Toyohira-ku, Sapporo, Hokkaido 062-8517, Japan
6
Laboratory of Environmental Molecular Biology, Section of Environmental Biology, Faculty of Environmental Earth Science, Hokkaido University, Kita-ku, Sapporo, Hokkaido 060-0810, Japan
7
Department Food Science, Obihiro University Agriculture Veterinary Medicine, Inada-cho, Obihiro, Hokkaido 080-8555, Japan
8
ROM Co. Ltd., Togashi Bld., Chuo-ku, Sapporo, Hokkaido 060-0062, Japan
9
Horonobe Research Institute for the Subsurface Environment, Northern Advancement Centre for Science and Technology, 5-3, Sakae-machi, Horonobe, Teshio-gun, Hokkaido 098-3221, Japan
*
Author to whom correspondence should be addressed.
Academic Editor: Andrew Desbois
Received: 14 January 2016 / Revised: 23 April 2016 / Accepted: 29 April 2016 / Published: 12 May 2016
Abstract
The nutritional and pharmaceutical values of long-chain polyunsaturated fatty acids (LC-PUFAs) such as arachidonic, eicosapentaenoic and docosahexaenoic acids have been well recognized. These LC-PUFAs are physiologically important compounds in bacteria and eukaryotes. Although little is known about the biosynthetic mechanisms and functions of LC-PUFAs in bacteria compared to those in higher organisms, a combination of genetic, bioinformatic, and molecular biological approaches to LC-PUFA-producing bacteria and some eukaryotes have revealed the notably diverse organization of the
pfa
genes encoding a polyunsaturated fatty acid synthase complex (PUFA synthase), the LC-PUFA biosynthetic processes, and tertiary structures of the domains of this enzyme. In bacteria, LC-PUFAs appear to take part in specific functions facilitating individual membrane proteins rather than in the adjustment of the physical fluidity of the whole cell membrane. Very long chain polyunsaturated hydrocarbons (LC-HCs) such as hentriacontanonaene are considered to be closely related to LC-PUFAs in their biosynthesis and function. The possible role of LC-HCs in strictly anaerobic bacteria under aerobic and anaerobic environments and the evolutionary relationships of anaerobic and aerobic bacteria carrying
pfa
-like genes are also discussed.
View Full-Text
►

▼

Figures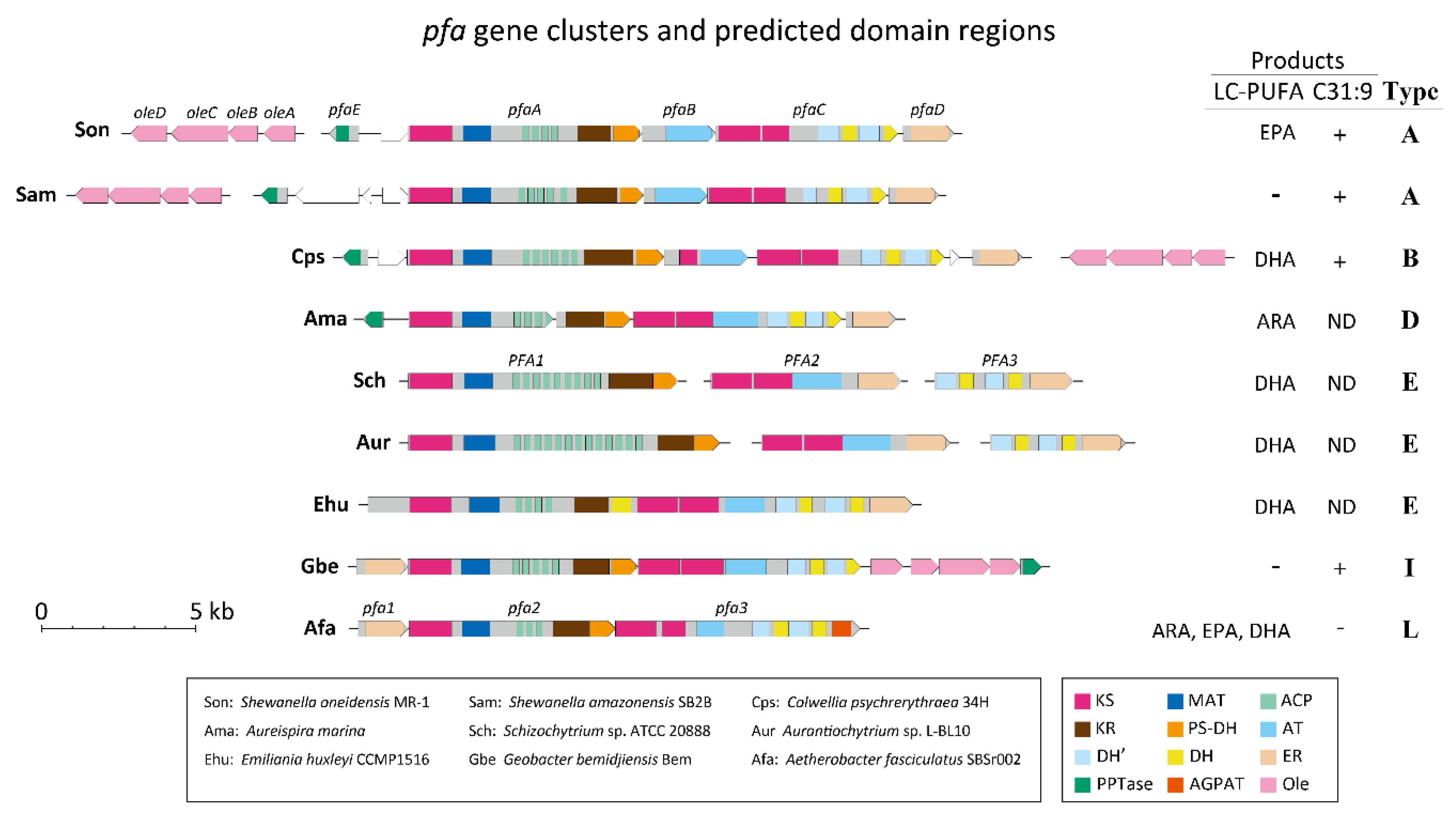 Figure 1
This is an open access article distributed under the
Creative Commons Attribution License
which permits unrestricted use, distribution, and reproduction in any medium, provided the original work is properly cited (CC BY 4.0).

Share & Cite This Article
MDPI and ACS Style
Yoshida, K.; Hashimoto, M.; Hori, R.; Adachi, T.; Okuyama, H.; Orikasa, Y.; Nagamine, T.; Shimizu, S.; Ueno, A.; Morita, N. Bacterial Long-Chain Polyunsaturated Fatty Acids: Their Biosynthetic Genes, Functions, and Practical Use. Mar. Drugs 2016, 14, 94.
Note that from the first issue of 2016, MDPI journals use article numbers instead of page numbers. See further details here.
Related Articles
Comments
[Return to top]