Microbial Community Composition as Affected by Dryland Cropping Systems and Tillage in a Semiarid Sandy Soil
1
USDA-ARS, Cropping Systems Research Laboratory, Wind Erosion and Water Conservation Unit, 3810 4th St., Lubbock, TX 79415, USA
2
Research and Testing Laboratories and Medical Biofilm Research Institute, 4321 Marsha Sharp Freeway, Lubbock, TX 79407, USA
3
Department of Biological Sciences, Texas Tech University, Lubbock, TX 79409, USA
4
USDA-ARS, Southern Plains Area, 1001 Holleman Drive East, College Station, TX 77840-4117, USA
*
Author to whom correspondence should be addressed.
Received: 19 April 2010 / Revised: 28 May 2010 / Accepted: 1 June 2010 / Published: 7 June 2010
Abstract
This study evaluated microbial communities of soil (0–10 cm) as affected by dryland cropping systems under different tillage practices after 5 years. The soil type was an Olton sandy loam with an average of 16.4% clay, 67.6% sand and 0.65 g kg
−1
of organic matter (OM). The cropping systems evaluated were grain sorghum (
Sorghum bicolor
L
.
)—cotton (
Gossypium hirsutum
) (Sr
g
-Ct), cotton-winter rye (
Secale cereale
)-grain sorghum (Ct-Rye-Sr
g
), and a rotation of forage (f) sorghum (
Sorghum bicolor
L. and
Sorghum sudanense
) with winter rye (Sr
f
-Rye), which were under no-tillage (nt) and conventional tillage (ct) practices. Soil microbial communities under cotton based cropping systems (Sr
g
-Ct and Ct-Rye-Sr
g
) showed lower fungal:bacterial ratios compared to the soil under Sr
f
-Rye. Soil under Sr
f
-Rye showed higher population densities of
Bacteroidetes
and
Proteobacteria
while lower
Actinobacteria
compared to Sr
g
-Ct and Ct-Rye-Sr
g
.
Chloroflexi
,
Gemmatimonadetes
and
Verrucomicrobiae
were higher in tilled soil compared to the no-tilled plots. Regardless the limited irrigation available to sustain agricultural production within these dryland cropping systems, this study demonstrated that differences in microbial communities are more affected by crop rotation than tillage management history. Although soil fungal diversity was not analyzed in this study, pyrosequencing suggests that tillage practices can affect bacterial phyla distribution in this sandy soil.
View Full-Text
►

▼

Figures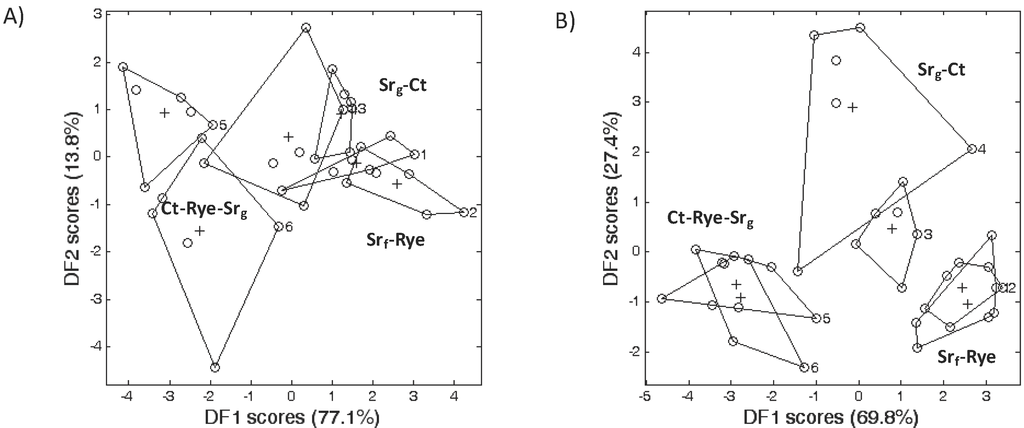 Figure 1

Share & Cite This Article
MDPI and ACS Style
Acosta-Martínez, V.; Dowd, S.E.; Bell, C.W.; Lascano, R.; Booker, J.D.; Zobeck, T.M.; Upchurch, D.R. Microbial Community Composition as Affected by Dryland Cropping Systems and Tillage in a Semiarid Sandy Soil. Diversity 2010, 2, 910-931.
Related Articles
Comments
[Return to top]