Spatial Trends of Genetic Variation of Domestic Ruminants in Europe
1
Génétique animale et biologie intégrative, UMR 1313, Inra, 78352 Jouy-en-Josas, France
2
Utrecht University, Utrecht, The Netherlands
3
Università Cattolica del S. Cuore, Piacenza, Italy
4
University of Córdoba, Spain
5
BOKU University, Vienna, Austria
6
Trinity College, Dublin, Ireland
7
University of Wales, Cardiff, UK
8
Universidad Complutense de Madrid, Spain
9
University of Berne, Switzerland
10
Justus-Liebig Universität, Giessen, Germany
11
University of East Anglia, Norwich, UK
12
MTT, Jokioinen, Finland
13
Norwegian School of Veterinary Science, Oslo, Norway
14
Universitat Autonoma de Barcelona, Spain
15
Università degli Studi di Milano, Italy
16
The Roslin Institute, University of Edinburgh, UK
*
Author to whom correspondence should be addressed.
†
The following participants of the European Cattle Genetic Diversity Consortium and the Econogene contributed to this study: P. Dobi, A. Hoda, Faculty of Agriculture, Tirana, Albania; S. Matraninon, F. Fischerleitner, BOKU University, Vienna, Austria; G. Mommens, Dr. Van Haeringen Polygen, Malle; P. Baret, A. Fadlaoui, Université Catholique, Louvain, Belgium; L.E. Holm, Danish Institute of Agricultural Sciences, Tjele, Denmark; M.A.A. El-Barody, Minia University, Egypt; P. Taberlet, G. Luikart, A. Beja-Pereira, P. England, Université Joseph Fourier et Centre National de la Recherche Scientifique, Grenoble; M. Trommetter, Université Pierre Mendes, Grenoble; A. Oulmouden, H. Levéziel, INRA, Limoges, France; O. Jann, C. Weimann, E.-M. Prinzenberg, C. Peter, Justus-Liebig Universität, Giessen; B. Harlizius, School of Veterinary Medicine, Hannover; C. Looft, E.Kalm, J. Roosen, Christian-Albrechts-Universität, Kiel, Germany; A. Georgoudis, Aristotle University, Thessaloniki; C. Ligda, National Agricultural Research Foundation, Thessaloniki, Greece; L. Fésüs, Research Institute for Animal Breeding and Nutrition, Herceghalom, Hungary; D.E. MacHugh, A.R. Freeman, Trinity College, Dublin, Ireland; R. Negrini, E. Milanesi, G. Canali, Università Cattolica del S. Cuore, Piacenza, M.C. Savarese, C. Marchitelli, L. Pariset, I. Cappuccio, Università della Tuscia, Viterbo; M. Zanotti, G. Ceriotti, M. Cicogna, P. Crepaldi, Università degli Studi di Milano; F. Pilla, A. Bruzzone, D. Iamartino, Università del Molise, Campobasso; A. Carta, T. Sechi, Istituto Zootecnico e Caseario per la Sardegna, Olmedo; G. D'Urso, S. Bordonaro, D. Marletta, Università degli Studi di Catania, Italy; M. Abo-Shehada, Jordan University of Science and Technology, Ibid, Jordan; I.J. Nijman, Utrecht University, Utrecht; M. Felius, Rotterdam, Netherlands; Norwegian School of Veterinary Science, Oslo, Norway; R. Niznikowski, Warsaw Agricultural University, Poland; A. Vlaic, University of Cluj-Napoca, Romania; T. Kiselyova, All-Russian Research Institute for Farm Animals and Breeding, St. Petersburgh-Pushkin; N. Marzanov, All-Russian Research Institute of Animal Husbandry, Dubrovitsy; Z. Ivanova, R. Popov and I. Ammosov, Yakutian Research Institute of Agricultural Sciences, Yakutsk, Sakha; M. Cinkulov, University of Novi Sad, Russia; P. Zaragoza, I. Martín-Burriel, Veterinary Faculty, Zaragoza; A. Sanchez, J. Piedrafita, Universitat Autonoma de Barcelona; E. Rodero, University of Córdoba, Spain; K. Sandberg, Swedish University of Agricultural Sciences, Uppsala, Sweden; G. Obexer-Ruff, M.-L. Glowatzki, University of Berne; R. Caloz, S. Joost, Swiss Federal Institute of Technology, Lausanne, Switzerland; O. Ertugrul, Ankara University, Ankara; I. Togan, Middle East Technical University, Ankara, Turkey; J.L. Williams, D. Burton, Roslin Institute, UK; T. Perez, University of Wales, Cardiff; S. Dalamitra, University of East Anglia, Norwich, UK.
Received: 14 May 2010 / Revised: 1 June 2010 / Accepted: 8 June 2010 / Published: 17 June 2010
Abstract
The introduction of livestock species in Europe has been followed by various genetic events, which created a complex spatial pattern of genetic differentiation. Spatial principal component (sPCA) analysis and spatial metric multidimensional scaling (sMDS) incorporate geography in multivariate analysis. This method was applied to three microsatellite data sets for 45 goat breeds, 46 sheep breeds, and 101 cattle breeds from Europe, Southwest Asia, and India. The first two sPCA coordinates for goat and cattle, and the first sPCA coordinate of sheep, correspond to the coordinates of ordinary PCA analysis. However, higher sPCA coordinates suggest, for all three species, additional spatial structuring. The goat is the most geographically structured species, followed by cattle. For all three species, the main genetic cline is from southeast to northwest, but other geographic patterns depend on the species. We propose sPCA and sMDS to be useful tools for describing the correlation of genetic variation with geography.
View Full-Text
►

▼

Figures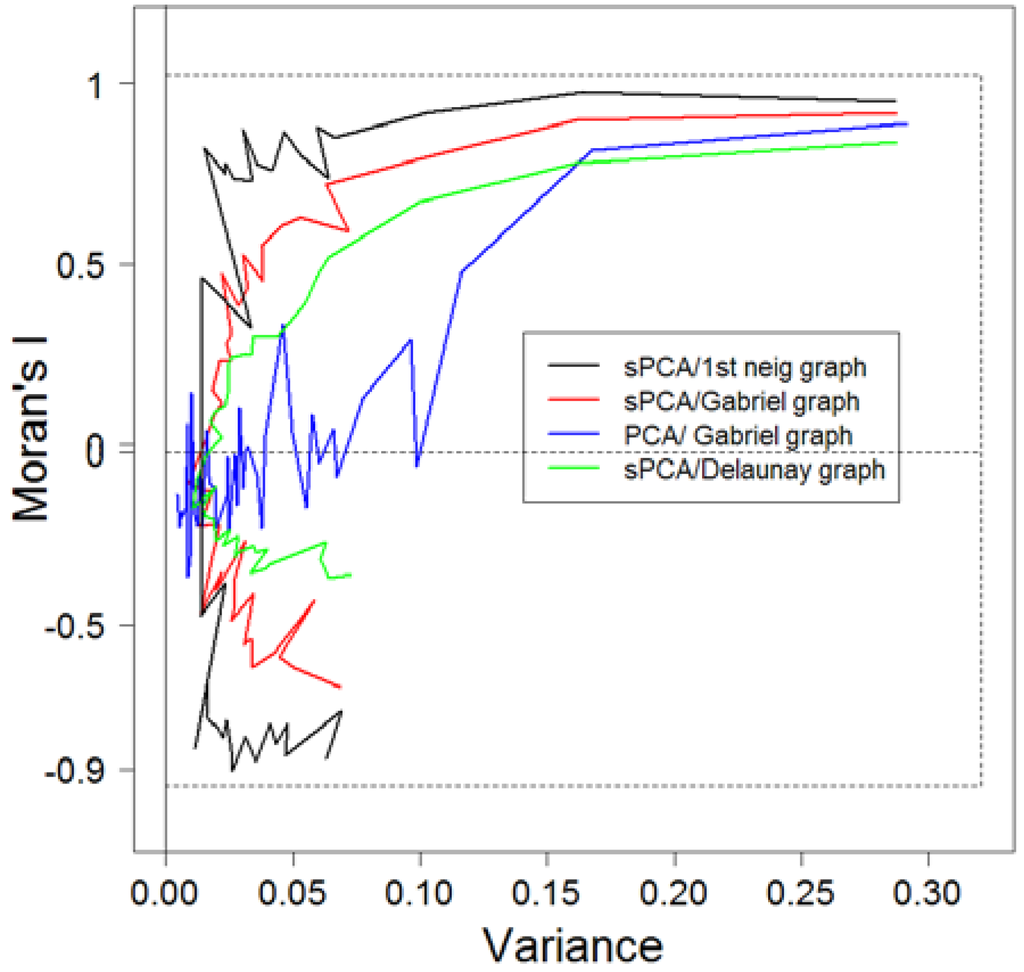 Figure 1

Share & Cite This Article
MDPI and ACS Style
Laloë, D.; Moazami-Goudarzi, K.; Lenstra, J.A.; Marsan, P.A.; Azor, P.; Baumung, R.; Bradley, D.G.; Bruford, M.W.; Cañón, J.; Dolf, G.; Dunner, S.; Erhardt, G.; Hewitt, G.; Kantanen, J.; Obexer-Ruff, G.; Olsaker, I.; Rodellar, C.; Valentini, A.; Wiener, P.; ECGDCEC. Spatial Trends of Genetic Variation of Domestic Ruminants in Europe. Diversity 2010, 2, 932-945.
Related Articles
Comments
[Return to top]