Oxidative Stress-Tolerant Stem Cells from Human Exfoliated Deciduous Teeth Decrease Hydrogen Peroxide-Induced Damage in Organotypic Brain Slice Cultures from Adult Mice
1
Department of Pharmacology, School of Life Dentistry at Tokyo, The Nippon Dental University, 1-9-20 Fujimi, Chiyoda-ku, Tokyo 102-0071, Japan
2
Department of Physiology, School of Life Dentistry at Tokyo, The Nippon Dental University, 1-9-20 Fujimi, Chiyoda-ku, Tokyo 102-0071, Japan
3
Department of Oral and Maxillofacial Surgery, The Nippon Dental University Hospital, 2-3-16 Fujimi, Chiyoda-ku, Tokyo 102-8158, Japan
*
Author to whom correspondence should be addressed.
Received: 21 March 2019 / Revised: 11 April 2019 / Accepted: 12 April 2019 / Published: 15 April 2019
Abstract
Oxidative stress causes severe tissue injury of the central nervous system in ischemic brain damage (IBD), traumatic brain injury (TBI) and neurodegenerative disorders. In this study, we used hydrogen peroxide (H
2
O
2
) to induce oxidative stress in organotypic brain slice cultures (OBSCs), and investigated the protective effects of oxidative stress-tolerant (OST) stem cells harvested from human exfoliated deciduous teeth (SHED) which were co-cultivated with OBSCs. Using presto blue assay and immunostaining, we demonstrated that both normal SHED and OST-SHED could prevent H
2
O
2
-induced cell death, and increase the numbers of mature neuron and neuronal progenitors in the hippocampus of OBSCs. During co-cultivation, OST-SHED, but not normal SHED, exhibited neuronal cell morphology and expressed neuronal markers. Results from ELISA showed that both normal SHED and OST-SHED significantly decreased oxidative DNA damage in H
2
O
2
-treated OBSCs. SHED could also produce neurotrophic factor BDNF (brain derived neurotrophic factor) and promoted the production of IL-6 in OBSCs. Although OST-SHED had lower cell viability, the neuronal protection of OST-SHED was significantly superior to that of normal SHED. Our findings suggest that SHED, especially OST-SHED, could prevent oxidative stress induced brain damage. OST-SHED can be explored as a new therapeutic tool for IBD, TBI and neurodegenerative disorders.
View Full-Text
►

▼

Figures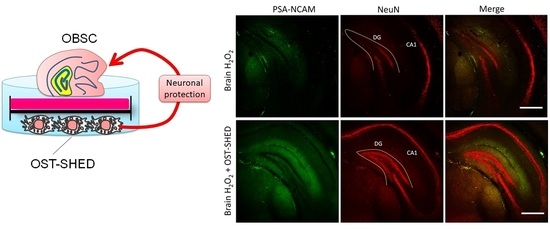 Graphical abstract
This is an open access article distributed under the
Creative Commons Attribution License
which permits unrestricted use, distribution, and reproduction in any medium, provided the original work is properly cited (CC BY 4.0).

Share & Cite This Article
MDPI and ACS Style
Xiao, L.; Saiki, C.; Okamura, H. Oxidative Stress-Tolerant Stem Cells from Human Exfoliated Deciduous Teeth Decrease Hydrogen Peroxide-Induced Damage in Organotypic Brain Slice Cultures from Adult Mice. Int. J. Mol. Sci. 2019, 20, 1858.
Note that from the first issue of 2016, MDPI journals use article numbers instead of page numbers. See further details here.
Related Articles
Comments
[Return to top]