Intermittent Hypoxia Up-Regulates Gene Expressions of
Peptide YY (PYY), Glucagon-like Peptide-1 (GLP-1), and Neurotensin (NTS)

in Enteroendocrine Cells

1

Department of Neurology, Nara Medical University, 840 Shijo-cho, Kashihara, Nara 634-8522, Japan

2

Department of Neurology, Nara City Hospital, 1-50-1 Higashikidera-cho, Nara, Nara 630-8305, Japan

3

Department of Biochemistry, Nara Medical University, 840 Shijo-cho, Kashihara, Nara 634-8521, Japan

*

Author to whom correspondence should be addressed.

Received: 23 March 2019 / Revised: 8 April 2019 / Accepted: 11 April 2019 / Published: 15 April 2019
Abstract
The patients with sleep apnea syndrome are exposed to intermittent hypoxia (IH) during sleep. We previously demonstrated the IH-induced up-regulation of the mRNA levels of anorexigenic peptides proopiomelanocortin (POMC), and cocaine- and amphetamine-regulated transcript (CART) in human neuronal cells. Appetite is regulated not only by the central nervous system but also by the peptides from gastrointestinal tract. Here, we investigated the effects of IH on the gene expression(s) of appetite-inhibiting gut hormones. Human enteroendocrine Caco-2 and mouse STC-1 cells were exposed to IH [64 cycles of 5 min hypoxia (1% O
2
) and 10 min normoxia (21% O
2
)] or normoxia for 24 h. Real-time RT-PCR revealed that IH significantly increased the mRNA levels of
peptide YY
(
PYY
),
glucagon-like peptide-1
(
GLP-1
), and
neurotensin
(
NTS
) in Caco-2 and STC-1 cells. ELISA showed that the concentrations of PYY, GLP-1, and NTS in the culture medium were significantly increased by IH. The mRNA levels of
PYY
,
GLP-1
, and
NTS
were significantly up-regulated even in normoxia by Trichostatin A (TSA) and were significantly decreased even in IH by 5-azacytidine (5AZC), suggesting that IH increases
PYY
,
GLP-1
, and
NTS
mRNAs via alterations in the chromatin structure in enteroendocrine cells. IH might have an anorexigenic influence on the enteric nervous system.
View Full-Text
►

▼

Figures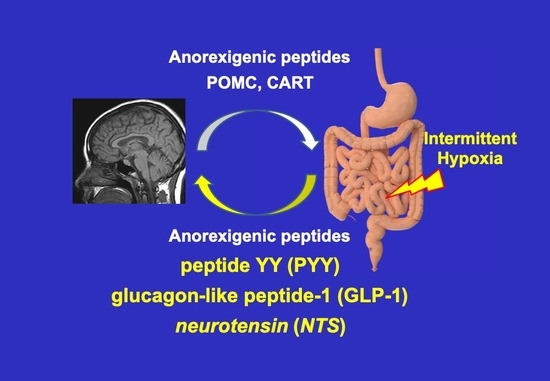 Graphical abstract
This is an open access article distributed under the
Creative Commons Attribution License
which permits unrestricted use, distribution, and reproduction in any medium, provided the original work is properly cited (CC BY 4.0).

Share & Cite This Article
MDPI and ACS Style
Shobatake, R.; Itaya-Hironaka, A.; Yamauchi, A.; Makino, M.; Sakuramoto-Tsuchida, S.; Uchiyama, T.; Ota, H.; Takahashi, N.; Ueno, S.; Sugie, K.; Takasawa, S. Intermittent Hypoxia Up-Regulates Gene Expressions of Peptide YY (PYY), Glucagon-like Peptide-1 (GLP-1), and Neurotensin (NTS) in Enteroendocrine Cells. Int. J. Mol. Sci. 2019, 20, 1849.
Note that from the first issue of 2016, MDPI journals use article numbers instead of page numbers. See further details here.
Related Articles
Comments
[Return to top]