The Antagonist Effect of Arachidonic Acid on
GLUT4

Gene Expression by Nuclear Receptor Type II Regulation

1

Department of Endocrinology and Nutrition, Virgen de la Victoria University Hospital, University of Malaga (IBIMA), 29010 Malaga, Spain

2

CIBER de Diabetes y Enfermedades Metabólicas Asociadas (CIBERDEM), Unidad de Gestión Clínica de Endocrinología y Nutrición, Instituto de Investigación Biomédica de Málaga (IBIMA), Hospital Regional Universitario, 29010 Málaga, Spain

3

Instituto de Investigación Biomédica de Málaga (IBIMA), Facultad de Ciencias, Universidad de Málaga, 29010 Málaga, Spain

4

CIBEROBN (CIBER in Physiopathology of Obesity and Nutrition CB06/03/0018), Instituto de Salud Carlos III, 28029 Madrid, Spain

5

Department of Gastroenterology, Virgen de la Victoria University Hospital, Instituto de Investigación Biomédica de Málaga (IBIMA), University of Malaga, 29010 Malaga, Spain

*

Authors to whom correspondence should be addressed.

†

These authors contributed equally to this work.

Received: 24 January 2019 / Revised: 15 February 2019 / Accepted: 20 February 2019 / Published: 22 February 2019

Full-Text

|

PDF

[1435 KB, uploaded 22 February 2019]

|

|

Review Reports
Abstract
Objectives: Obesity is a complex disease that has a strong association with diet and lifestyle. Dietary factors can influence the expression of key genes connected to insulin resistance, lipid metabolism, and adipose tissue composition. In this study, our objective was to determine gene expression and fatty acid (FA) profiles in visceral adipose tissue (VAT) from lean and morbidly obese individuals. We also aimed to study the agonist effect of dietary factors on glucose metabolism. Design and methods: Lean and low and high insulin resistance morbidly obese subjects (LIR-MO and HIR-MO) were included in this study. The gene expression of liver X receptor type alpha (LXR-α) and glucose transporter type 4 (GLUT4) and the FA profiles in VAT were determined. Additionally, the in vivo and in vitro agonist effects of oleic acid (OA), linoleic acid (LA), and arachidonic acid (AA) by peroxisome proliferator-activated receptor type gamma 2 (PPAR-γ2) on the activity of GLUT4 were studied. Results: Our results showed a dysregulation of GLUT4 and LXR-α in VAT of morbidly obese subjects. In addition, a specific FA profile for morbidly obese individuals was found. Finally, AA was an PPAR-γ2 agonist that activates the expression of GLUT4. Conclusions: Our study suggests a dysregulation of LXR-α and GLUT4 expression in VAT of morbidly obese individuals. FA profiles in VAT could elucidate their possible role in lipolysis and adipogenesis. Finally, AA binds to PPAR-γ2 to activate the expression of GLUT4 in the HepG2 cell line, showing an alternative insulin-independent activation of GLUT4.
View Full-Text
►

▼

Figures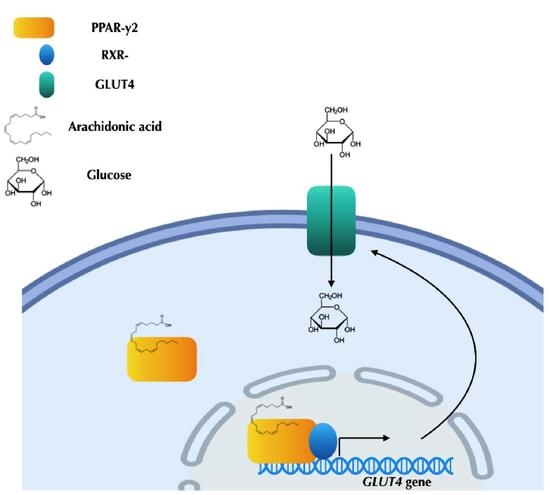 Graphical abstract
This is an open access article distributed under the
Creative Commons Attribution License
which permits unrestricted use, distribution, and reproduction in any medium, provided the original work is properly cited (CC BY 4.0).

Share & Cite This Article
MDPI and ACS Style
Moreno-Santos, I.; Garcia-Serrano, S.; Boughanem, H.; Garrido-Sanchez, L.; Tinahones, F.J.; Garcia-Fuentes, E.; Macias-Gonzalez, M. The Antagonist Effect of Arachidonic Acid on GLUT4 Gene Expression by Nuclear Receptor Type II Regulation. Int. J. Mol. Sci. 2019, 20, 963.
Note that from the first issue of 2016, MDPI journals use article numbers instead of page numbers. See further details here.
Related Articles
Comments
[Return to top]