Transcriptional Regulation of Acyl-CoA:Glycerol-
sn

-3-Phosphate Acyltransferases

1

Laboratory of Molecular Pharmaceutics, Faculty of Pharma-Sciences, Teikyo University, Tokyo 1738605, Japan

2

Laboratory of Biological Chemistry, Faculty of Pharma-Sciences, Teikyo University, Tokyo 1738605, Japan

*

Author to whom correspondence should be addressed.

Received: 29 January 2019 / Revised: 14 February 2019 / Accepted: 15 February 2019 / Published: 22 February 2019
Abstract
Acyl-CoA:glycerol-
sn
-3-phosphate acyltransferase (GPAT) is an enzyme responsible for the rate-limiting step in the synthesis of glycerophospholipids and triacylglycerol (TAG). The enzymes of mammalian species are classified into four isoforms; GPAT1 and GPAT2 are localized in the mitochondrial outer membrane, whereas GPAT3 and GPAT4 are localized in the endoplasmic reticulum membrane. The activity of each enzyme expressed is associated with physiological and pathological functions. The transcriptional regulation is well known, particularly in GPAT1. GPAT1 mRNA expression is mainly regulated by the binding of the transcriptional factor SREBP-1c to the specific element (the sterol regulatory element) flanking the GPAT1 promoter. The TAG level is controlled by the insulin-induced transcriptional expression of GPAT1, which occupies most of the GPAT activity in the liver. The transcriptional regulation of the other three GPAT isoforms remains undetermined in detail. It is predicted that retinoic acid serves as a transcription factor in the GPAT2 promoter. PPARγ (peroxisome proliferator-activated receptor γ) increases the mRNA expression of GPAT3, which is associated with TAG synthesis in adipose tissues. Although GPAT has been considered to be a key enzyme in the production of TAG, unexpected functions have recently been reported, particularly in GPAT2. It is likely that GPAT2 is associated with tumorigenesis and normal spermatogenesis. In this review, the physiological and pathophysiological roles of the four GPAT isoforms are described, alongside the transcriptional regulation of these enzymes.
View Full-Text
►

▼

Figures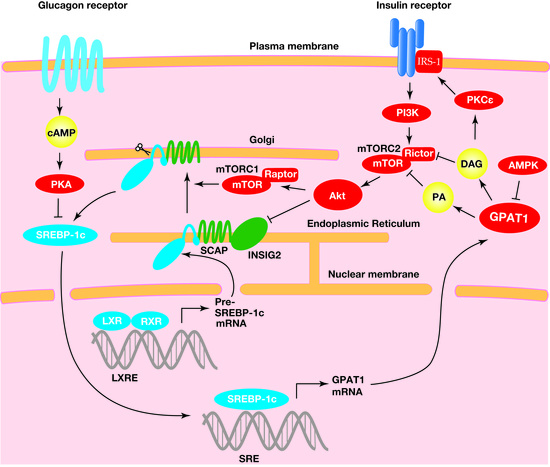 Graphical abstract
This is an open access article distributed under the
Creative Commons Attribution License
which permits unrestricted use, distribution, and reproduction in any medium, provided the original work is properly cited (CC BY 4.0).

Share & Cite This Article
MDPI and ACS Style
Karasawa, K.; Tanigawa, K.; Harada, A.; Yamashita, A. Transcriptional Regulation of Acyl-CoA:Glycerol-sn-3-Phosphate Acyltransferases. Int. J. Mol. Sci. 2019, 20, 964.
Note that from the first issue of 2016, MDPI journals use article numbers instead of page numbers. See further details here.
Related Articles
Comments
[Return to top]