Ginkgolic Acid Rescues Lens Epithelial Cells from Injury Caused by Redox Regulated-Aberrant Sumoylation Signaling by Reviving Prdx6 and Sp1 Expression and Activities
1
Department of Ophthalmology and Visual Science, University of Nebraska Medical Center, Omaha, NE 68198, USA
2
Department of Ophthalmology, Kanazawa Medical University, Ishikawa 9200293, Japan
*
Authors to whom correspondence should be addressed.
Received: 4 October 2018 / Revised: 4 November 2018 / Accepted: 6 November 2018 / Published: 8 November 2018
Abstract
Sumoylation is a downstream effector of aging/oxidative stress; excess oxidative stress leads to dysregulation of a specificity protein1 (Sp1) and its target genes, such as Peroxiredoxin 6 (Prdx6), resulting in cellular damage. To cope with oxidative stress, cells rely on a signaling pathway involving redox-sensitive genes. Herein, we examined the therapeutic efficacy of the small molecule Ginkgolic acid (GA), a Sumoylation antagonist, to disrupt aberrant Sumoylation signaling in human and mouse lens epithelial cells (LECs) facing oxidative stress or aberrantly expressing Sumo1 (small ubiquitin-like modifier). We found that GA globally reduced aberrant Sumoylation of proteins. In contrast, Betulinic acid (BA), a Sumoylation agonist, augmented the process. GA increased Sp1 and Prdx6 expression by disrupting the Sumoylation signaling, while BA repressed the expression of both molecules. In vitro DNA binding, transactivation, Sumoylation and expression assays revealed that GA enhanced Sp1 binding to GC-boxes in the Prdx6 promoter and upregulated its transcription. Cell viability and intracellular redox status assays showed that LECs pretreated with GA gained resistance against oxidative stress-driven aberrant Sumoylation signaling. Overall, our study revealed an unprecedented role for GA in LECs and provided new mechanistic insights into the use of GA in rescuing LECs from aging/oxidative stress-evoked dysregulation of Sp1/Prdx6 protective molecules.
View Full-Text
►

▼

Figures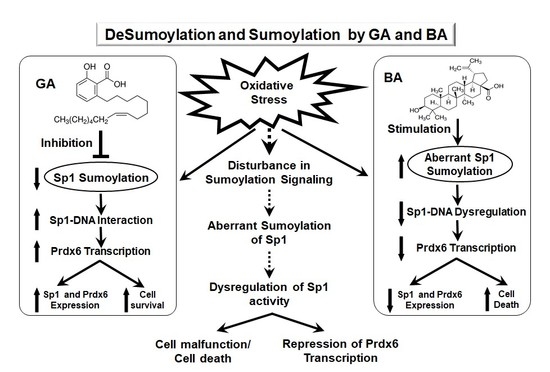 Graphical abstract
This is an open access article distributed under the
Creative Commons Attribution License
which permits unrestricted use, distribution, and reproduction in any medium, provided the original work is properly cited (CC BY 4.0).

Share & Cite This Article
MDPI and ACS Style
Chhunchha, B.; Singh, P.; Singh, D.P.; Kubo, E. Ginkgolic Acid Rescues Lens Epithelial Cells from Injury Caused by Redox Regulated-Aberrant Sumoylation Signaling by Reviving Prdx6 and Sp1 Expression and Activities. Int. J. Mol. Sci. 2018, 19, 3520.
Note that from the first issue of 2016, MDPI journals use article numbers instead of page numbers. See further details here.
Related Articles
Comments
[Return to top]