The Salt-Stress Response of the Transgenic Plum Line J8-1 and Its Interaction with the Salicylic Acid Biosynthetic Pathway from Mandelonitrile
1
Biotechnology of Fruit Trees Group, Department Plant Breeding, CEBAS-CSIC, Campus Universitario de Espinardo, 25, 30100 Murcia, Spain
2
IRTA, XaRTA-Postharvest, Edifici Fruitcentre, Parc Científic i Tecnològic Agroalimentari de Lleida, 25003 Lleida, Catalonia, Spain
3
Departamento de Producción Vegetal, Universidad Politécnica de Cartagena, Paseo Alfonso XIII, 48, 30203 Cartagena, Spain
4
Department of Plant Biology, Faculty of Biology, University of Murcia, Campus de Espinardo, E-30100 Murcia, Spain
*
Author to whom correspondence should be addressed.
Received: 18 October 2018 / Revised: 5 November 2018 / Accepted: 6 November 2018 / Published: 8 November 2018
Abstract
Salinity is considered as one of the most important abiotic challenges that affect crop productivity. Plant hormones, including salicylic acid (SA), are key factors in the defence signalling output triggered during plant responses against environmental stresses. We have previously reported in peach a new SA biosynthetic pathway from mandelonitrile (MD), the molecule at the hub of the cyanogenic glucoside turnover in
Prunus
sp. In this work, we have studied whether this new SA biosynthetic pathway is also present in plum and the possible role this pathway plays in plant plasticity under salinity, focusing on the transgenic plum line J8-1, which displays stress tolerance via an enhanced antioxidant capacity. The SA biosynthesis from MD in non-transgenic and J8-1 micropropagated plum shoots was studied by metabolomics. Then the response of J8-1 to salt stress in presence of MD or Phe (MD precursor) was assayed by measuring: chlorophyll content and fluorescence parameters, stress related hormones, levels of non-enzymatic antioxidants, the expression of two genes coding redox-related proteins, and the content of soluble nutrients. The results from in vitro assays suggest that the SA synthesis from the MD pathway demonstrated in peach is not clearly present in plum, at least under the tested conditions. Nevertheless, in J8-1 NaCl-stressed seedlings, an increase in SA was recorded as a result of the MD treatment, suggesting that MD could be involved in the SA biosynthesis under NaCl stress conditions in plum plants. We have also shown that the plum line J8-1 was tolerant to NaCl under greenhouse conditions, and this response was quite similar in MD-treated plants. Nevertheless, the MD treatment produced an increase in SA, jasmonic acid (JA) and reduced ascorbate (ASC) contents, as well as in the coefficient of non-photochemical quenching (qN) and the gene expression of
Non-Expressor of Pathogenesis-Related 1
(
NPR1
) and
thioredoxin H
(
TrxH
) under salinity conditions. This response suggested a crosstalk between different signalling pathways (NPR1/Trx and SA/JA) leading to salinity tolerance in the transgenic plum line J8-1.
View Full-Text
►

▼

Figures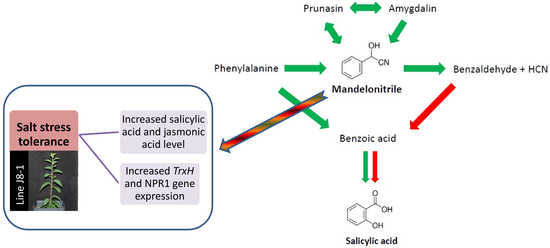 Graphical abstract
This is an open access article distributed under the
Creative Commons Attribution License
which permits unrestricted use, distribution, and reproduction in any medium, provided the original work is properly cited (CC BY 4.0).

Share & Cite This Article
MDPI and ACS Style
Bernal-Vicente, A.; Cantabella, D.; Petri, C.; Hernández, J.A.; Diaz-Vivancos, P. The Salt-Stress Response of the Transgenic Plum Line J8-1 and Its Interaction with the Salicylic Acid Biosynthetic Pathway from Mandelonitrile. Int. J. Mol. Sci. 2018, 19, 3519.
Note that from the first issue of 2016, MDPI journals use article numbers instead of page numbers. See further details here.
Related Articles
Comments
[Return to top]