Dioscin Inhibits the Invasion and Migration of Hepatocellular Carcinoma HepG2 Cells by Reversing TGF-β1-Induced Epithelial-Mesenchymal Transition
1
Department of Biochemistry, Guangzhou University of Chinese Medicine, Guangzhou 510006, China
2
Research Center of Integrative Medicine, School of Basic medicine, Guangzhou University of Chinese Medicine, Guangzhou 510006, China
3
Department of Pathology, Guangzhou University of Chinese Medicine, Guangzhou 510006, China
4
Department of Medical Instruments, Guangdong Food and Drug Vocational College, Guangzhou 510006, China
*
Authors to whom correspondence should be addressed.
Academic Editor: Harinantenaina Liva Rakotondraibe
Received: 21 May 2019 / Revised: 5 June 2019 / Accepted: 13 June 2019 / Published: 14 June 2019
Abstract
Dioscin is a natural steroidal saponin that can be isolated from Chinese medicine, such as Dioscoreae rhizoma. It has wild range of pharmacological activities such as hepatoprotection, a lipid-lowering effect, and anti-inflammation. Recently, mounting studies reported the anticancer effect of dioscin on a variety of tumor cells. However, the potential effect of dioscin on the epithelial-mesenchymal transition (EMT) of HepG2 cells is unclear. In the present study, dioscin was identified to inhibit transforming growth factor-β1 (TGF-β1) and induced invasive and migratory behavior of HepG2 cells. Consistently, the expression of the epithelial marker E-cadherin and gap junction proteins increased following dioscin treatment, while mesenchymal markers decreased, including N-cadherin, Vimentin, Snail, and Slug. Furthermore, we discovered that TGF-β1 induces phosphorylation of JNK, p38, and Erk, whereas the activation of these kinases was reversed by dioscin treatment in a dose-dependent manner. With the addition of Asiatic acid, a p38 activator, the inhibitory effect of dioscin on EMT was reversed. Taken together, these data indicated that dioscin inhibits EMT in HepG2 cells, which is mediated in large part by inhibition of the p38-MAPK signaling.
View Full-Text
►

▼

Figures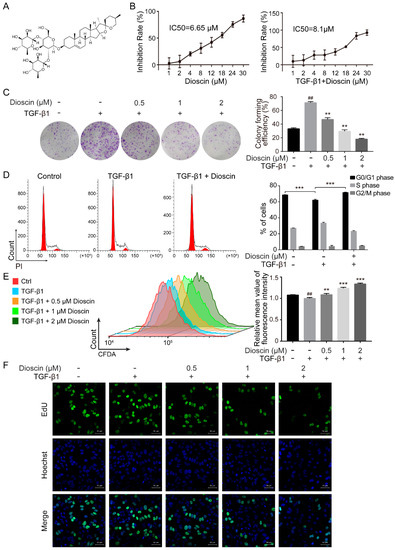 Figure 1
This is an open access article distributed under the
Creative Commons Attribution License
which permits unrestricted use, distribution, and reproduction in any medium, provided the original work is properly cited (CC BY 4.0).

Share & Cite This Article
MDPI and ACS Style
Chen, B.; Zhou, S.; Zhan, Y.; Ke, J.; Wang, K.; Liang, Q.; Hou, Y.; Zhu, P.; Ao, W.; Wei, X.; Xiao, J. Dioscin Inhibits the Invasion and Migration of Hepatocellular Carcinoma HepG2 Cells by Reversing TGF-β1-Induced Epithelial-Mesenchymal Transition. Molecules 2019, 24, 2222.
Note that from the first issue of 2016, MDPI journals use article numbers instead of page numbers. See further details here.
Related Articles
Comments
[Return to top]