Iron Supply Affects Anthocyanin Content and Related Gene Expression in Berries of
Vitis vinifera

cv. Cabernet Sauvignon

1

College of Enology, Northwest A&F University, Yangling 712100, Shaanxi, China

2

College of Food Science and Technology, Hebei Normal University of Science & Technology, Qinhuangdao 066600, Hebei, China

3

College of Horticulture Science and Technology, Hebei Normal University of Science & Technology, Qinhuangdao 066600, Hebei, China

4

Shaanxi Engineering Research Center for Viti-Viniculture, Yangling 712100, Shaanxi, China

*

Author to whom correspondence should be addressed.

Academic Editor: Derek J. McPhee

Received: 28 December 2016 / Revised: 8 February 2017 / Accepted: 10 February 2017 / Published: 14 February 2017
Abstract
Anthocyanins are important compounds for red grape and red wine quality, and can be influenced by supply of nutrients such as nitrogen, phosphorus, potassium, zinc, and iron. The present work aims to gain a better understanding of the effect of iron supply on anthocyanins concentration in grape berries. To this end, own-rooted four-year-old Cabernet Sauvignon grapevines (
Vitis vinifera
) were fertigated every three days with 0, 23, 46, 92, and 184 μM iron (Fe) from ferric ethylenediamine di (
o
-hydroxyphenylacetic) acid (Fe-EDDHA) in a complete nutrient solution. Fe deficiency or excess generally led to higher concentrations of titratable acidity and skin/berry ratio, and to lower reducing sugar content, sugar/acid ratio, pH, berry weight, and concentration of anthocyanins. Most of the individual anthocyanins detected in this study, except cyanidin-3-
O
-glucoside, delphinidin-3-
O
-glucoside, and cyanidin-3-
O
-(6-
O
-coumaryl)-glucoside, in moderate Fe treatment (46 μM) grapes were significantly higher than those of other treatments. Genes encoding chalcone isomerase (CHI), flavanone 3-hydroxylase (F3H), leucoanthocyanidin dioxygenase (LDOX), and anthocyanin
O
-methyltransferase (AOMT) exhibited higher transcript levels in berries from plants cultivated with 46 μM Fe compared to the ones cultivated with other Fe concentrations. We suggest that grape sugar content, anthocyanins content, and transcriptions of genes involved in anthocyanin biosynthesis were correlated with Fe supply concentrations.
View Full-Text
►

▼

Figures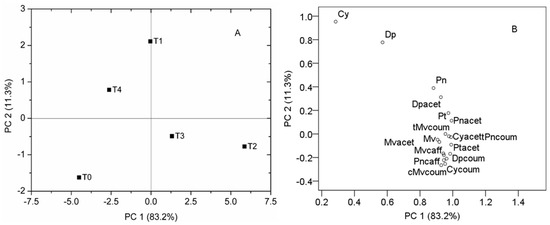 Figure 1
This is an open access article distributed under the
Creative Commons Attribution License
which permits unrestricted use, distribution, and reproduction in any medium, provided the original work is properly cited (CC BY 4.0).

Share & Cite This Article
MDPI and ACS Style
Shi, P.; Li, B.; Chen, H.; Song, C.; Meng, J.; Xi, Z.; Zhang, Z. Iron Supply Affects Anthocyanin Content and Related Gene Expression in Berries of Vitis vinifera cv. Cabernet Sauvignon. Molecules 2017, 22, 283.
Note that from the first issue of 2016, MDPI journals use article numbers instead of page numbers. See further details here.
Related Articles
Comments
[Return to top]