A Quantified Ginseng (
Panax ginseng

C.A. Meyer

)

Extract Influences Lipid Acquisition and Increases Adiponectin Expression in 3T3-L1 Cells

Department of Chemistry, National University of Singapore, 14 Science Drive 4, Singapore 117543, Singapore

*

Author to whom correspondence should be addressed.

Received: 8 November 2010 / Revised: 21 December 2010 / Accepted: 7 January 2011 / Published: 10 January 2011

(This article belongs to the Special Issue

Glycosides

)
Abstract
A Panax ginseng extract (PGE) with a quantified amount of ginsenosides was utilized to investigate its potential to inhibit proliferation, influence lipid acquisition and adiponectin expression in 3T3-L1 cells. Seven fingerprint ginsenosides were quantified using high performance liquid chromatography and their respective molecular weights were further confirmed via LC-ESI-MS analysis from four different extraction methods. Extraction using methanol under reflux produced significantly higher amounts of ginsenosides. The methanol extract consisted of Rg1 (47.40 ± 4.28 mg/g, dry weight of extract), Re (61.62 ± 5.10 mg/g), Rf (6.14 ± 0.28 mg/g), Rb1 (21.73 ± 1.29 mg/g), Rc (78.79 ± 4.15 mg/g), Rb2 (56.80 ± 3.79 mg/g), Rd (5.90 ± 0.41 mg/g). MTT analysis showed that PGE had a concentrationdependent cytotoxic effect on 3T3-L1 preadipocyte and the LC50 value was calculated to be 18.2 ± 5 μg/mL. Cell cycle analysis showed minimal changes in all four phases. Differentiating adipocytes treated with ginseng extract had a visible decrease in lipid droplets formation measured by Oil red O staining. Consequently, triglycerides levels in media significantly (P < 0.05) decreased by 39.5% and 46.1% when treated at concentrations of 1 μg/mL and 10 μg/mL compared to untreated control cells. Western blot analysis showed that the adiponectin protein expression was significantly (P < 0.05) increased at 10 μg/mL, but not at 1 μg/mL. A quantified PGE reduced the growth of 3T3-L1 cells, down-regulated lipid accumulation and up-regulated adiponectin expression in the 3T3-L1 adipocyte cell model.
View Full-Text
►

▼

Figures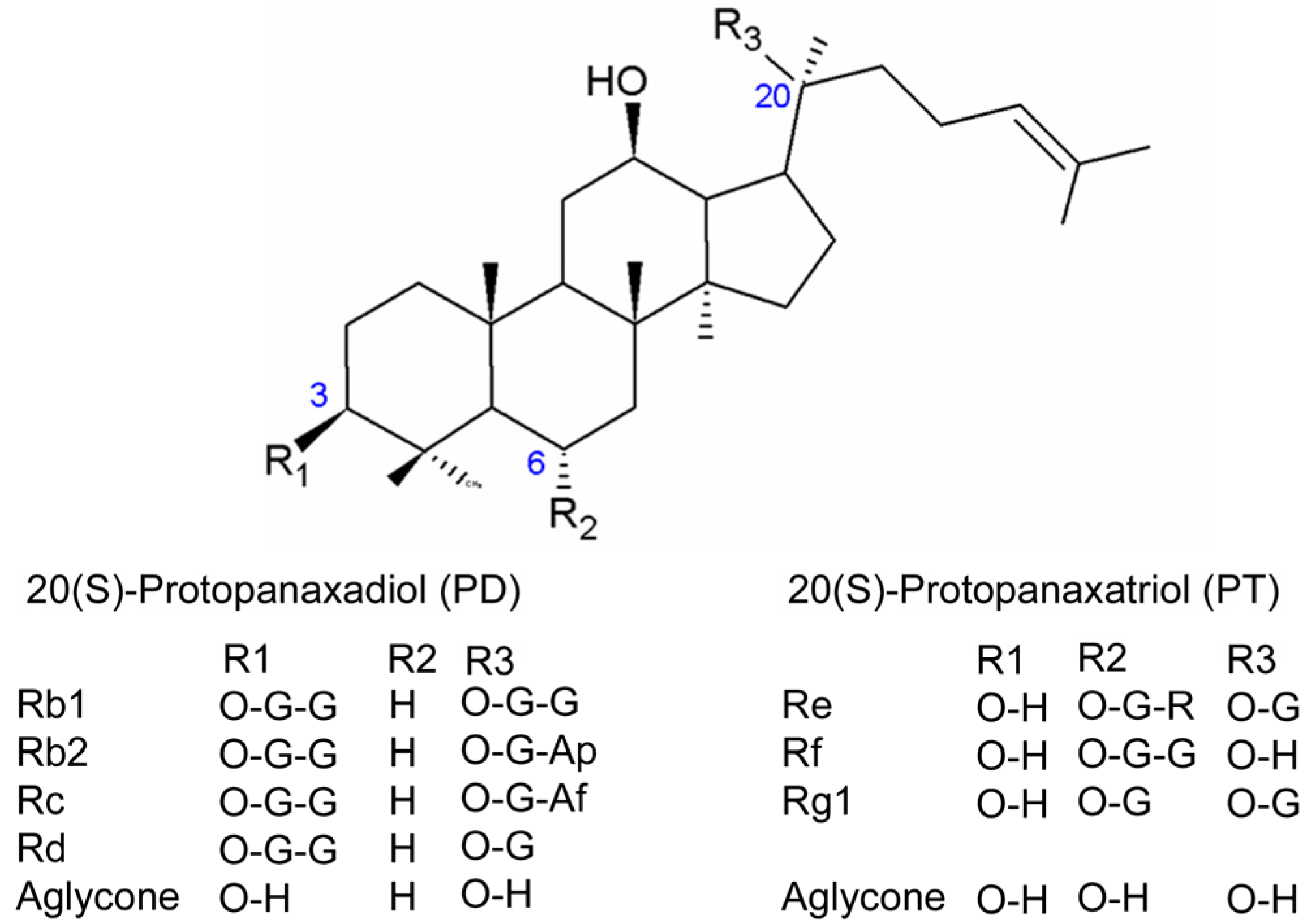 Figure 1

Share & Cite This Article
MDPI and ACS Style
Yeo, C.-R.; Yang, C.; Wong, T.-Y.; Popovich, D.G. A Quantified Ginseng (Panax ginseng C.A. Meyer) Extract Influences Lipid Acquisition and Increases Adiponectin Expression in 3T3-L1 Cells. Molecules 2011, 16, 477-492.
Related Articles
Comments
[Return to top]