Open Access
Article
Dysregulated IER3 Expression is Associated with Enhanced Apoptosis in Titin-Based Dilated Cardiomyopathy
Received: 9 January 2017 / Revised: 2 March 2017 / Accepted: 24 March 2017 / Published: 29 March 2017
PDF Full-text (2398 KB) | HTML Full-text | XML Full-text | Supplementary Files
Abstract
Apoptosis (type I programmed cell death) of cardiomyocytes is a major process that plays a role in the progression of heart failure. The early response gene IER3 regulates apoptosis in a wide variety of cells and organs. However, its role in heart failure
[...] Read more.
Apoptosis (type I programmed cell death) of cardiomyocytes is a major process that plays a role in the progression of heart failure. The early response gene
IER3
regulates apoptosis in a wide variety of cells and organs. However, its role in heart failure is largely unknown. Here, we investigate the role of
IER3
in an inducible heart failure mouse model. Heart failure was induced in a mouse model that imitates a human titin truncation mutation we found in a patient with dilated cardiomyopathy (DCM). Transferase dUTP nick end labeling (TUNEL) and ssDNA stainings showed induction of apoptosis in titin-deficient cardiomyocytes during heart failure development, while
IER3
response was dysregulated. Chromatin immunoprecipitation and knock-down experiments revealed that IER3 proteins target the promotors of anti-apoptotic genes and act as an anti-apoptotic factor in cardiomyocytes. Its expression is blunted during heart failure development in a titin-deficient mouse model. Targeting the
IER3
pathway to reduce cardiac apoptosis might be an effective therapeutic strategy to combat heart failure.
Full article
►

▼

Figures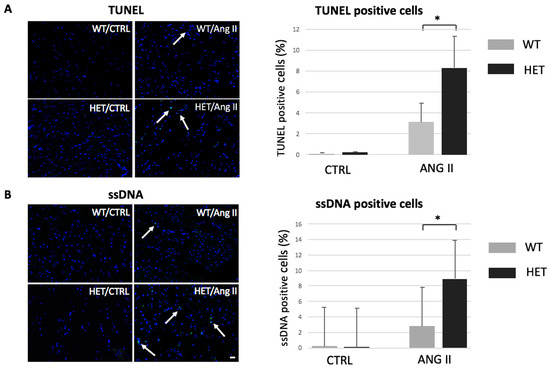 Figure 1