The Inhibitory Effect of Quercetin on Asymmetric Dimethylarginine-Induced Apoptosis Is Mediated by the Endoplasmic Reticulum Stress Pathway in Glomerular Endothelial Cells
Department of Nephrology, Beijing Friendship Hospital, Faculty of Kidney Diseases, Capital Medical University, Beijing 100050, China
*
Author to whom correspondence should be addressed.
Received: 10 October 2013 / Revised: 12 December 2013 / Accepted: 16 December 2013 / Published: 2 January 2014
Abstract
Asymmetric dimethylarginine (ADMA) is considered an independent mortality and cardiovascular risk factor in chronic kidney disease (CKD) patients, and contributes to the development of renal fibrosis. Quercetin (QC), a natural component of foods, protects against renal injury. Here, we explored the possible mechanisms that are responsible for ADMA-induced renal fibrosis and the protective effect of QC. We found that ADMA treatment activated the endoplasmic reticulum (ER) stress sensor proteins phosphorylated protein kinase RNA-activated-like ER kinase (PERK) and inositol requiring-1α (IRE1), which correspondingly induced C/EBP homologous protein (CHOP) expression and phosphorylated c-Jun
N
-terminal kinase (JNK) phosphorylation in glomerular endothelial cells (GEnCs). Following this, ADMA promoted ER stress-induced apoptosis and resulted in transforming growth factor β (TGF-β) expression in GEnCs. SP600125, an inhibitor of JNK, and CHOP siRNA protected against ADMA-induced cell apoptosis and TGF-β expression. QC prevented ADMA-induced PERK and IRE1 apoptotic ER stress pathway activation. Also, ADMA-induced GEnCs apoptosis and TGF-β expression was reduced by QC. Overexpression of CHOP blocked QC-mediated protection from apoptosis in ER stressed cells. Overall, these observations indicate that ADMA may induce GEnCs apoptosis and TGF-β expression by targeting the PERK-CHOP and IRE1-JNK pathway. In addition, drugs such as QC targeting ER stress may hold great promise for the development of novel therapies against ADMA-induced renal fibrosis.
View Full-Text
►

▼

Figures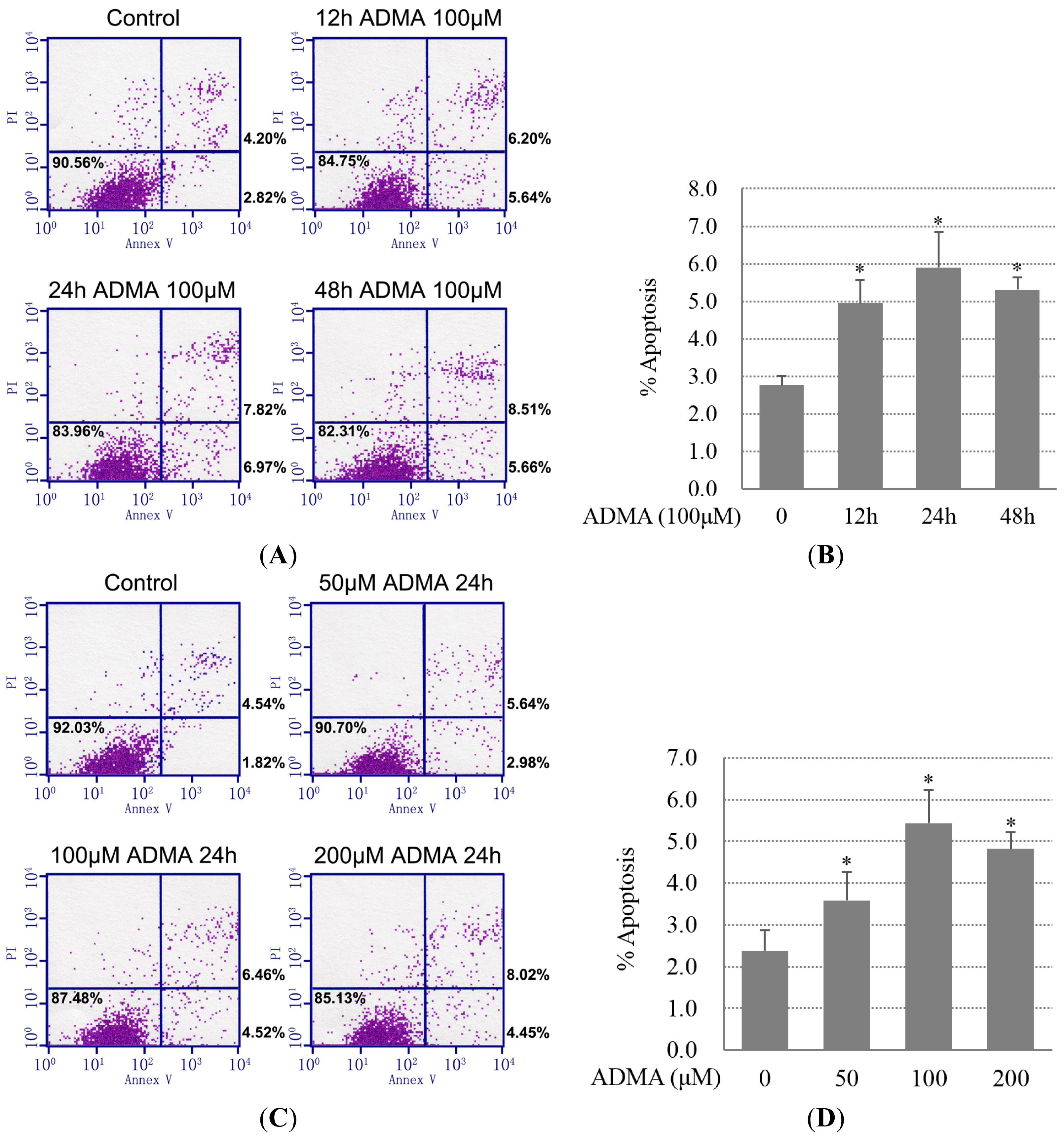 Share & Cite This Article
MDPI and ACS Style
Guo, W.; Ding, J.; Zhang, A.; Dai, W.; Liu, S.; Diao, Z.; Wang, L.; Han, X.; Liu, W. The Inhibitory Effect of Quercetin on Asymmetric Dimethylarginine-Induced Apoptosis Is Mediated by the Endoplasmic Reticulum Stress Pathway in Glomerular Endothelial Cells. Int. J. Mol. Sci. 2014, 15, 484-503.
Related Articles
Comments
[Return to top]