Paclitaxel Induces Apoptosis in Breast Cancer Cells through Different Calcium—Regulating Mechanisms Depending on External Calcium Conditions
1
Department of Biological Sciences, Texas Tech University, Lubbock, TX 79409, USA
2
Texas Tech University Imaging Center, Texas Tech University, Lubbock, TX 79409, USA
*
Author to whom correspondence should be addressed.
Received: 25 December 2013 / Revised: 10 February 2014 / Accepted: 11 February 2014 / Published: 17 February 2014
Abstract
Previously, we reported that endoplasmic reticulum calcium stores were a direct target for paclitaxel initiation of apoptosis. Furthermore, the actions of paclitaxel attenuated Bcl-2 resistance to apoptosis through endoplasmic reticulum-mediated calcium release. To better understand the calcium-regulated mechanisms of paclitaxel-induced apoptosis in breast cancer cells, we investigated the role of extracellular calcium, specifically; whether influx of extracellular calcium contributed to and/or was necessary for paclitaxel-induced apoptosis. Our results demonstrated that paclitaxel induced extracellular calcium influx. This mobilization of extracellular calcium contributed to subsequent cytosolic calcium elevation differently, depending on dosage. Under normal extracellular calcium conditions, high dose paclitaxel induced apoptosis-promoting calcium influx, which did not occur in calcium-free conditions. In the absence of extracellular calcium an "Enhanced Calcium Efflux" mechanism in which high dose paclitaxel stimulated calcium efflux immediately, leading to dramatic cytosolic calcium decrease, was observed. In the absence of extracellular calcium, high dose paclitaxel's stimulatory effects on capacitative calcium entry and apoptosis could not be completely restored. Thus, normal extracellular calcium concentrations are critical for high dose paclitaxel-induced apoptosis. In contrast, low dose paclitaxel mirrored controls, indicating that it occurs independent of extracellular calcium. Thus, extracellular calcium conditions only affect efficacy of high dose paclitaxel-induced apoptosis.
View Full-Text
►

▼

Figures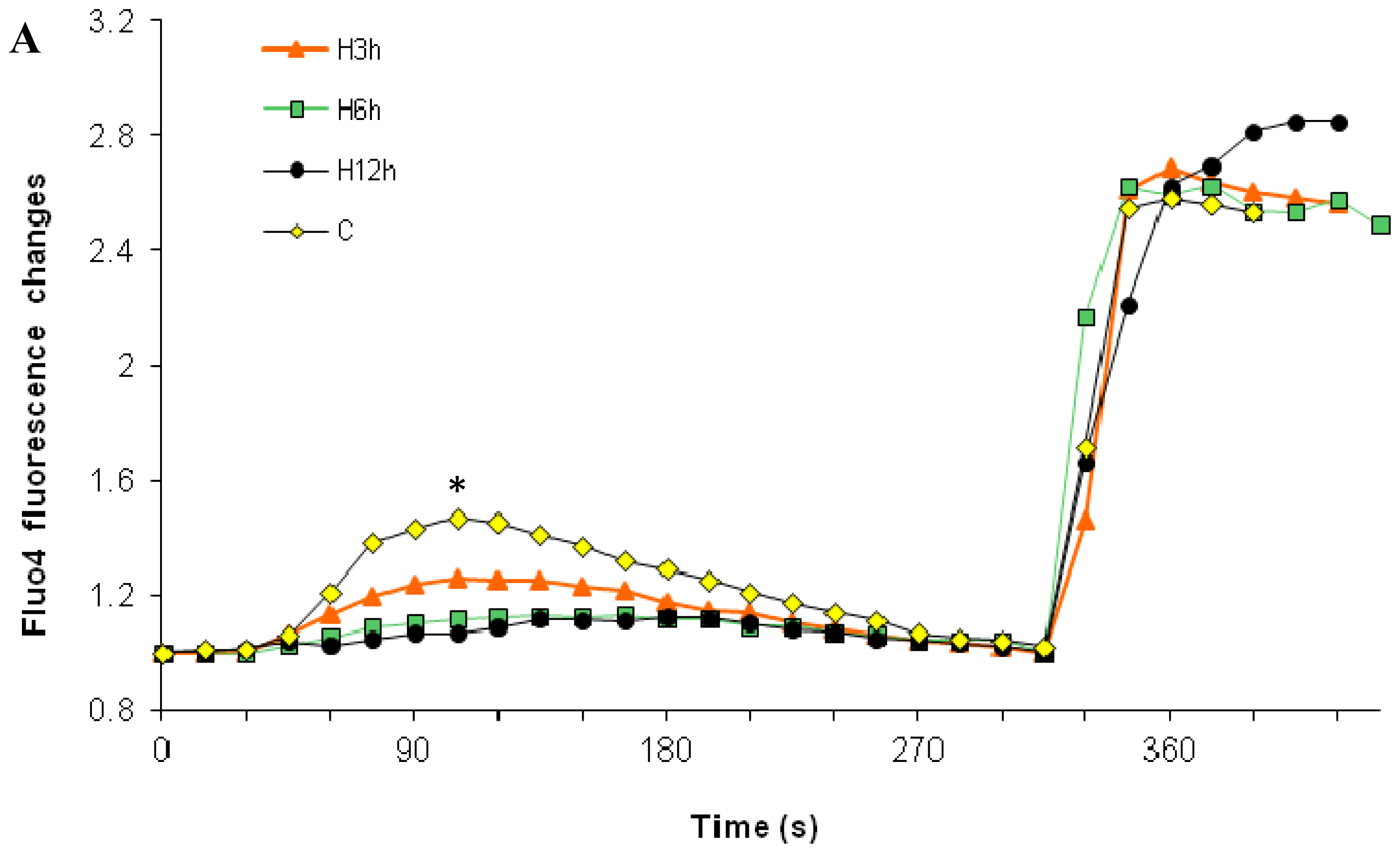 Share & Cite This Article
MDPI and ACS Style
Pan, Z.; Avila, A.; Gollahon, L. Paclitaxel Induces Apoptosis in Breast Cancer Cells through Different Calcium—Regulating Mechanisms Depending on External Calcium Conditions. Int. J. Mol. Sci. 2014, 15, 2672-2694.
Related Articles
Comments
[Return to top]