Rapamycin-Induced Apoptosis in HGF-Stimulated Lens Epithelial Cells by AKT/mTOR, ERK and JAK2/STAT3 Pathways
1
Tianjin Medical University Eye Hospital& Eye Institute, No. 251, Fu Kang Road, Nan Kai District, Tianjin 300384, China
2
Institute of Innovative Medicine and Food Safety, Jiangsu Berkgen Biopharmaceutical Inc., Ltd., No. 20, Jian Hua Road, Hang Jiang District, Yangzhou 225128, China
†
These authors contributed equally to this work.
*
Authors to whom correspondence should be addressed.
Received: 12 May 2014 / Revised: 25 July 2014 / Accepted: 26 July 2014 / Published: 11 August 2014
Abstract
Hepatocyte growth factor (HGF) induced the proliferation of lens epithelial cells (LECs) and may be a major cause of posterior capsule opacification (PCO), which is the most frequent postoperative complication of cataract surgery. To date, several agents that can block LECs proliferation have been studied, but none have been used in clinic. Recently, accumulating evidence has suggested rapamycin, the inhibitor of
mTOR
(mammalian target of Rapamycin), was associated with the induction of apoptosis in LECs. The purpose of our study was to investigate the potential effects of rapamycin on HGF-induced LECs and the underlying mechanisms by which rapamycin exerted its actions. Using cell proliferation, cell viability and flow cytometric apoptosis assays, we found that rapamycin potently not only suppressed proliferation but also induced the apoptosis of LECs in a dose-dependent manner under HGF administration. Further investigation of the underlying mechanism using siRNA transfection revealed that rapamycin could promote apoptosis of LECs via inhibiting HGF-induced phosphorylation of
AKT
/
mTOR
,
ERK
and
JAK2
/
STAT3
signaling molecules. Moreover, the forced expression of
AKT
,
ERK
and
STAT3
could induce a significant suppression of apoptosis in these cells after treatment of rapamycin. Together, these findings suggested that rapamycin-induced apoptosis in HGF-stimulated LECs is accompanied by inhibition of
AKT
/
mTOR
,
ERK
and
JAK2
/
STAT3
pathways, which supports its use to inhibit PCO in preclinical studies and provides theoretical foundation for future possible practice.
View Full-Text
►

▼

Figures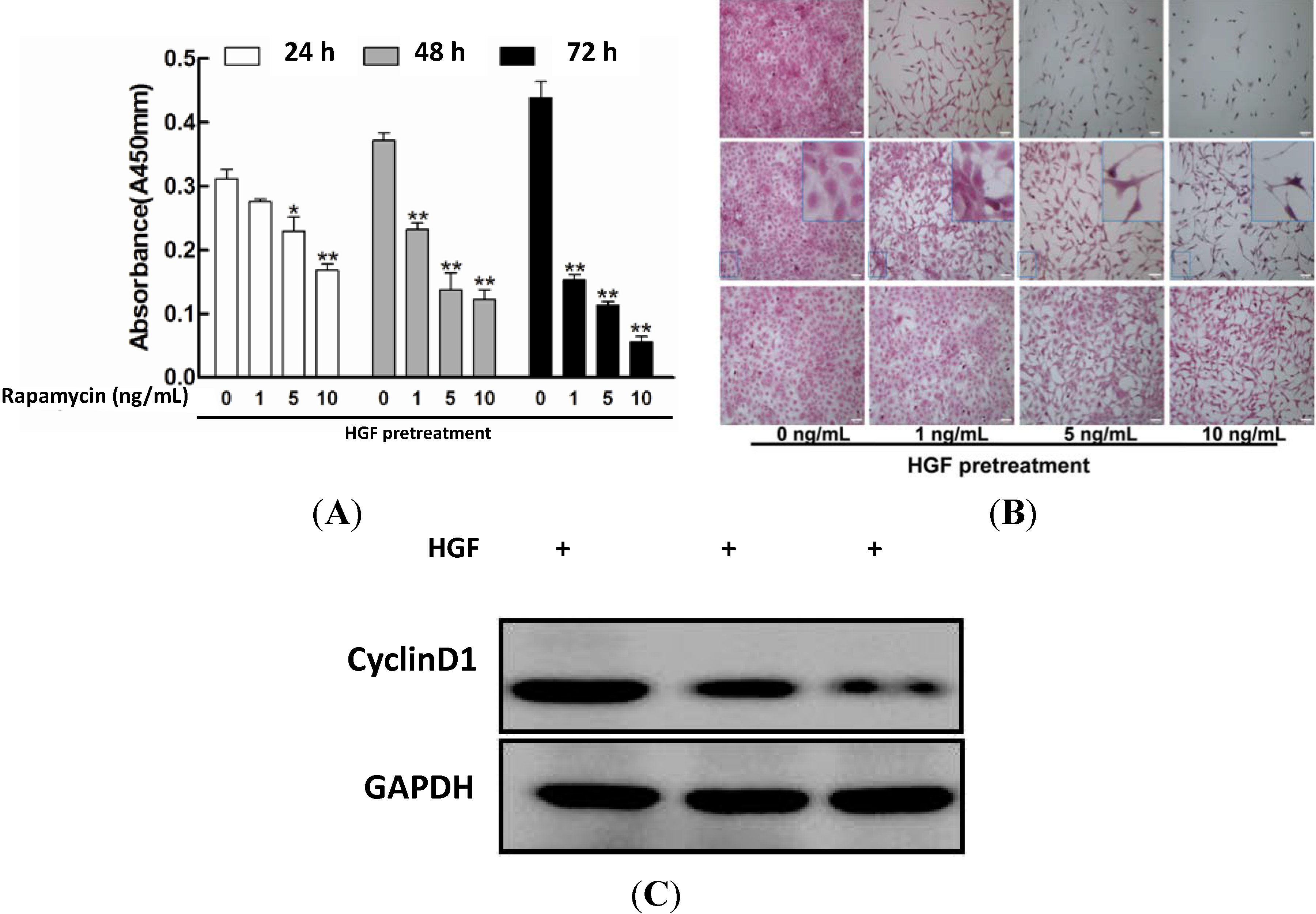 Figure 1
Share & Cite This Article
MDPI and ACS Style
Tian, F.; Dong, L.; Zhou, Y.; Shao, Y.; Li, W.; Zhang, H.; Wang, F. Rapamycin-Induced Apoptosis in HGF-Stimulated Lens Epithelial Cells by AKT/mTOR, ERK and JAK2/STAT3 Pathways. Int. J. Mol. Sci. 2014, 15, 13833-13848.
Related Articles
Comments
[Return to top]