Valproate Attenuates Endoplasmic Reticulum Stress-Induced Apoptosis in SH-SY5Y Cells via the AKT/GSK3β Signaling Pathway
1
Key Laboratory of Biotechnology and Pharmaceutical Engineering, School of Pharmaceutical Sciences, Wenzhou Medical University, Wenzhou 325035, China
2
Science and Education division, Cixi People's Hospital, Wenzhou Medical University, Ningbo 315300, China
3
Ningbo Medical Treatment Center, Li Huili Hospital, Ningbo 315000, China
4
Department of neurosurgery, The second Affiliated Hospital, Nanchang University, Nanchang 330006, China
5
Emergency Department, The Second Affiliated Hospital, Wenzhou Medical University, Wenzhou 325035, China
6
Institute of Life Sciences, Wenzhou University, Wenzhou 325035, China
*
Authors to whom correspondence should be addressed.
Academic Editor: Anthony Lemarié
Received: 27 September 2016 / Revised: 12 January 2017 / Accepted: 27 January 2017 / Published: 8 February 2017
Abstract
Endoplasmic reticulum (ER) stress-induced apoptosis plays an important role in a range of neurological disorders, such as neurodegenerative diseases, spinal cord injury, and diabetic neuropathy. Valproate (VPA), a typical antiepileptic drug, is commonly used in the treatment of bipolar disorder and epilepsy. Recently, VPA has been reported to exert neurotrophic effects and promote neurite outgrowth, but its molecular mechanism is still unclear. In the present study, we investigated whether VPA inhibited ER stress and promoted neuroprotection and neuronal restoration in SH-SY5Y cells and in primary rat cortical neurons, respectively, upon exposure to thapsigargin (TG). In SH-SY5Y cells, cell viability was detected by the 3-(4,5-dimethyl-2-thiazolyl)-2,5-diphenyl-2-
H
-tetrazolium bromide (MTT) assay, and the expression of ER stress-related apoptotic proteins such as glucose‑regulated protein (GRP78), C/EBP homologous protein (CHOP), and cleaved caspase-12/-3 were analyzed with Western blot analyses and immunofluorescence assays. To explore the pathway involved in VPA-induced cell proliferation, we also examined p-AKT, GSK3β, p-JNK and MMP-9. Moreover, to detect the effect of VPA in primary cortical neurons, immunofluorescence staining of β-III tubulin and Anti-NeuN was analyzed in primary cultured neurons exposed to TG. Our results demonstrated that VPA administration improved cell viability in cells exposed to TG. In addition, VPA increased the levels of GRP78 and p-AKT and decreased the levels of ATF6, XBP-1, GSK3β, p-JNK and MMP-9. Furthermore, the levels of the ER stress-induced apoptosis response proteins CHOP, cleaved caspase-12 and cleaved caspase-3 were inhibited by VPA treatment. Meanwhile, VPA administration also increased the ratio of Bcl-2/Bax. Moreover, VPA can maintain neurite outgrowth of primary cortical neurons. Collectively, the neurotrophic effect of VPA is related to the inhibition of ER stress-induced apoptosis in SH-SY5Y cells and the maintenance of neuronal growth. Collectively, our results suggested a new approach for the therapeutic function of VPA in neurological disorders and neuroprotection.
View Full-Text
►

▼

Figures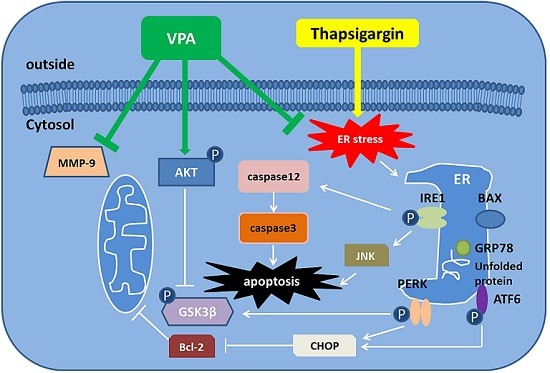 This is an open access article distributed under the
Creative Commons Attribution License
which permits unrestricted use, distribution, and reproduction in any medium, provided the original work is properly cited. (CC BY 4.0).
Share & Cite This Article
MDPI and ACS Style
Li, Z.; Wu, F.; Zhang, X.; Chai, Y.; Chen, D.; Yang, Y.; Xu, K.; Yin, J.; Li, R.; Shi, H.; Wang, Z.; Li, X.; Xiao, J.; Zhang, H. Valproate Attenuates Endoplasmic Reticulum Stress-Induced Apoptosis in SH-SY5Y Cells via the AKT/GSK3β Signaling Pathway. Int. J. Mol. Sci. 2017, 18, 315.
Note that from the first issue of 2016, MDPI journals use article numbers instead of page numbers. See further details here.
Related Articles
Comments
[Return to top]