Induction of Apoptosis in TNF-Treated L929 Cells in the Presence of Necrostatin-1
Department of Internal Medicine, Osaka Dental University, Hirakata 573-1121, Japan
Academic Editors: Anthony Lemarié and William Chi-shing Cho
Received: 3 August 2016 / Revised: 9 September 2016 / Accepted: 27 September 2016 / Published: 7 October 2016
Abstract
It has been shown that necroptosis—caspase-independent programmed necrotic cell death—can be induced by treatment with tumor necrosis factor (TNF) in the L929 murine fibrosarcoma cell line, even in the absence of a caspase inhibitor. Although it was reported that necrostatin-1—a specific inhibitor of necroptosis—inhibited TNF-induced necroptosis in L929 cells, it has not been elucidated whether the cells eventually die by apoptosis in the presence of necrostatin-1. In this paper, induction of apoptosis was demonstrated in TNF-treated L929 cells in the presence of necrostatin-1. Co-treatment with cycloheximide expedited apoptosis induction in necrostatin-1/TNF-treated L929 cells: typical apoptotic morphological changes, including membrane blebbing and nuclear fragmentation, induction of caspase-3 activity, proteolytic activation of caspases-3, -8, and -9, and cleavage of poly(ADP-ribose) polymerase (PARP) (a well-known substrate of caspase-3) were observed. Moreover, co-treatment with Z-VAD-fmk (a pan-caspase inhibitor) inhibited apoptosis by completely inhibiting caspases, resulting in a shift from apoptosis to necroptosis. In contrast, co-treatment with Z-Asp-CH2-DCB (a caspase inhibitor preferential to caspase-3) inhibited apoptosis without expediting necroptosis. These results indicate that apoptosis can be induced in TNF-treated L929 cells when the cells are protected from necroptosis, and support the notion that partial activation of caspase-8 in the presence of a caspase inhibitor preferential to caspase-3 suppresses both apoptosis and necroptosis.
View Full-Text
►

▼

Figures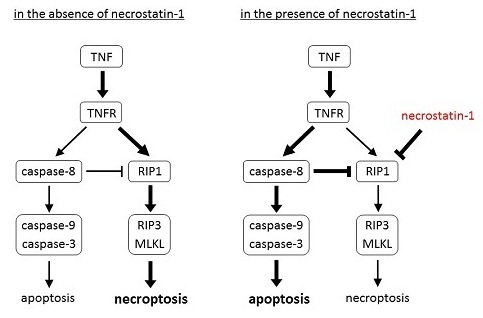 This is an open access article distributed under the
Creative Commons Attribution License
which permits unrestricted use, distribution, and reproduction in any medium, provided the original work is properly cited. (CC BY 4.0).
Share & Cite This Article
MDPI and ACS Style
Sawai, H. Induction of Apoptosis in TNF-Treated L929 Cells in the Presence of Necrostatin-1. Int. J. Mol. Sci. 2016, 17, 1678.
Note that from the first issue of 2016, MDPI journals use article numbers instead of page numbers. See further details here.
Related Articles
Comments
[Return to top]