Zeb1 Is a Potential Regulator of Six2 in the Proliferation, Apoptosis and Migration of Metanephric Mesenchyme Cells
1
Division of Molecular Nephrology and The Creative Training Center for Undergraduates, The Ministry of Education Key Laboratory of Clinical Diagnostics, School of Laboratory Medicine, Chongqing Medical University, Chongqing 400016, China
2
Department of Laboratory Medicine, The First Hospital of Xi'an, Xi'an 710002, China
3
Undergraduates Class of 2012 Entry, The Fifth Clinical College of Medicine, Chongqing Medical University, Chongqing 400016, China
4
The First Affiliated Hospital of Chongqing Medical University, Chongqing 400016, China
†
These authors contributed equally to this work.
*
Author to whom correspondence should be addressed.
Academic Editor: Anthony Lemarié
Received: 17 April 2016 / Revised: 21 July 2016 / Accepted: 27 July 2016 / Published: 6 August 2016
Abstract
Nephron progenitor cells surround around the ureteric bud tips (UB) and inductively interact with the UB to originate nephrons, the basic units of renal function. This process is determined by the internal balance between self-renewal and consumption of the nephron progenitor cells, which is depending on the complicated regulation networks. It has been reported that
Zeb1
regulates the proliferation of mesenchymal cells in mouse embryos. However, the role of
Zeb1
in nephrons generation is not clear, especially in metanephric mesenchyme (MM). Here, we detected cell proliferation, apoptosis and migration in MM cells by EdU assay, flow cytometry assay and wound healing assay, respectively. Meanwhile, Western and RT-PCR were used to measure the expression level of
Zeb1
and
Six2
in MM cells and developing kidney. Besides, the dual-luciferase assay was conducted to study the molecular relationship between
Zeb1
and
Six2
. We found that knock-down of
Zeb1
decreased cell proliferation, migration and promoted cell apoptosis in MM cells and
Zeb1
overexpression leaded to the opposite data. Western-blot and RT-PCR results showed that knock-down of
Zeb1
decreased the expression of
Six2
in MM cells and
Zeb1
overexpression contributed to the opposite results. Similarly,
Zeb1
promoted
Six2
promoter reporter activity in luciferase assays. However, double knock-down of
Zeb1
and
Six2
did not enhance the apoptosis of MM cells compared with control cells. Nevertheless, double silence of
Zeb1
and
Six2
repressed cell proliferation. In addition, we also found that
Zeb1
and
Six2
had an identical pattern in distinct developing phases of embryonic kidney. These results indicated that there may exist a complicated regulation network between
Six2
and
Zeb1
. Together, we demonstrate
Zeb1
promotes proliferation and apoptosis and inhibits the migration of MM cells, in association with
Six2
.
View Full-Text
►

▼

Figures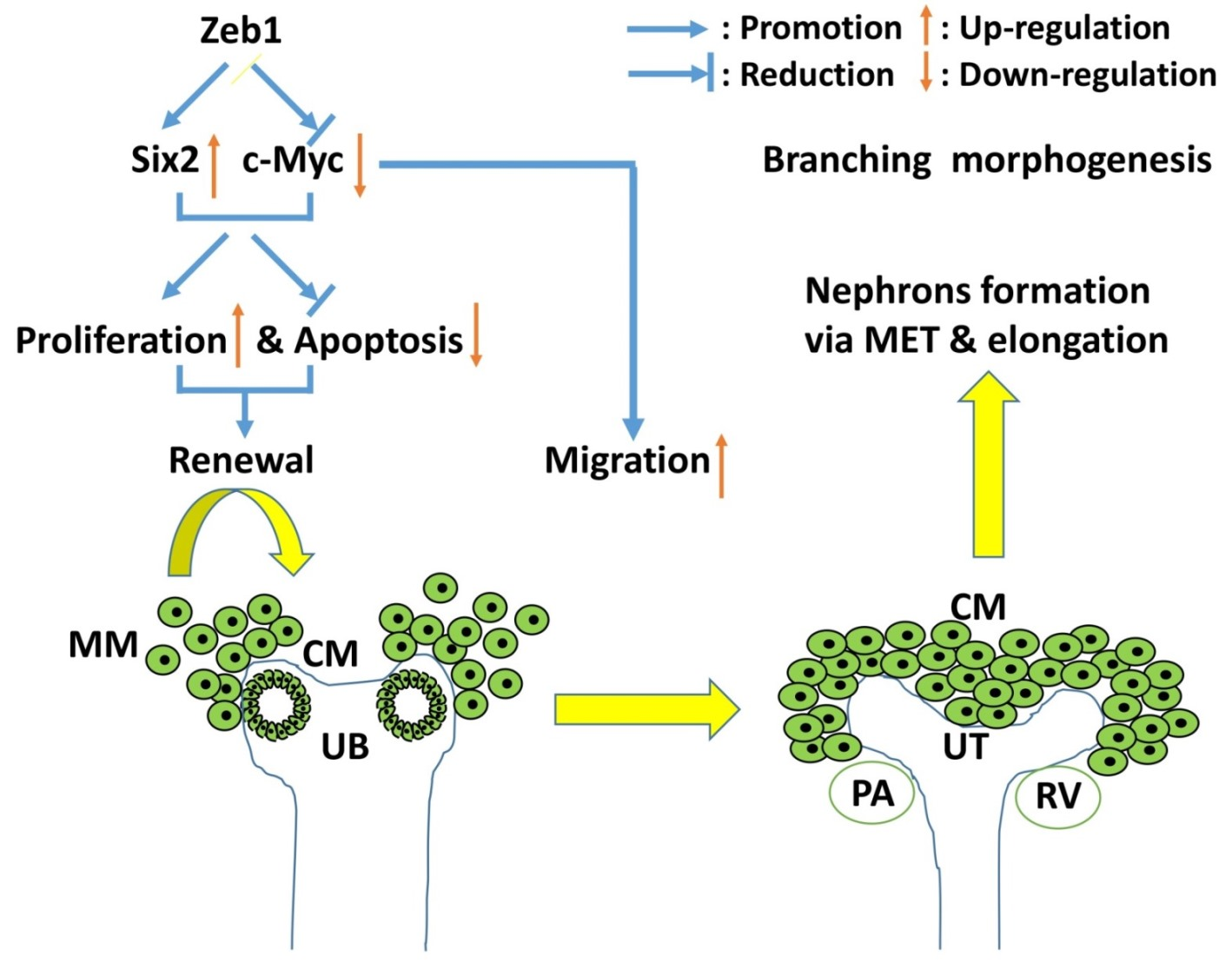 This is an open access article distributed under the
Creative Commons Attribution License
which permits unrestricted use, distribution, and reproduction in any medium, provided the original work is properly cited. (CC BY 4.0).
Share & Cite This Article
MDPI and ACS Style
Gu, Y.; Zhao, Y.; Zhou, Y.; Xie, Y.; Ju, P.; Long, Y.; Liu, J.; Ni, D.; Cao, F.; Lyu, Z.; Mao, Z.; Hao, J.; Li, Y.; Wan, Q.; Kanyomse, Q.; Liu, Y.; Ren, D.; Ning, Y.; Li, X.; Zhou, Q.; Li, B. Zeb1 Is a Potential Regulator of Six2 in the Proliferation, Apoptosis and Migration of Metanephric Mesenchyme Cells. Int. J. Mol. Sci. 2016, 17, 1283.
Note that from the first issue of 2016, MDPI journals use article numbers instead of page numbers. See further details here.
Related Articles
Comments
[Return to top]