Conferences
Upcoming MDPI Conferences (1)

25 October 2021
Basel Sustainable Publishing Forum | Opening Access
Online
In 2021, all research supported by participating Coalition S funders must be published in open access journals and platforms compliant with Plan S principles. Although great progress has been made to date by all stakeholders in implementing these principles, many challenges still remain.
The 3rd Basel Sustainable Publishing Forum is intended to bring together stakeholders from across the scholarly communications landscape to discuss the progress of the transition to open. The conference will present the different perspectives of policy makers, libraries and publishers and serve as a forum for sharing common challenges and solutions. As the focus moves from subscriptions to APCs, the forum will present global perspectives, and explore some of the new inequalities faced by research communities.
Looking to the future, as more parts of the research workflow become open, the forum will also explore the challenges of operating in an open world and will provide an update on initiatives that have been developed to help communities navigate an open landscape. Topics will include open research infrastructures, preprints and open data.
We would like to invite all relevant stakeholders within the research and scholarly communications community to join us and share their experiences, views and opinions.
We look forward to welcoming you to our virtual conference!
Publications announces selected third-party conferences. In case you would like to announce your own event on the Publications website, please fill out the following form to apply for the announcement of a conference or other academic event (seminar, workshop).
Upcoming Partner Conferences (1)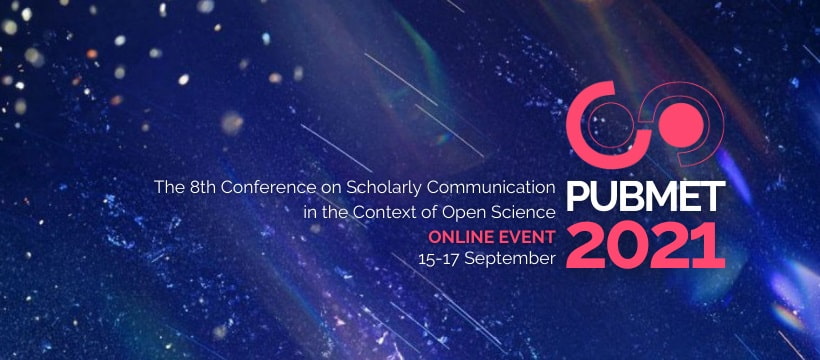 15 September 2024–17 September 2031
The 8th Conference on Scholarly Communication in the Context of Open Access (PUBMET2021)
Online
We welcome you to take part in PUBMET2021 conference, which strives to present and discuss the plurality of approaches to the scholarly communication, scholarly publishing and assessment (metrics). It will present innovative approaches, best practice discussions and take on future challenges. The organizers aim to maintain lively discussion among experts in various fields involved in scholarly publishing and dissemination of knowledge. The field of scholarly communication, scholarly publishing and research assessment includes all disciplines and variety of skills: researchers from different disciplines, information specialists and librarians, editors, publishers, teachers, students, policy makers, communication specialists, repository managers and university administrators. PUBMET conference is organized by the University of Zadar, Department of Information Sciences, University of Zagreb, Faculty of Food Technology and Biotechnology, the Ruđer Bošković Institute's Center for Scientific Information and the Croatian Association for Scholarly Communication.