Conferences
Upcoming MDPI Conferences (1)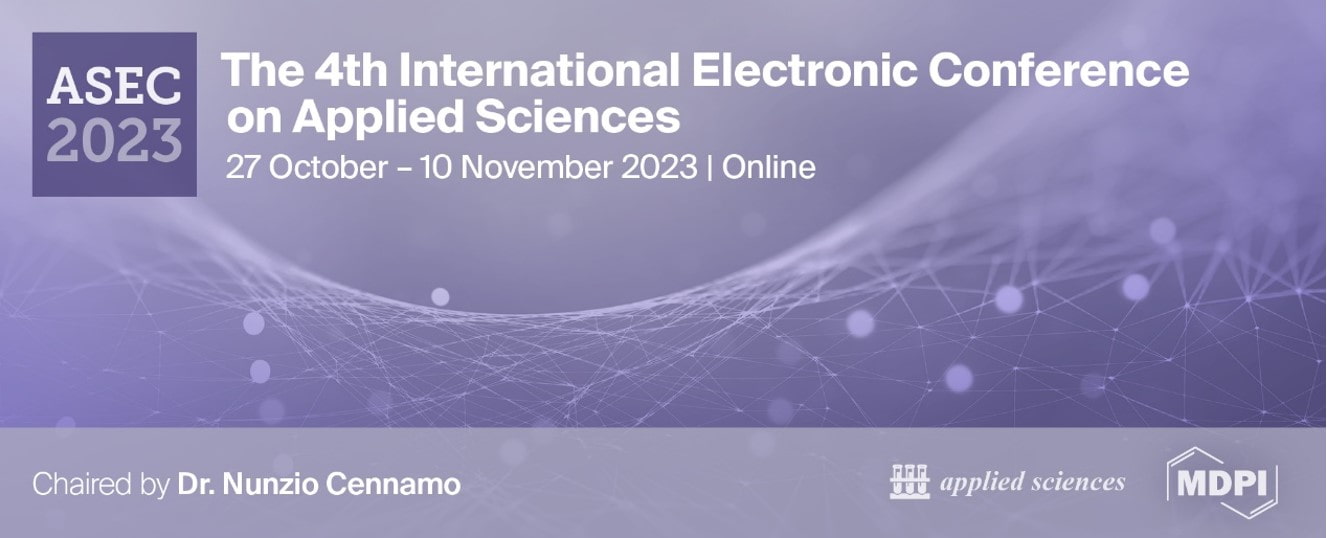 27 October–10 November 2023
The 4th International Electronic Conference on Applied Sciences (ASEC2023)
Online
We are pleased to announce that the 4th International Electronic Conference on Applied Sciences (ASEC2023), chaired by Dr. Nunzio Cennamo, will be held on https://asec2023.sciforum.net/ from 27 October to 10 November 2023.
ASEC2023 offers you the opportunity to participate in this international, scholarly conference without any concerns of expenditures regarding travel—all you need is your computer and access to the Internet. We would like to invite you to "attend" this conference by presenting your latest work. There is no registration fee. This online conference will make your presentation accessible to hundreds of researchers worldwide, with the active engagement of the audience in question and answer sessions, in addition to discussion groups that will take place online.
The conference is divided into 10 themes. You are welcome to submit your articles to this conference.
A. Applied Biosciences, Chemistry, Materials Science, and Bioengineering;
B. Computing, Internet of Things, and Artificial Intelligence;
C. Electronics, Optoelectronics and Communications Engineering;
D. Electrical and Energy Sciences, Technology, and Mechanical and Aerospace Engineering;
E. Environmental, Civil Engineering, and Earth Sciences;
F. Applied Nanosciences, Sensors, Instrumentation, and Measurement Science;
G. Food Science and Technology;
H. Applied Dentistry and Oral Sciences;
I. A Student Session;
J. Posters.
We hope you will be able to join this exciting event, which is organized and sponsored by MDPI, a scholarly open access publisher (https://www.mdpi.com/), and the journal Applied Sciences (ISSN: 2076-3417, Impact Factor: 2.838 (2021)).
Paper Submission Guidelines:
You will be able to submit an abstract first. After acceptance, you will be able to upload a proceedings paper (3–6 pages), a poster, a slides presentation (in PDF), or a short video presentation (max. 3–5 minutes) before the full submission deadline. All accepted proceedings papers will be published in one dedicated volume in the MDPI Proceedings journal Engineering Proceedings (SCOPUS Indexed; ISSN: 2673-4591). The publication of proceedings papers is free of charge. A conference Special Issue (upcoming) will be published in the open access journal Applied Sciences (Impact Factor:2.838). Conference participants are encouraged to submit a full paper to the dedicated Special Issue.
In addition, to acknowledge the support of the conference's esteemed authors and recognize their outstanding scientific accomplishments, we are pleased to launch the Best Contribution Award and Best Student Award. For more information about the procedure for submission, peer review, revision, and acceptance of conference proceedings papers, please refer to the section "Instructions for Authors".
Timeline:
Abstract Submission: 6th July 2023
Notification of Acceptance: 27th July 2023
Proceedings Paper Submission Deadline: 28th August 2023
Conference: 27 October–10 November 2023
We look forward to receiving your research papers and to welcoming you to the 4th edition of the e-conference.
To find out more about the conference, please visit the following link:
Metals announces selected third-party conferences. In case you would like to announce your own event on the Metals website, please fill out the following form to apply for the announcement of a conference or other academic event (seminar, workshop).
Upcoming Partner Conferences (3)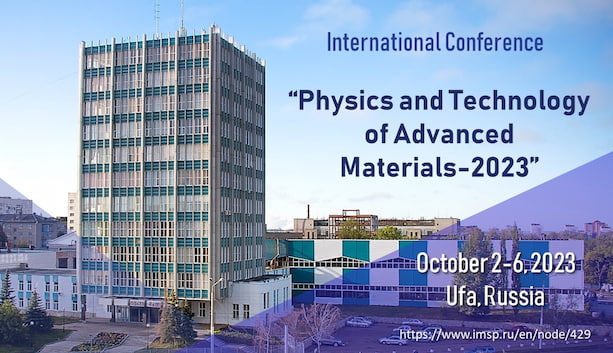 2–6 October 2023
International Conference "Physics and Technology of Advanced Materials—2023"
Ufa, Russia
Dear Colleagues,
We invite you to take part in the International Conference "Physics and Technology of Advanced Materials-2023", which will be held by the Institute for Metals Superplasticity Problems of the Russian Academy of Sciences in the city of Ufa from 2 to 6 October 2023. The conference program will include plenary sessions with reports from leading scientists lasting 30 minutes, sectional meetings with oral reports lasting 15 minutes, special young scientist sessions with reports lasting 10 minutes, and poster sessions. The conference sessions will be held in a combined online and offline format. Plenary reports will be delivered both online and offline within the same session, and sectional reports will be divided into three types: fully online sessions with oral presentations, completely offline sessions with oral presentations, and poster sessions. The online format is provided for oral presentations by participants from Russian cities far from Ufa or from foreign countries, as well as other participants who have had to cancel their planned visit to Ufa.
Conference Subjects
Structure and properties of condensed matter, modeling and simulation of the structure and properties of materials
Nanomaterials
Mechanics of materials
Materials processing technologies
Metal science and heat treatment of metals and alloys
Materials and technologies in the oil and gas industry
Important dates
October 2—arrival day, registration.
October 3,4—face-to-face conference meetings.
October 5,6—online conference sessions.
Location
The conference sessions will be held in the conference hall of the IMSP RAS (39 Khalturin street, Ufa, Russia). Generally, the organizers do not make hotel reservations, but conference participants wishing to come to Ufa for offline attendance will be assisted in solving visa and accommodation problems.
Contacts
The completed registration form, abstracts, and articles should be sent by e-mail to the official address of the conference, [email protected].
Chairman of the Local Committee: Ayrat Nazarov. Tel.: +7-(347)-282-37-50
Head of the Secretariat: Venera Valitova. Tel.: +7-(347)-282-38-58

9–13 October 2023
SARDINIA 2023—19th International Symposium on Waste Management, Resource Recovery and Sustainable Landfilling
Forte Village Resort, Cagliari, Italy
The 2023 edition of the Sardinia Symposium will take place at the Forte Village Resort in Santa Margherita di Pula, Cagliari (Italy), from 9 to 13 October 2023.
The Sardinia Symposium is a biennial event organized by IWWG (International Waste Working Group) since 1987, which usually gathers more than 700 participants from all around the world, with over 400 papers presented at each edition, making the Sardinia Symposium the most important solid waste management conference in the world.
The programme of Sardinia 2023 will include leading keynote presentations, parallel oral sessions, workshops, active labs and other practical activities, discussion forums, poster presentations, commercial exhibitions, business meetings, outstanding networking opportunities and exciting social events!
It is still possible to submit abstracts for oral or poster presentations. Read more about the submission procedure and submit your proposal at https://www.sardiniasymposium.it/en/call-for-abstracts-2023
Proposals for workshops are also welcome.
Topics
Waste policy and legislation
Waste management strategies
Public concern and education
Waste management assessment and decision tools
Waste characterization
Waste collection
Waste minimisation and recycling
Biological treatment
Thermal treatment
Mechanical biological treatment prior to landfilling
Sanitary landfilling
Integrated wastewater and solid waste management
Waste management and climate change
Waste management in developing and low-income countries
Waste Architecture
Environmental Forensics
Waste and Health
Construction and Demolition waste from disaster waste
New issues on Geosynthetics in environmental application
Control of Emerging contaminants and nanoparticles in waste management
Control of Micro- and Nanoplastics in waste management
Circular Economy
Biodiversity and waste management
Digital solutions for waste management and circular economy
Waste Art
Find out more about the conference at: https://www.sardiniasymposium.it/
For further information, please contact the Organising Secretariat at [email protected]

22–24 May 2024
METAL 2024—33rd International Conference on Metallurgy and Materials
OREA Congress Hotel Brno, Brno, Czech Republic, EU
The 33rd International Conference on Metallurgy and Materials, METAL 2023, is a conference with a long tradition in the fields of metallurgy and materials engineering. The conference is divided into a plenary session, six thematic sessions, a poster session and accompanying company presentations. It will address the latest technological information and experiences and opinions of experts from around the world. After the conference, the proceedings of peer-reviewed papers are submitted for evaluation and indexed in the Web of Science and Scopus databases.
Conference topics (lectures and posters):
Session A—Advanced Iron, Cast Iron and Steelmaking;
Session B—Metal Forming;
Session C—Steel Products, e.g., properties;
Session D—Modern Trends in Surface Engineering;
Session E—Non-Ferrous Metals and Alloys;
Session F—Economics and Management of Metallurgical Production.
Additionally, there will be a Best Poster Contest. The first three winners and five honorable mentions will be awarded.
general information e-mail: [email protected]