Journal Browser
►

▼

Journal Browser
Conferences
Upcoming MDPI Conferences (1)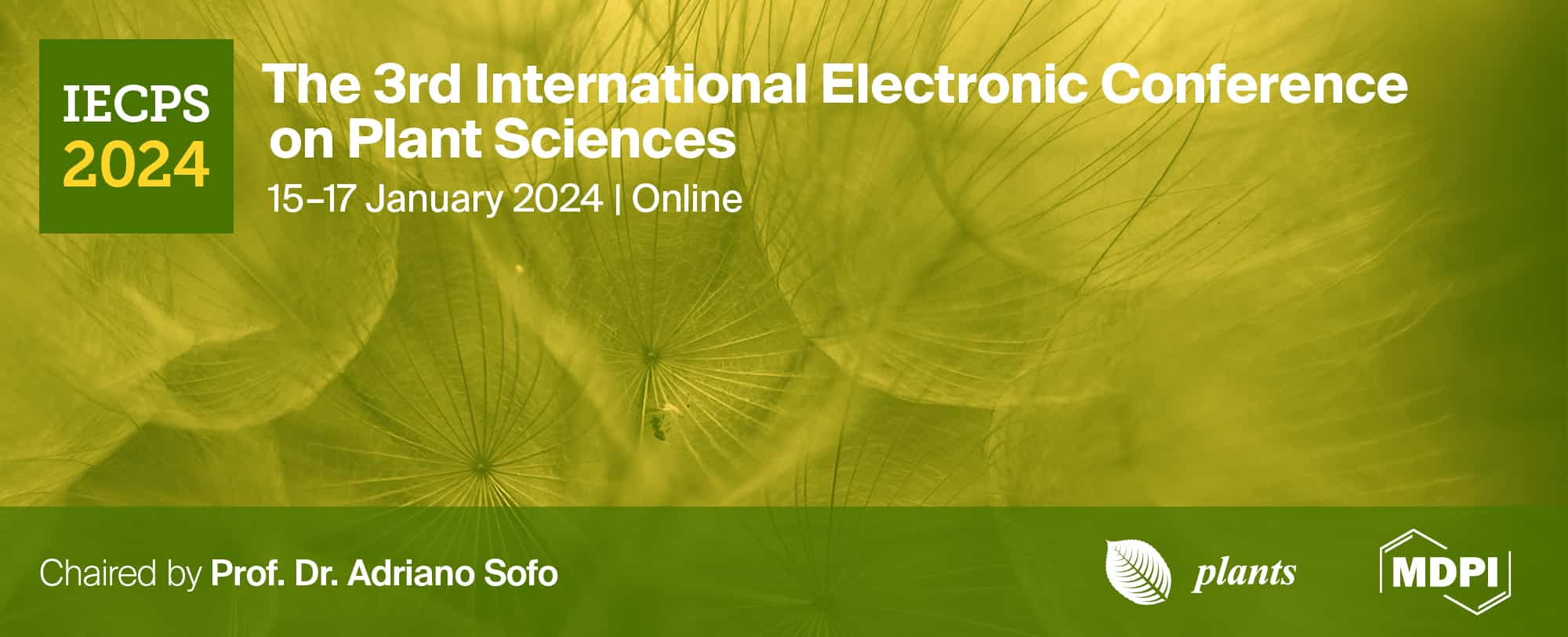 15–17 January 2024
The 3rd International Electronic Conference on Plant Sciences (IECPS 2024)
Online
Dear scientists, researchers and authors,
It is our pleasure to announce that the 3rd International Electronic Conference on Plant Sciences (IECPS 2024), chaired by Prof. Dr. Adriano Sofo, will be held on https://iecps2024.sciforum.net/ from 15 to 17 January 2024.
This conference aims to provide leading scientists working in the field of plants with a robust common platform in which to share and discuss their latest research and to promote the advancement of this exciting and rapidly changing field. We hope to encourage discovery across the discipline as we cover the following eight themes in sessions, as listed below:
SESSION A. Plant Physiology Signaling and Communication
SESSION B. Plant Ecology, Biodiversity and Developmental Biology
SESSION C. Plant Response to Stresses and Changing Environment
SESSION D. Phytochemistry, Phytoremediation and Plants in Urban Ecosystems
SESSION E. Plant Nutrition and Plant Soil–Microorganism Interactions
SESSION F. Plant Molecular Biology and Plant Genetics, Genomics and Biotechnology
SESSION G. Plant Modeling and Bioinformatics
SESSION H. Plant Ecosystem Services and Public Outreach
During the 3-day event, participants will have the opportunity to present short talks on their work and engage in stimulating discussions. Please submit your abstract before 15th October 2023 in the section "Submit Abstract" and do not miss this chance to win our Best Oral Presentation Award (CHF 500) and Best Poster Award (CHF 500). Authors will be selected to deliver an oral presentation of 10-12 minutes or 5 minutes if it is a poster that they are presenting. You can find out more information about registration fees at https://iecps2024.sciforum.net/#registration.
For information about the procedure for the submission, peer review, revision and acceptance of conference proceedings papers, please refer to the section "Instructions for Authors".
Timeline:
Abstract Submission Deadline: 15th October 2023
Notification of Acceptance Deadline: 10th November 2023
Early Bird Registration Deadline: 30th November 2023
Conference: 15‒17 January 2024
We look forward to receiving your abstracts and welcoming you to this e-conference.
Please do not hesitate to contact us if you have any questions.
E-Mail: [email protected]
Horticulturae announces selected third-party conferences. In case you would like to announce your own event on the Horticulturae website, please fill out the following form to apply for the announcement of a conference or other academic event (seminar, workshop).
Upcoming Partner Conferences (0)
No conferences found for the selection.