Physicochemical Properties of Ti3+ Self-Doped TiO2 Loaded on Recycled Fly-Ash Based Zeolites for Degradation of Methyl Orange
Abstract
The extensive production of coal fly ash by coal combustion is an issue of concern due to its environmental impact. TiO
2
-zeolite composites were synthesized, at low cost, using recycled coal fly ash from a local thermoelectric power plant to produce the
[...] Read more.
The extensive production of coal fly ash by coal combustion is an issue of concern due to its environmental impact. TiO
2
-zeolite composites were synthesized, at low cost, using recycled coal fly ash from a local thermoelectric power plant to produce the zeolite using the hydrothermal method. TiO
2
was loaded by means of the impregnation method using ethanol and titanium isopropoxide between 8.7 and 49.45 wt% TiO
2
. The samples were characterized by X-ray diffraction, Raman, electron spin resonance, high-resolution transmission electron microscopy, N
2
adsorption-desorption, doppler broadening of annihilation radiation, and diffuse reflectance techniques, and the photocatalytic activity of the composites was evaluated according to the degradation of methyl orange under UV light. The results show that TiO
2
crystallizes in the anatase phase with a Ti
3+
oxidation state, without post-treatment. TiO
2
particles were located within the pores of the substrate and on its surface, increasing the surface area of the composites in comparison with that of the substrates. Samples with TiO
2
at 8.7 and 25 wt% immobilized on hydroxysodalite show the highest degradation of methyl orange among all studied materials, including the commercial TiO
2
Degussa P25 under UV light.
Full article
►

▼

Show Figures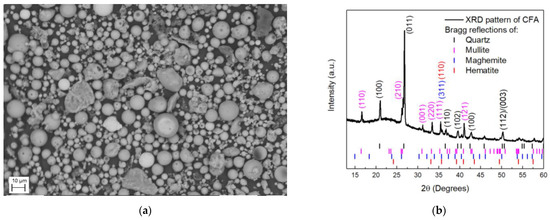 Figure 1