An Electrochemical Sensor Based on Reduced Graphene Oxide and Copper Nanoparticles for Monitoring Estriol Levels in Water Samples after Bioremediation
Chemosensors 2022, 10(10), 395; https://doi.org/10.3390/chemosensors10100395 (registering DOI) - 28 Sep 2022
Abstract
Water contamination from endocrine disruptors has become a major problem for health issues. Estriol is a hormone often detected in several aquatic matrices, due to the inefficient removal of such compounds through conventional water treatment methods. Therefore, there is a continuous need to
[...] Read more.
Water contamination from endocrine disruptors has become a major problem for health issues. Estriol is a hormone often detected in several aquatic matrices, due to the inefficient removal of such compounds through conventional water treatment methods. Therefore, there is a continuous need to develop new, efficient, and low-cost treatment methods for this hormone removal, as well as analytical devices able to detect estriol at low concentrations. In this present study, we report the use of the
Eichhornia crassipes
(water hyacinth) as a phytoremediation agent for estriol removal from aqueous matrices, in addition to a newly developed electrochemical sensor based on reduced graphene oxide and copper nanoparticles as a quantification and monitoring tool of the hormone. The developed sensor presented a linear detection region from 0.5 to 3.0 μmol L
−1
, with detection and quantification limits of 0.17 μmol L
−1
and 0.56 μmol L
−1
, respectively. Phytoremediation experiments were conducted in 2 L beakers and the reducing levels of the hormone were studied. Water hyacinth was able to reduce contaminant levels by approximately 80.5% in 7 days and below detection limits in less than 9 days, which is a good alternative for water decontamination with this endocrine disruptor. Due to the hydrophobicity of estriol, the probable mechanism involved in the bioremediation process is rhizodegradation, and the decrease in pH in the beakers that contained the plants indicated a possible formation of biofilms on the roots.
Full article
►

▼

Show Figures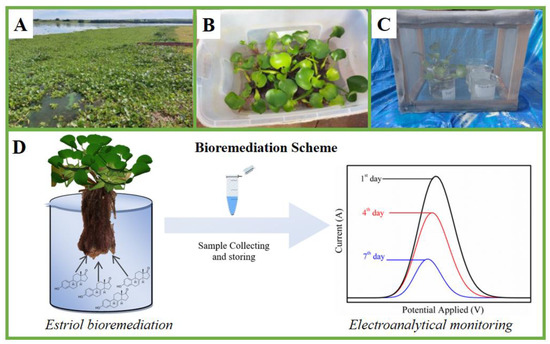 Figure 1