Glomerular Diseases Associated with Malignancies: Histopathological Pattern and Association with Circulating Autoantibodies
Abstract
Aim: Glomerular diseases (GD) associated with malignancies (AM, GDAM) have unique features, which are important to recognize, in the light of the progress made in cancer therapy. We aimed to describe the clinical and histopathological characteristics of patients with GDAM in relation to
[...] Read more.
Aim: Glomerular diseases (GD) associated with malignancies (AM, GDAM) have unique features, which are important to recognize, in the light of the progress made in cancer therapy. We aimed to describe the clinical and histopathological characteristics of patients with GDAM in relation to the presence of circulating autoantibodies, pointing to potential immune pathogenic pathways connecting cancer to GD. Materials and Methods: The included patients were studied retrospectively on the basis of a kidney biopsy proving GD and a related biopsy to establish the diagnosis of AM. We recorded patients' demographics, serological and laboratory parameters, histopathological findings, and the type of malignancy, GD, and therapy. Results: In total, 41 patients with GDAM, with a mean age of 63.1 (±10.7) years, were studied. In 28 (68.3%) cases, GD was associated with a solid tumor, and in 13 (31.7%) patients with a lymphoid malignancy. The most frequent histopathological pattern was membranous nephropathy (43.9%). Overall, at the time of GD diagnosis, 17% of the patients were positive for antinuclear antibodies (ANA), and 12.2% for antineutrophil cytoplasmic autoantibodies (ANCA), all against myeloperoxidase (MPO). In addition, 93.3% of the patients who had membranous nephropathy were negative for transmembrane glycoprotein M-type phospholipase A
2
receptor (PLA
2
R) antibody. Sixteen patients (39.0%) presented with acute nephritic syndrome, of whom five (31.25%) developed rapidly progressive glomerulonephritis. In a mean follow-up time of 36.1 (±28.3) months, nine (21.95%) patients ended up with end-stage kidney disease, and eight (19.5%) died. Conclusion: We found that 3.2% of patients who underwent a native kidney biopsy in our institution during the past decade, for any reason, were identified as having some type of GD associated with a malignancy. Serology indicated a significant presence of ANA or MPO-ANCA antibodies in patients with nephritic syndrome and the absence of PLA
2
R antibodies in patients with membranous nephropathy.
Full article
►

▼

Show Figures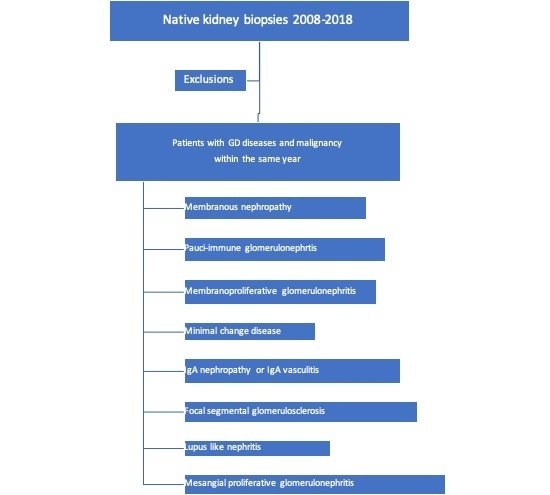 Graphical abstract