Recombinant Antibody Production Using a Dual-Promoter Single Plasmid System
Abstract
Monoclonal antibodies (mAbs) have demonstrated tremendous effects on the treatment of various disease indications and remain the fastest growing class of therapeutics. Production of recombinant antibodies is performed using mammalian expression systems to facilitate native antibody folding and post-translational modifications. Generally, mAb expression
[...] Read more.
Monoclonal antibodies (mAbs) have demonstrated tremendous effects on the treatment of various disease indications and remain the fastest growing class of therapeutics. Production of recombinant antibodies is performed using mammalian expression systems to facilitate native antibody folding and post-translational modifications. Generally, mAb expression systems utilize co-transfection of heavy chain (
hc
) and light chain (
lc
) genes encoded on separate plasmids. In this study, we examine the production of two FDA-approved antibodies using a bidirectional (BiDi) vector encoding both
hc
and
lc
with mirrored promoter and enhancer elements on a single plasmid, by analysing the individual
hc
and
lc
mRNA expression levels and subsequent quantification of fully-folded IgGs on the protein level. From the assessment of different promoter combinations, we have developed a generic expression vector comprised of mirrored enhanced CMV (eCMV) promoters showing comparable mAb yields to a two-plasmid reference. This study paves the way to facilitate small-scale mAb production by transient cell transfection with a single vector in a cost- and time-efficient manner.
Full article
►

▼

Show Figures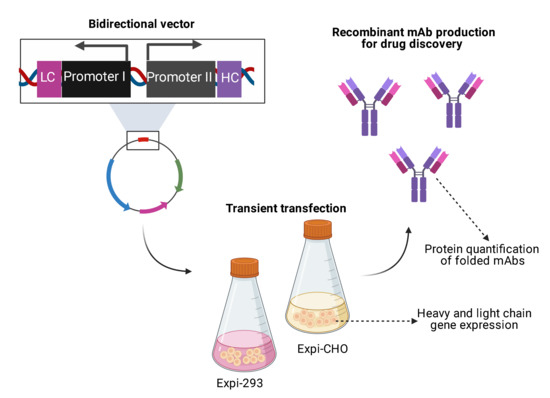 Graphical abstract