Enhanced Skin Permeation of Estradiol by Dimethyl Sulfoxide Containing Transdermal Patches
Pharmaceutics 2021, 13(3), 320; https://doi.org/10.3390/pharmaceutics13030320 (registering DOI) - 01 Mar 2021
Abstract
Dimethyl sulfoxide is a well-known and widely used dermal penetration enhancer. Its incorporation in transdermal patches would be highly desirable; however, due to its volatility this is extremely challenging. Here, we report on the feasibility of a dimethyl sulfoxide (DMSO) containing transdermal system
[...] Read more.
Dimethyl sulfoxide is a well-known and widely used dermal penetration enhancer. Its incorporation in transdermal patches would be highly desirable; however, due to its volatility this is extremely challenging. Here, we report on the feasibility of a dimethyl sulfoxide (DMSO) containing transdermal system containing estradiol as a model compound. Transdermal patches were prepared from duro-tak
®
387-2510 containing various DMSO concentrations at different drying temperatures. The resulting patches were analyzed for DMSO content, estradiol and DMSO release, estradiol and DMSO permeation through excised porcine skin, and recrystallization during stability testing. Drying conditions in the range of 35° to 40° allowed a complete polymer solvents removal while retaining significant amounts of DMSO (≤10 mg/patch). Estradiol skin permeation increased 4-fold (Jss = 4.12 µg/cm
−2
·h
−1
) compared to DMSO-negative control (Jss = 1.1 ± 0.2 µg/cm
−2
·h
−1
). As additional benefit, estradiol recrystallization was inhibited by DMSO at even lowest solvent concentrations. Storage stability was limited to 6 months at 25 °C with a surprising discrepancy between DMSO content (significantly lower) and flux (not significantly different). Although the technical feasibility range is relatively narrow, such DMSO-containing matrix-type patches are able to significantly enhance drug permeation through the skin while ameliorating the product stability against recrystallization.
Full article
►

▼

Show Figures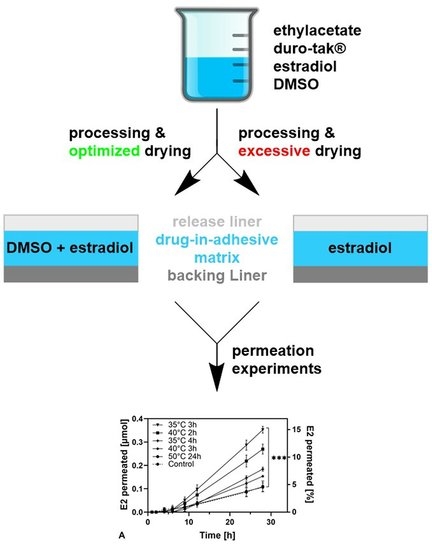 Graphical abstract