Copper Oxide Nanoparticles Synthesized from Indigofera linnaei Ali and This Plant's Biological Applications
Abstract
The leaf extract of
Indigofera linnaei
Ali, an Indian medicinal plant, was utilized in the synthesis of copper oxide nanoparticles (CuO-NPs). Green chemistry is a safe and cost-effective method for the synthesis of nanoparticles using plant extracts. The synthesis of CuO NPs was
[...] Read more.
The leaf extract of
Indigofera linnaei
Ali, an Indian medicinal plant, was utilized in the synthesis of copper oxide nanoparticles (CuO-NPs). Green chemistry is a safe and cost-effective method for the synthesis of nanoparticles using plant extracts. The synthesis of CuO NPs was confirmed using ultraviolet–visible (UV-visible) spectrum λ-max data with two peaks at 269 and 337 nm. Different functional groups were identified using Fourier-transform infrared spectroscopy (FT-IR). X-ray diffraction (XRD) was used to confirm the crystalline structure of the CuO-nanoparticles. Scanning electron microscopy (SEM) and energy dispersive X-ray (EDX) analyses were performed to examine the surface morphology and elemental composition of the biosynthesized CuO-NPs. Furthermore, the synthesized CuO-NPs exhibited antibacterial activity against
Staphylococcus aureus
,
Pseudomonas aeruginosa
,
Escherichia coli
, and
Enterococcus faecalis
. Additionally, they exhibited a good insecticidal effect on
Culex quinquefasciatus
larvae, with low LC
50
55.716 µg/mL and LC
90
123.657 µg/mL values. The CuO-NPs inhibited human breast cancer cells in a concentration-dependent manner, with an IC
50
value of 63.13 µg/mL.
Full article
►

▼

Show Figures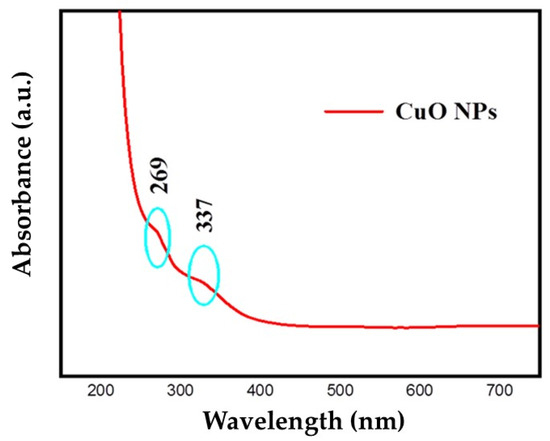 Figure 1