Diversity of Coordination Modes in a Flexible Ditopic Ligand Containing 2-Pyridyl, Carbonyl and Hydrazone Functionalities: Mononuclear and Dinuclear Cobalt(III) Complexes, and Tetranuclear Copper(II) and Nickel(II) Clusters†
1
Department of Chemistry, University of Patras, 26504 Patras, Greece
2
Institute of Nanoscience and Nanotechnology, NCSR "Demokritos", 15310 Aghia Paraskevi Attikis, Greece
3
Carlson School of Chemistry and Biochemistry, Clark University, Worcester, MA 01610, USA
4
Institute of Chemical Engineering Sciences, Foundation for Research and Technology-Hellas (FORTH/ICE-HT), Platani, B.O. Box 1414, 26504 Patras, Greece
*
Authors to whom correspondence should be addressed.
†
This article is dedicated to Professor Masahiro Yamashita—a great scientist and a precious friend—on the occasion of his 65th birthday.
Received: 15 May 2019 / Revised: 10 June 2019 / Accepted: 12 June 2019 / Published: 1 July 2019
Abstract
Syntheses, crystal structures and characterization are reported for four new complexes [Cu
4
Br
2
(L)
4
]Br
2
(
1
), [Ni
4
(NO
3
)
2
(L)
4
(H
2
O)](NO
3
)
2
(
2
), [Co
2
(L)
3
](ClO
4
)
3
(
3
) and [Co(L)
2
](ClO
4
) (
4
), where L
−
is the monoanion of the ditopic ligand
N
′-(
1
-(pyridin-2-yl)ethylidene)pyridine-2-carbohydrazide (LH) built on a picolinoyl hydrazone core fragment, and possessing a bidentate and a tridentate coordination pocket. The tetranuclear cation of
1
·0.8H
2
O·MeOH is a strictly planar, rectangular [2 × 2] grid. Two 2.21011 L
−
ligands bridge adjacent Cu
II
atoms on the short sides of the rectangle through their alkoxide oxygen atoms, and two 2.11111 ligands bridge adjacent Cu
II
atoms on the long sides of the rectangle through their diazine groups; two metal ions are 5-coordinate and two are 6-coordinate. The tetranuclear cation of
2
·0.2H
2
O·3EtOH is a square [2 × 2] grid. The two 6-coordinate Ni
II
atoms of each side of the square are bridged by the alkoxide O atom of one 2.21011 L
−
ligand. The dinuclear cation of
3
·0.8H
2
O·1.3MeOH contains two low-spin octahedral Co
III
ions bridged by three 2.01111 L
−
ligands forming a
pseudo
triple helicate. In the mononuclear cation [Co(L)
2
]
+
of complex
4
, the low-spin octahedral Co
III
center is coordinated by two tridentate chelating, meridional 1.10011 ligands. The crystal structures of the complexes are stabilized by a variety of π–π stacking and/or H-bonding interactions. Compounds
2
,
3
and
4
are the first structurally characterized nickel and cobalt complexes of any form (neutral or anionic) of LH. The 2.01111 and 1.10011 coordination modes of L
−
, observed in the structures of complexes
3
and
4
, have been crystallographically established for the first time in coordination complexes containing this anionic ligand. Variable-temperature, solid-state dc magnetic susceptibility and variable-field magnetization studies at 1.8 K were carried out on complexes
1
and
2
. Antiferromagnetic metal ion···metal ion exchange interactions are present in both complexes. The study reveals that the cation of
1
can be considered as a practically isolated pair of strongly antiferromagnetically coupled (through the diazine group of L
−
) dinulear units. The susceptibility data for
2
were fit to a single-
J
model for an
S
= 1 cyclic tetramer. The values of the
J
parameters have been rationalized in terms of known magnetostructural correlations. Spectral data (infrared (IR), ultraviolet/visible (UV/VIS),
1
H nuclear magnetic resonance (NMR) for the diamagnetic complexes) are also discussed in the light of the structural features of
1
–
4
and the coordination modes of the organic and inorganic ligands that are present in the complexes. The combined work demonstrates the ligating flexibility of L
−
, and its usefulness in the synthesis of complexes with interesting structures and properties.
View Full-Text
►

▼

Figures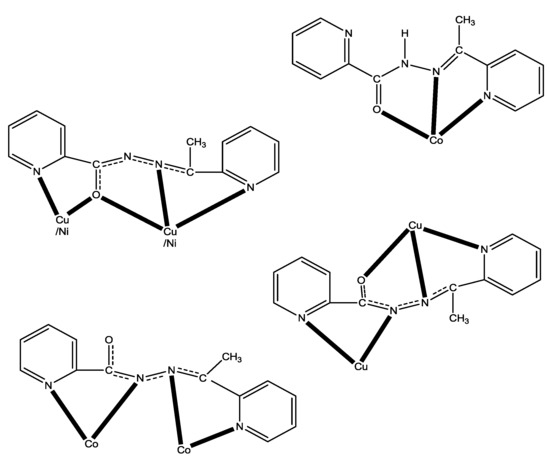 Graphical abstract
This is an open access article distributed under the
Creative Commons Attribution License
which permits unrestricted use, distribution, and reproduction in any medium, provided the original work is properly cited (CC BY 4.0).

Share & Cite This Article
MDPI and ACS Style
Pilichos, E.; Spanakis, E.; Maniaki, E.-K.; Raptopoulou, C.P.; Psycharis, V.; Turnbull, M.M.; Perlepes, S.P. Diversity of Coordination Modes in a Flexible Ditopic Ligand Containing 2-Pyridyl, Carbonyl and Hydrazone Functionalities: Mononuclear and Dinuclear Cobalt(III) Complexes, and Tetranuclear Copper(II) and Nickel(II) Clusters. Magnetochemistry 2019, 5, 39.
Note that from the first issue of 2016, MDPI journals use article numbers instead of page numbers. See further details here.
Related Articles
Comments
[Return to top]