Extrusion-Based 3D Printing of Poly(ethylene glycol) Diacrylate Hydrogels Containing Positively and Negatively Charged Groups
1
Institute of Interfacial Process Engineering and Plasma Technology IGVP, University of Stuttgart, Nobelstr. 12, 70569 Stuttgart, Germany
2
Institut für Kunststofftechnik IKT, University of Stuttgart, Pfaffenwaldring 32, 70569 Stuttgart, Germany
3
Fraunhofer Institute for Interfacial Engineering and Biotechnology IGB, Nobelstr. 12, 70569 Stuttgart, Germany
*
Author to whom correspondence should be addressed.
Received: 29 June 2018 / Revised: 30 July 2018 / Accepted: 8 August 2018 / Published: 14 August 2018
Abstract
Hydrogels are an interesting class of materials used in extrusion-based 3D printing, e.g., for drug delivery or tissue engineering. However, new hydrogel formulations for 3D printing as well as a detailed understanding of crucial formulation properties for 3D printing are needed. In this contribution, hydrogels based on poly(ethylene glycol) diacrylate (PEG-DA) and the charged monomers 3-sulfopropyl acrylate and [2-(acryloyloxy)ethyl]trimethylammonium chloride are formulated for 3D printing, together with Poloxamer 407 (P407). Chemical curing of formulations with PEG-DA and up to 5% (
w/w
) of the charged monomers was possible without difficulty. Through careful examination of the rheological properties of the non-cured formulations, it was found that flow properties of formulations with a high P407 concentration of 22.5% (
w/w
) possessed yield stresses well above 100 Pa together with pronounced shear thinning behavior. Thus, those formulations could be processed by 3D printing, as demonstrated by the generation of pyramidal objects. Modelling of the flow profile during 3D printing suggests that a plug-like laminar flow is prevalent inside the printer capillary. Under such circumstances, fast recovery of a high vicosity after material deposition might not be necessary to guarantee shape fidelity because the majority of the 3D printed volume does not face any relevant shear stress during printing.
View Full-Text
►

▼

Figures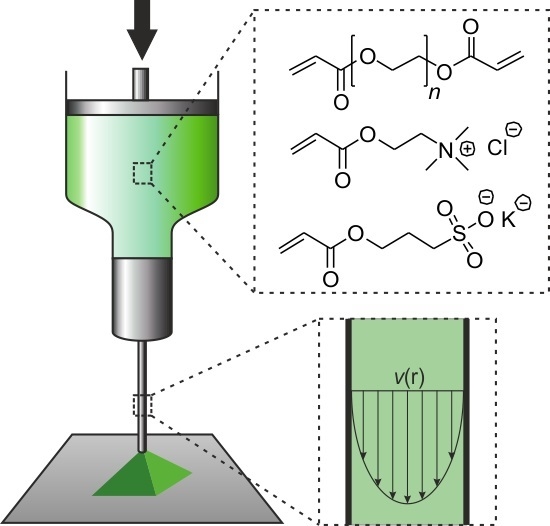 Graphical abstract
This is an open access article distributed under the
Creative Commons Attribution License
which permits unrestricted use, distribution, and reproduction in any medium, provided the original work is properly cited (CC BY 4.0).

Share & Cite This Article
MDPI and ACS Style
Joas, S.; Tovar, G.E.M.; Celik, O.; Bonten, C.; Southan, A. Extrusion-Based 3D Printing of Poly(ethylene glycol) Diacrylate Hydrogels Containing Positively and Negatively Charged Groups. Gels 2018, 4, 69.
Note that from the first issue of 2016, MDPI journals use article numbers instead of page numbers. See further details here.
Related Articles
Comments
[Return to top]