Grape Juice Consumption with or without High Fat Diet during Pregnancy Reduced the Weight Gain and Improved Lipid Profile and Oxidative Stress Levels in Liver and Serum from Wistar Rats
Laboratório de Bioquímica do Centro Universitário Metodista IPA, Cel. Joaquim Pedro Salgado, 80, Porto Alegre 90420-060, RS, Brazil
*
Author to whom correspondence should be addressed.
Received: 30 August 2018 / Revised: 14 September 2018 / Accepted: 10 October 2018 / Published: 21 October 2018
Abstract
The aim of this study was to evaluate the effects of high fat diet with or without grape juice during the pregnancy on gestational weight gain, biochemical parameters, and oxidative stress in plasma and liver from Wistar rats. Forty-nine rats were divided into four groups: control diet group (CD), high fat diet (HFD), grape juice and control diet (PGJCD), and grape juice and high fat diet (PGJHFD). During the treatment the weight gain of the rats was tracked. They had free access to their respective diets during 42 days of treatment. After offspring weaning, the mother rats were euthanized and blood and liver were collected. The high fat diet increased the total cholesterol and triglycerides serum levels as well as carbonyl levels in the liver, however this diet reduced the high-density lipoprotein (HDL) and urea levels in serum. Grape juice consumption reduced gestational body weight gain. In liver, the juice consumption increased sulfhydryl levels and reduced the superoxide dismutase (SOD) activity and TBARS level, in serum the consumption reduced aspartate aminotransferase (AST) and TBARS. We can conclude that the consumption of a diet rich in fat can promotes harmful effects on health during pregnancy, however the consumption of grape juice seems to be an important alternative to prevent oxidative damages and to promote the improvement of health.
View Full-Text
►

▼

Figures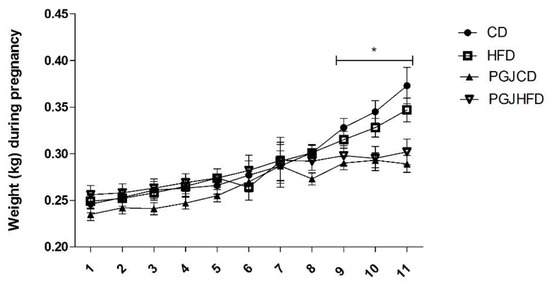 Figure 1
This is an open access article distributed under the
Creative Commons Attribution License
which permits unrestricted use, distribution, and reproduction in any medium, provided the original work is properly cited (CC BY 4.0).

Share & Cite This Article
MDPI and ACS Style
Gonçalves, L.K.; Bortolato, G.; Dario Braccini Neto, R.; Rocha Frusciante, M.; Funchal, C.; Dani, C. Grape Juice Consumption with or without High Fat Diet during Pregnancy Reduced the Weight Gain and Improved Lipid Profile and Oxidative Stress Levels in Liver and Serum from Wistar Rats. Beverages 2018, 4, 78.
Note that from the first issue of 2016, MDPI journals use article numbers instead of page numbers. See further details here.
Related Articles
Comments
[Return to top]