Protection by the Total Flavonoids from
Rosa laevigata

Michx Fruit against Lipopolysaccharide-Induced Liver Injury in Mice via Modulation of FXR Signaling

College of Pharmacy, Dalian Medical University, Western 9 Lvshunnan Road, Dalian 116044, China

*

Authors to whom correspondence should be addressed.

†

These authors contributed same work to this work and they are the co-first authors.

Received: 30 April 2018 / Revised: 31 May 2018 / Accepted: 6 June 2018 / Published: 8 June 2018
Abstract
We previously reported the effects of the total flavonoids (TFs) from
Rosa laevigata
Michx fruit against carbon tetrachloride-induced liver damage, non-alcoholic fatty liver disease, and liver ischemia-reperfusion injury. However, there have been no papers reporting the role of
R. laevigata
TFs against lipopolysaccharide (LPS)-induced liver injury. In this paper, liver injury in mice was induced by LPS, and
R. Laevigata
extract was intragastrically administered to the mice for 7 days. Biochemical parameters in serum and liver tissue were examined, and pathological changes were observed by transmission electron microscopy, hematoxylin and eosin (H&E) and Oil Red O staining. The results showed that the TFs markedly reduced serum ALT (alanine transferase), AST (aspartate transaminase), TG (total triglyceride), and TC (total cholesterol) levels and relative liver weights and improved liver pathological changes. In addition, the TFs markedly decreased tissue MDA (malondialdehyde) level and increased the levels of SOD (superoxide dismutase) and GSH-Px (glutathione peroxidase). A mechanistic study showed that the TFs significantly increased the expression levels of Nrf2 (nuclear erythroid factor2-related factor 2), HO-1 (heme oxygenase-1), NQO1 (NAD(P)H dehydrogenase (quinone 1), GCLC (glutamate-cysteine ligase catalytic subunit), and GCLM (glutamate-cysteine ligase regulatory subunit) and decreased Keap1 (Kelch-like ECH-associated protein 1) level by activating FXR (farnesoid X receptor) against oxidative stress. Furthermore, the TFs markedly suppressed the nuclear translocation of NF-κB (nuclear factor-kappa B) and subsequently decreased the expression levels of IL (interleukin)-1β, IL-6, HMGB-1 (high -mobility group box 1), and COX-2 (cyclooxygenase-2) by activating FXR and FOXO3a (forkhead box O3) against inflammation. Besides, the TFs obviously reduced the expression levels of SREBP-1c (sterol regulatory element-binding proteins-1c), ACC1 (acetyl-CoA carboxylase-1), FASN (fatty acid synthase), and SCD1 (stearoyl-coenzyme A desaturase 1), and improved CPT1 (carnitine palmitoyltransferase 1) level by activating FXR to regulate lipid metabolism. Our results suggest that TFs exhibited protective effect against LPS-induced liver injury by altering FXR-mediated oxidative stress, inflammation, and lipid metabolism, and should be developed as an effective food and healthcare product for the therapy of liver injury in the future.
View Full-Text
►

▼

Figures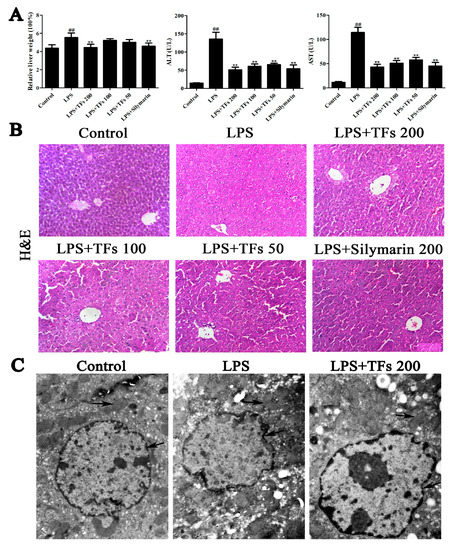 Figure 1
This is an open access article distributed under the
Creative Commons Attribution License
which permits unrestricted use, distribution, and reproduction in any medium, provided the original work is properly cited (CC BY 4.0).

Share & Cite This Article
MDPI and ACS Style
Dong, L.; Han, X.; Tao, X.; Xu, L.; Xu, Y.; Fang, L.; Yin, L.; Qi, Y.; Li, H.; Peng, J. Protection by the Total Flavonoids from Rosa laevigata Michx Fruit against Lipopolysaccharide-Induced Liver Injury in Mice via Modulation of FXR Signaling. Foods 2018, 7, 88.
Note that from the first issue of 2016, MDPI journals use article numbers instead of page numbers. See further details here.
Related Articles
Comments
[Return to top]