Synthesis, Curing Behavior and Swell Tests of pH-Responsive Coatings from Acryl-Terminated Oligo(
β

-Amino Esters)

1

Department of Electronics Design, Mid Sweden University, Holmgatan 10, 851 70 Sundsvall, Sweden

2

RISE Acreo AB, Bredgatan 33, 601 17 Norrköping, Sweden

*

Author to whom correspondence should be addressed.

Received: 19 January 2018 / Revised: 19 February 2018 / Accepted: 22 February 2018 / Published: 23 February 2018
Abstract
The ability of acryl-terminated oligo(
-amino esters) (AOBAE) to be coated on fibers and printed electronics without solvents and to be cross-linked to a pH-responsive coatings, makes AOBAE-based coatings a potential type of pH-sensor coating. However, there are currently no reports of AOBAEs used as a pH-responsive coating material in sensor applications. Here we present an investigation of the synthesis, curing behavior and swell tests of AOBAEs. AOBAEs were synthesized from reacting an excess of asymmetric diacrylates with piperazine without the use of any solvents. They were then cross-linked to an insoluble network by UV-curing. Nuclear magnetic resonance (NMR) and Fourier transform infrared (FTIR) spectroscopy were used to characterize the AOBAEs. NMR was used to clarify the irregular structure of the AOBAE. FTIR was used to monitor the effects of UV-curing dose and air exposure on monomer conversion during curing. An interferometric technique was used to monitor the swelling behavior of the coating in response to pH variations. Swell experiments showed that the AOBAE also responded to pH variations after polymerization. Therefore, AOBAE is an interesting class of material with potential use as a pH responsive coating in optical-and printed electronics pH-sensors applications.
View Full-Text
►

▼

Figures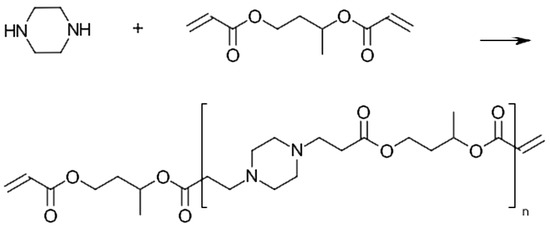 Figure 1
This is an open access article distributed under the
Creative Commons Attribution License
which permits unrestricted use, distribution, and reproduction in any medium, provided the original work is properly cited (CC BY 4.0).

Share & Cite This Article
MDPI and ACS Style
Hammarling, K.; Sandberg, M.; Engholm, M.; Andersson, H.; Nilsson, H.-E. Synthesis, Curing Behavior and Swell Tests of pH-Responsive Coatings from Acryl-Terminated Oligo(β-Amino Esters). Chemosensors 2018, 6, 10.
Note that from the first issue of 2016, MDPI journals use article numbers instead of page numbers. See further details here.
Related Articles
Comments
[Return to top]