Transcriptomic Analysis Identifies New Non-Target Site Glyphosate-Resistance Genes in
Conyza bonariensis
1
Department of Crop Protection, Federal University of Pelotas (UFPel), Pelotas 96010-610, Brazil
2
Department of Plant Sciences, University of Tennessee (UTK), Knoxville, TN 37996, USA
3
Center for Technological Development, Federal University of Pelotas (UFPel), Pelotas 96010-610, Brazil
4
Department of Plant Breeding, Federal University of Pelotas (UFPel), Pelotas 96010-610, Brazil
5
Department of Weed Science, Brazilian Agricultural Research Corporation (Embrapa), Passo Fundo 99050-970, Brazil
*
Authors to whom correspondence should be addressed.
Received: 4 May 2019 / Revised: 31 May 2019 / Accepted: 4 June 2019 / Published: 7 June 2019
Abstract
Conyza bonariensis
(hairy fleabane) is one of the most problematic and widespread glyphosate-resistant weeds in the world. This highly competitive weed species significantly interferes with crop growth and substantially decreases crop yield. Despite its agricultural importance, the molecular mechanisms of glyphosate resistance are still unknown. The present RNA-Seq study was performed with the goal of identifying differentially expressed candidate transcripts (genes) related to metabolism-based non-target site glyphosate resistance in
C. bonariensis
. The whole-transcriptome was
de novo
assembled from glyphosate-resistant and -sensitive biotypes of
C. bonariensis
from Southern Brazil. The RNA was extracted from untreated and glyphosate-treated plants at several timepoints up to 288 h after treatment in both biotypes. The transcriptome assembly produced 90,124 contigs with an average length of 777 bp and N50 of 1118 bp. In response to glyphosate treatment, differential gene expression analysis was performed on glyphosate-resistant and -sensitive biotypes. A total of 9622 genes were differentially expressed as a response to glyphosate treatment in both biotypes, 4297 (44.6%) being up- and 5325 (55.4%) down-regulated. The resistant biotype presented 1770 up- and 2333 down-regulated genes while the sensitive biotype had 2335 and 2800 up- and down-regulated genes, respectively. Among them, 974 up- and 1290 down-regulated genes were co-expressed in both biotypes. In the present work, we identified 41 new candidate target genes from five families related to herbicide transport and metabolism: 19 ABC transporters, 10 CYP450s, one glutathione S-transferase (GST), five glycosyltransferases (GT), and six genes related to antioxidant enzyme catalase (CAT), peroxidase (POD), and superoxide dismutase (SOD). The candidate genes may participate in metabolic-based glyphosate resistance via oxidation, conjugation, transport, and degradation, plus antioxidation. One or more of these genes might 'rescue' resistant plants from irreversible damage after glyphosate treatment. The 41 target genes we report in the present study may inform further functional genomics studies, including gene editing approaches to elucidate glyphosate-resistance mechanisms in
C. bonariensis
.
View Full-Text
►

▼

Figures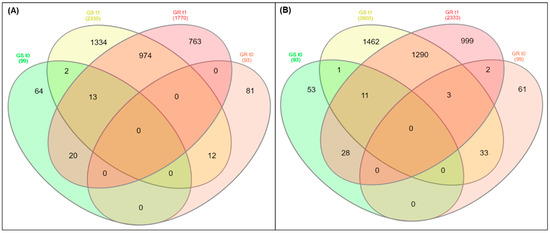 Figure 1
This is an open access article distributed under the
Creative Commons Attribution License
which permits unrestricted use, distribution, and reproduction in any medium, provided the original work is properly cited (CC BY 4.0).

Share & Cite This Article
MDPI and ACS Style
Piasecki, C.; Yang, Y.; Benemann, D.P.; Kremer, F.S.; Galli, V.; Millwood, R.J.; Cechin, J.; Agostinetto, D.; Maia, L.C.; Vargas, L.; Stewart, C.N., Jr. Transcriptomic Analysis Identifies New Non-Target Site Glyphosate-Resistance Genes in Conyza bonariensis. Plants 2019, 8, 157.
Note that from the first issue of 2016, MDPI journals use article numbers instead of page numbers. See further details here.
Related Articles
Comments
[Return to top]