The Effect of Arabic Gum on Renal Function in Reversible Unilateral Ureteric Obstruction
1
Department of Surgery, College of Medicine & Health Sciences, United Arab Emirates University, Al Ain 17666, UAE
2
Department of Pathology, College of Medicine & Health Sciences, United Arab Emirates University, Al Ain 17666, UAE
3
Department of Physiology, College of Medicine & Health Sciences, United Arab Emirates University, Al Ain 17666, UAE
4
Department of Pharmacology, College of Medicine & Health Sciences, United Arab Emirates University, Al Ain 17666, UAE
*
Author to whom correspondence should be addressed.
Received: 5 November 2018 / Revised: 7 January 2019 / Accepted: 8 January 2019 / Published: 11 January 2019
Abstract
Arabic gum (AG) has antioxidant and anti-inflammatory properties. However, the effect of AG in ureteric obstruction (UO) has not been investigated yet. Male rats underwent reversible left unilateral UO (UUO) for 72 h. Group AG-1 (
n
= 12) received AG 15 g/kg/day dissolved in drinking water starting seven days before and continuing throughout the period of the UUO, whereas group Vx-1 (
n
= 8) had only water. Group AG-2 (
n
= 12) and Vx-2 (
n
= 8) had similar protocols as AG-1 and Vx-1, respectively, but underwent terminal experiments to measure renal functions, six days post-UUO reversal. Arabic gum significantly attenuated the UUO-induced increase in the tissue level of malonedialdehyde and superoxide dismutase and the rise in the gene expression of TNF-α, TGF-β1, and p53 in AG-1 compared to Vx-1. It also attenuated the severity of tubular dilatation. However, AG did not affect the alterations in the renal blood flow or glomerular filtration rate. The fractional sodium excretion was lower in AG-2 but did not reach statistical significance (0.40 ± 0.11 vs 0.74 ± 0.12,
p
= 0.07). AG attenuated the UUO-induced rise in oxidative stress markers and proinflammatory and profibrotic cytokines and the degree of renal tubular dilatation, indicating a protective effect in obstructive nephropathy.
View Full-Text
►

▼

Figures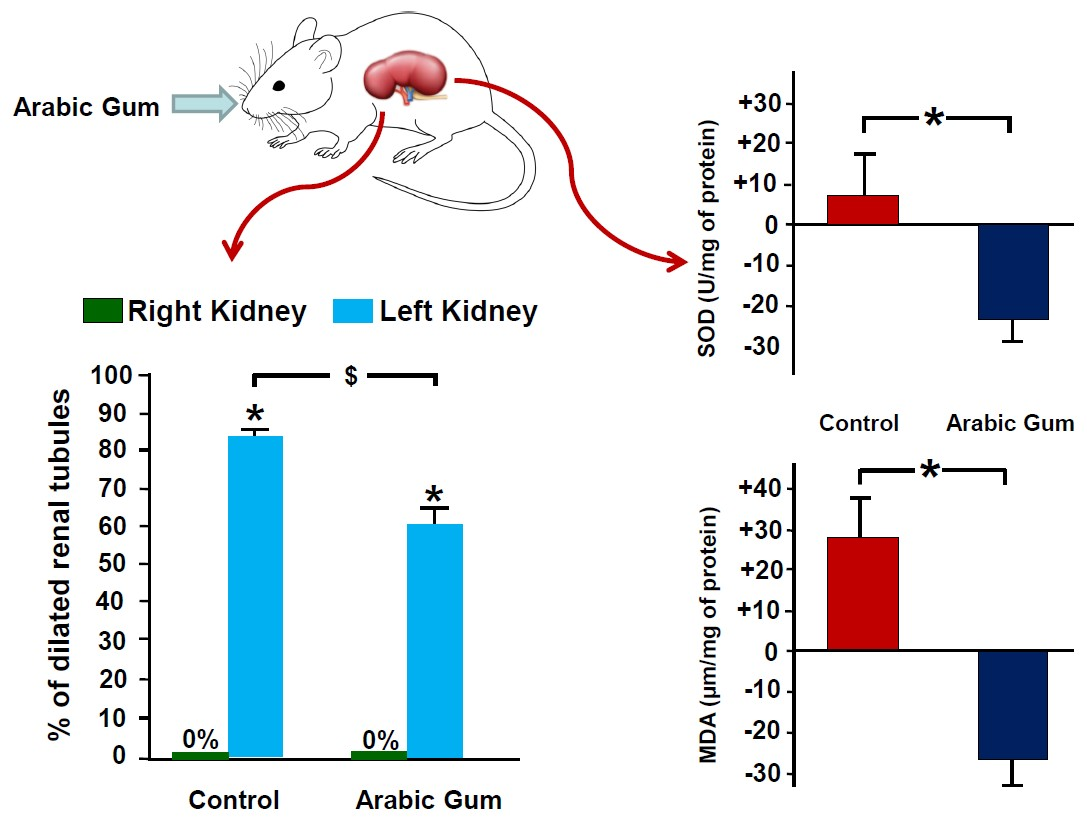 Graphical abstract
This is an open access article distributed under the
Creative Commons Attribution License
which permits unrestricted use, distribution, and reproduction in any medium, provided the original work is properly cited (CC BY 4.0).

Share & Cite This Article
MDPI and ACS Style
Hammad, F.T.; Al Salam, S.; Nemmar, A.; Ali, M.; Lubbad, L. The Effect of Arabic Gum on Renal Function in Reversible Unilateral Ureteric Obstruction. Biomolecules 2019, 9, 25.
Note that from the first issue of 2016, MDPI journals use article numbers instead of page numbers. See further details here.
Related Articles
Comments
[Return to top]