Global
N

-linked Glycosylation is Not Significantly Impaired in Myoblasts in Congenital Myasthenic Syndromes Caused by Defective Glutamine-Fructose-6-Phosphate Transaminase 1 (GFPT1)

1

Department of Life Sciences, Faculty of Natural Sciences, Imperial College London, South Kensington Campus, London SW7 2AZ, UK

2

John Walton Muscular Dystrophy Research Centre, Institute of Genetic Medicine, Newcastle University, Newcastle Upon Tyne NE1 3BZ, UK

*

Author to whom correspondence should be addressed.

Academic Editor: Hans Vliegenthart

Received: 16 June 2015 / Revised: 28 August 2015 / Accepted: 13 October 2015 / Published: 16 October 2015
Abstract
Glutamine-fructose-6-phosphate transaminase 1 (GFPT1) is the first enzyme of the hexosamine biosynthetic pathway. It transfers an amino group from glutamine to fructose-6-phosphate to yield glucosamine-6-phosphate, thus providing the precursor for uridine diphosphate
N
-acetylglucosamine (UDP-GlcNAc) synthesis. UDP-GlcNAc is an essential substrate for all mammalian glycosylation biosynthetic pathways and
N
-glycan branching is especially sensitive to alterations in the concentration of this sugar nucleotide. It has been reported that
GFPT1
mutations lead to a distinct sub-class of congenital myasthenic syndromes (CMS) termed "limb-girdle CMS with tubular aggregates". CMS are hereditary neuromuscular transmission disorders in which neuromuscular junctions are impaired. To investigate whether alterations in protein glycosylation at the neuromuscular junction might be involved in this impairment, we have employed mass spectrometric strategies to study the
N
-glycomes of myoblasts and myotubes derived from two healthy controls, three
GFPT1
patients, and four patients with other muscular diseases, namely CMS caused by mutations in
DOK7
, myopathy caused by mutations in
MTND5
, limb girdle muscular dystrophy type 2A (LGMD2A), and Pompe disease. A comparison of the relative abundances of bi-, tri-, and tetra-antennary
N
-glycans in each of the cell preparations revealed that all samples exhibited broadly similar levels of branching. Moreover, although some differences were observed in the relative abundances of some of the
N
-glycan constituents, these variations were modest and were not confined to the GFPT1 samples. Therefore,
GFPT1
mutations in CMS patients do not appear to compromise global
N
-glycosylation in muscle cells.
View Full-Text
►

▼

Figures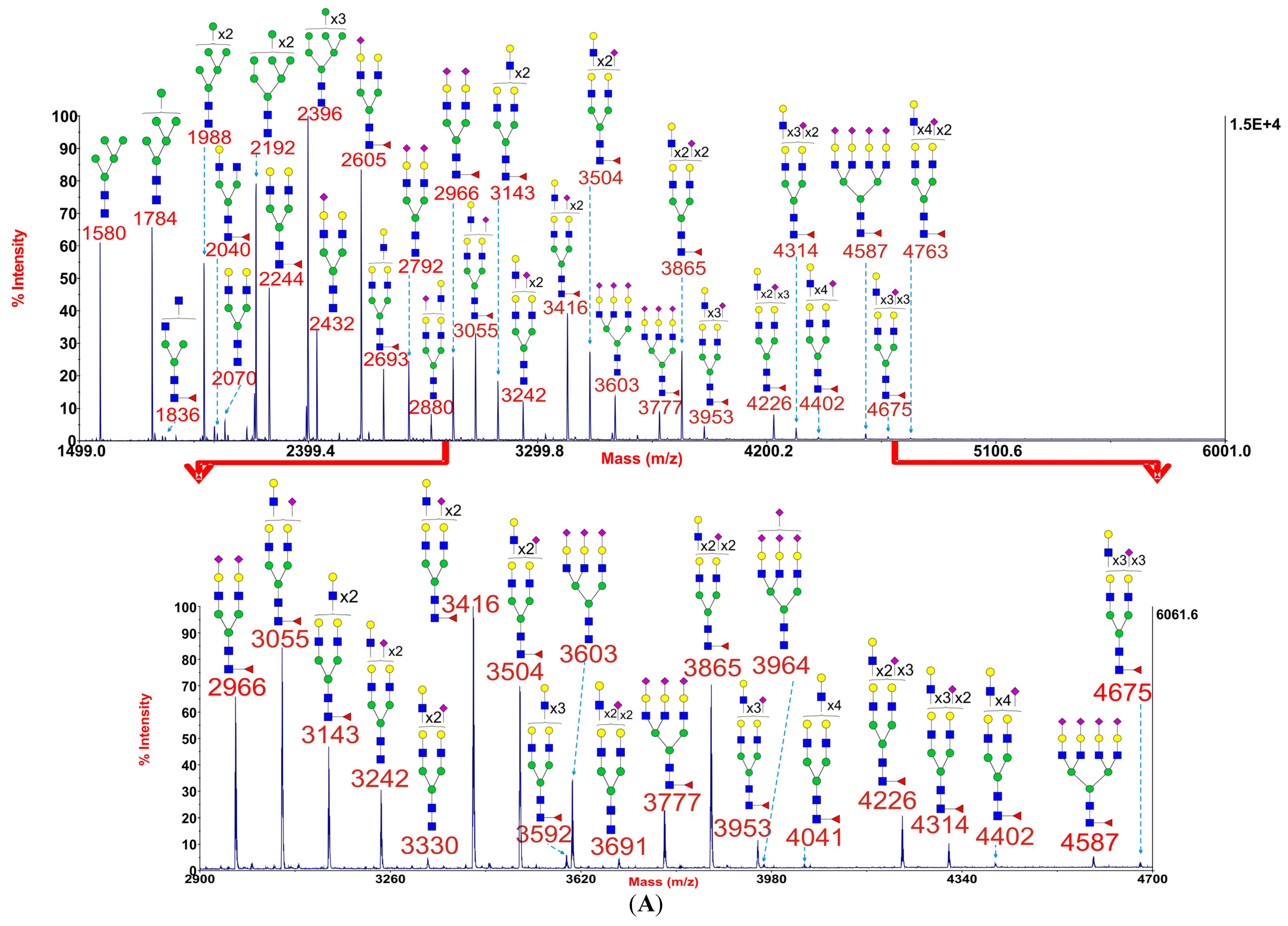 Figure 1
This is an open access article distributed under the
Creative Commons Attribution License
which permits unrestricted use, distribution, and reproduction in any medium, provided the original work is properly cited (CC BY 4.0).

Share & Cite This Article
MDPI and ACS Style
Chen, Q.; Müller, J.S.; Pang, P.-C.; Laval, S.H.; Haslam, S.M.; Lochmüller, H.; Dell, A. Global N-linked Glycosylation is Not Significantly Impaired in Myoblasts in Congenital Myasthenic Syndromes Caused by Defective Glutamine-Fructose-6-Phosphate Transaminase 1 (GFPT1). Biomolecules 2015, 5, 2758-2781.
Related Articles
Comments
[Return to top]