Attitudes and Recommendations of Physicians towards Alcohol Consumption and Cardiovascular Health: A Perspective from Argentina
1
Division of Cardiology, Hospital Italiano de La Plata, Buenos Aires B1900, Argentina
2
Department of Medicine, Queen's University, Kingston, Ontario K7L 2V7, Canada
3
Division of Cardiology, Hospital Rawson, San Juan J5402DRJ, Argentina
4
OSEP, Obra Social de los Empleados Públicos, Mendoza M5500, Argentina
5
Division of Cardiology, CMP, Penta Medicina Cardiovascular M5500, Argentina
6
Division of Cardiology, Clínica del Sol, Ciudad Autónoma de Buenos Aires C1425AYM, Argentina
7
Especialistas en Cardiología SRL, General Roca, Rio Negro R8332, Argentina
8
Cardiovascular Research Center of Sanatorio Británico SA, Rosario, Santa Fe S2000, Argentina
9
Institute of Cardiology Juana F. Cabral, Corrientes W3400CDS, Argentina
10
Medical Institute/Rusculleda Foundation for Research, Cordoba X5022, Argentina
11
Department of Cardiology, Instituto Médico de Alta Complejidad IMAC, Salta A4400, Argentina
*
Author to whom correspondence should be addressed.
Received: 8 August 2018 / Revised: 16 August 2018 / Accepted: 31 August 2018 / Published: 1 September 2018
Abstract
Despite epidemiological findings of improvements in cardiovascular risk factors with a light-to-moderate intake of alcohol, many misconceptions remain regarding alcohol intake and the risks and benefits of consumption. We sought to examine physician attitudes and recommendations regarding alcohol intake in a cohort of Argentine physicians and to establish their sources of knowledge. An online national survey was distributed through the Argentine Federation of Cardiology (FAC) to cardiologists, internal medicine specialists, general and other subspecialty physicians in Argentina. The survey was completed by 745 physicians, of whom 671 (90%) were cardiologists. In total, 35% of physicians viewed moderate alcohol intake to be beneficial for cardiovascular health, 36% believed only wine offered such benefits, 24% viewed any intake to be harmful, and 5% had other opinions. More than half (57%) self-reported their knowledge came from academic sources. Regarding knowledge of drinking guidelines, only 41% of physicians were aware of the concept of "standard drink". Physicians were generally not comfortable converting standard drinks into other metric units, however men tended to be more comfortable than women (
p
= 0.052). Physicians were not satisfied with their knowledge of drinking guidelines (3.01 ± 2.73, on a 0–10 scale). Physicians were generally comfortable in counselling patients regarding safe limits of consumption (6.22 ± 3.20, on a 0–10 scale). Argentine physicians were not satisfied with their knowledge of alcohol consumption guidelines or their understanding of the reported metrics. Only one-third of study participants viewed moderate alcohol intake as beneficial for cardiovascular health. This study shows the necessity to optimize the sources of knowledge.
View Full-Text
►

▼

Figures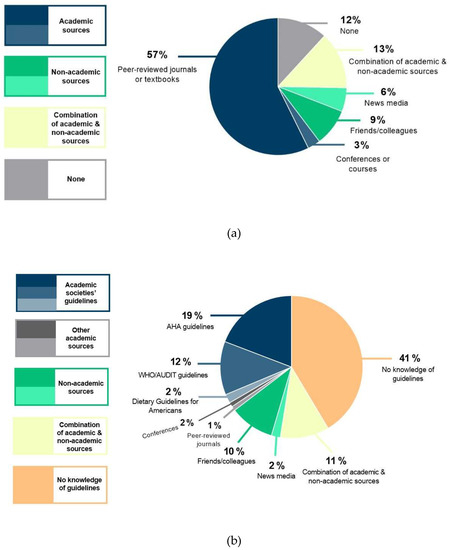 Figure 1
This is an open access article distributed under the
Creative Commons Attribution License
which permits unrestricted use, distribution, and reproduction in any medium, provided the original work is properly cited (CC BY 4.0).

Share & Cite This Article
MDPI and ACS Style
Lopez Santi, R.; Haseeb, S.; Alexander, B.; D′Ovidio, A.; Gimenez, S.; Secotaro, C.; Martinez Demaria, D.; Pupi, L.M.; Costantini, S.; Piskorz, D.; Amarilla, A.; Lorenzatti, A.; Gutierrez, N.; Hopman, W.; Baranchuk, A. Attitudes and Recommendations of Physicians towards Alcohol Consumption and Cardiovascular Health: A Perspective from Argentina. Diseases 2018, 6, 77.
Note that from the first issue of 2016, MDPI journals use article numbers instead of page numbers. See further details here.
Related Articles
Comments
[Return to top]