Haslea silbo

, A Novel Cosmopolitan Species of Blue Diatoms

1

Institute of Marine and Environmental Sciences, University of Szczecin, Mickiewicza 16a, 70-383 Szczecin, Poland

2

Department of Biology, University of Copenhagen, Universitetsparken 4, 2100 Copenhagen, Denmark

3

Research and Collections, Canadian Museum of Nature, P.O. Box 3443, Station D, Ottawa, ON K1P 6P4, Canada

4

Département de biochimie, de microbiologie et de Bio-Informatique, Institut de Biologie Intégrative et des Systèmes, Université Laval, Québec, QC G1V 0A6, Canada

5

Institut des Molécules et Matériaux du Mans (IMMM UMR 6283), Le Mans Université, Avenue Olivier Messiaen, CEDEX 9, 72085 Le Mans, France

6

FR CNRS 3473 IUML, Mer-Molécules-Santé (MMS, EA 2160), Le Mans Université, Avenue Olivier Messiaen, CEDEX 9, 72085 Le Mans, France

7

FR CNRS 3473 IUML, Mer-Molécules-Santé (MMS, EA 2160), Université de Nantes, 2 rue de la Houssinière, CEDEX 3, 44322 Nantes, France

8

UMR 6112 CNRS LPG, Laboratoire de Planétologie et Géosciences, Nantes Université, 2 rue de la Houssinière, CEDEX 3, 44322 Nantes, France

9

The Natural History Museum, Cromwell Road, London SW7 5BD, UK

10

Karadag Scientific Station–Natural Reserve of the Russian Academy of Sciences, p/o Kurortnoe, Feodosiya, 98188 Crimea, Russia

11

Department of Biology, Mount Allison University, Sackville, NB E4L 1G7, Canada

12

Digital Microscopy Facility, Mount Allison University, Sackville, NB E4L 1G7, Canada

13

Observatorio Canario de Algas Nocivas (OCHABs), Parque Científico Tecnólogico Marino de Taliarte (FPCT-ULPGC), c/ Miramar, 121 Taliarte, 35214 Las Palmas, Canary Islands, Spain

14

Banco Español de Algas (BEA), Instituto de Oceanografía y Cambio Global (IOCAG), Universidad de Las Palmas de Gran Canaria (ULPGC), Muelle de Taliarte s/n, 35214 Telde, Islas Canarias, Spain

15

Faculty of Science, Biology Department, University of Zagreb, Rooseveltov trg 6, 10000 Zagreb, Croatia

16

Department of Research Infrastructure for Marine Biological Resources, Stazione Zoologica Anton Dohrn, 80121 Naples, Italy

17

Institute of Marine Sciences, University of North Carolina, Chapel Hill, Morehead City, NC 28557, USA

18

Kemp Fisheries LLC, 2333 Shore Drive, Morehead City, NC 28557, USA

19

Institute of Graduate Studies in Science, Department of Biotechnology, Mersin University, Ciftlikkoy, Mersin 33343, Turkey

20

BW24-Department of Green Chemistry and Technology, Ghent University, Coupure Links 653, B9000 Gent, Belgium

*

Author to whom correspondence should be addressed.

Academic Editor: Inna Khozin-Goldberg

Received: 23 March 2021

/

Revised: 9 April 2021

/

Accepted: 10 April 2021

/

Published: 14 April 2021
Simple Summary
Diatoms are microalgae known for their ecological importance. Among them, just a few species are able to produce a blue pigment. We describe Haslea silbo sp. nov., a cosmopolitan species of blue diatoms, found on both sides of the Atlantic Ocean. The description includes the use of both microscopy and next generation sequencing. It has been possible to observe its reproduction in the laboratory, and the blue pigment it produces has also been studied.
Specimens of a new species of blue diatoms from the genus
Haslea
Simonsen were discovered in geographically distant sampling sites, first in the Canary Archipelago, then North Carolina, Gulf of Naples, the Croatian South Adriatic Sea, and Turkish coast of the Eastern Mediterranean Sea. An exhaustive characterization of these specimens, using a combined morphological and genomic approach led to the conclusion that they belong to a single new to science cosmopolitan species,
Haslea silbo
sp. nov. A preliminary characterization of its blue pigment shows similarities to marennine produced by
Haslea ostrearia
, as evidenced by UV–visible spectrophotometry and Raman spectrometry. Life cycle stages including auxosporulation were also observed, providing data on the cardinal points of this species. For the two most geographically distant populations (North Carolina and East Mediterranean), complete mitochondrial and plastid genomes were sequenced. The mitogenomes of both strains share a rare
atp6
pseudogene, but the number, nature, and positions of the group II introns inside its
cox1
gene differ between the two populations. There are also two pairs of genes fused in single ORFs. The plastid genomes are characterized by large regions of recombination with plasmid DNA, which are in both cases located between the
ycf35
and
psbA
genes, but whose content differs between the strains. The two sequenced strains hosts three plasmids coding for putative serine recombinase protein whose sequences are compared, and four out of six of these plasmids were highly conserved.
View Full-Text
►

▼

Show Figures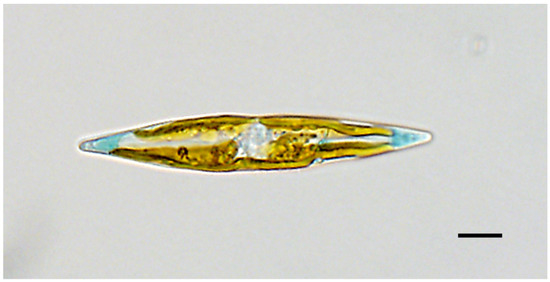 Figure 1
This is an open access article distributed under the
Creative Commons Attribution License
which permits unrestricted use, distribution, and reproduction in any medium, provided the original work is properly cited

MDPI and ACS Style
Gastineau, R.; Hansen, G.; Poulin, M.; Lemieux, C.; Turmel, M.; Bardeau, J.-F.; Leignel, V.; Hardivillier, Y.; Morançais, M.; Fleurence, J.; Gaudin, P.; Méléder, V.; Cox, E.J.; Davidovich, N.A.; Davidovich, O.I.; Witkowski, A.; Kaczmarska, I.; Ehrman, J.M.; Soler Onís, E.; Quintana, A.M.; Mucko, M.; Mordret, S.; Sarno, D.; Jacquette, B.; Falaise, C.; Séveno, J.; Lindquist, N.L.; Kemp, P.S., Jr.; Eker-Develi, E.; Konucu, M.; Mouget, J.-L. Haslea silbo, A Novel Cosmopolitan Species of Blue Diatoms. Biology 2021, 10, 328. https://doi.org/10.3390/biology10040328
AMA Style
Gastineau R, Hansen G, Poulin M, Lemieux C, Turmel M, Bardeau J-F, Leignel V, Hardivillier Y, Morançais M, Fleurence J, Gaudin P, Méléder V, Cox EJ, Davidovich NA, Davidovich OI, Witkowski A, Kaczmarska I, Ehrman JM, Soler Onís E, Quintana AM, Mucko M, Mordret S, Sarno D, Jacquette B, Falaise C, Séveno J, Lindquist NL, Kemp PS Jr., Eker-Develi E, Konucu M, Mouget J-L. Haslea silbo, A Novel Cosmopolitan Species of Blue Diatoms. Biology. 2021; 10(4):328. https://doi.org/10.3390/biology10040328
Chicago/Turabian Style
Gastineau, Romain, Gert Hansen, Michel Poulin, Claude Lemieux, Monique Turmel, Jean-François Bardeau, Vincent Leignel, Yann Hardivillier, Michèle Morançais, Joël Fleurence, Pierre Gaudin, Vona Méléder, Eileen J. Cox, Nikolaï A. Davidovich, Olga I. Davidovich, Andrzej Witkowski, Irena Kaczmarska, James M. Ehrman, Emilio Soler Onís, Antera M. Quintana, Maja Mucko, Solenn Mordret, Diana Sarno, Boris Jacquette, Charlotte Falaise, Julie Séveno, Niels L. Lindquist, Philip S. Kemp Jr., Elif Eker-Develi, Merve Konucu, and Jean-Luc Mouget. 2021. "Haslea silbo, A Novel Cosmopolitan Species of Blue Diatoms" Biology 10, no. 4: 328. https://doi.org/10.3390/biology10040328
Note that from the first issue of 2016, MDPI journals use article numbers instead of page numbers. See further details
here
.