Influence of Electron Beam Treatment of Co–Cr Alloy on the Growing Mechanism, Surface Topography, and Mechanical Properties of Deposited TiN/TiO2 Coatings
1
Institute of Electronics, Bulgarian Academy of Sciences, 72 Tzarigradsko Chaussee blvd, 1784 Sofia, Bulgaria
2
Institute of Metal Science, Equipment and Technologies with Hydro- and Aerodynamics Centrе, Bulgarian Academy of Sciences, 67, Shipchenski Prohod Blvd, 1574 Sofia, Bulgaria
3
Faculty of Physics, Sofia University, 5 James Bourchier Blvd, 1164 Sofia, Bulgaria
4
Department of Material Science and Technology, University of Ruse, 8 Studentska Str., 7017 Ruse, Bulgaria
*
Author to whom correspondence should be addressed.
Received: 9 July 2019 / Revised: 8 August 2019 / Accepted: 10 August 2019 / Published: 13 August 2019
Abstract
This study examines the effect of electron beam treatment (EBT) of Co–Cr substrate on the film growth mechanism, mechanical properties, and surface topography of TiN/TiO
2
coatings deposited by reactive magnetron sputtering. The obtained results and processes that occurred during the deposition are discussed in the context of crystallographic principles, and special attention is paid to the crystallographic orientation and growth mechanism studied by X-ray diffraction (XRD). The mechanical properties were investigated by means of nanoindentation and wear tests. The surface topography was evaluated using atomic force microscopy (AFM). The results obtained in the present study showed that polycrystalline TiN and anatase TiO
2
phases were present in all cases. Electron beam treatment of Co–Cr substrate tended to form a reorientation of the microvolumes from (111) to (200) of TiN, leading to a change in the growth mechanism from three-dimensional (Volmer–Weber) to layer-by-layer (Frank–van der Merwe). It was found that the electron beam treatment process did not significantly affect the thickness of the coatings and the deposition rate. The treatment process led to an increase in surface roughness. The higher surface roughness after the EBT process should be appropriate to support cell growth and adhesion on the surface of the deposited bilayer coating. It was demonstrated that EBT of the substrate caused a decrease in hardness of the deposited coatings from 10 to 5 GPa. The observed decrease in hardness was attributed to the change in the preferred crystallographic orientation and film growth mechanism. The hardness of the bilayer coating after the application of EBT of the Co–Cr substrate was much closer to that of human bones, which means that severe stress shielding effect could not be expected. The evaluated coefficient of friction (COF) exhibited significantly lower values in the case of EBT of the substrate compared to the untreated Co–Cr material.
View Full-Text
►

▼

Figures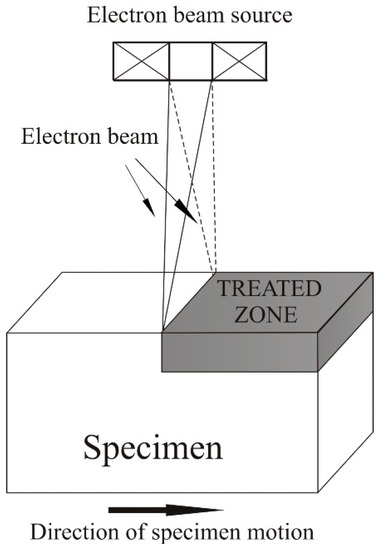 Figure 1
This is an open access article distributed under the
Creative Commons Attribution License
which permits unrestricted use, distribution, and reproduction in any medium, provided the original work is properly cited (CC BY 4.0).

Share & Cite This Article
MDPI and ACS Style
Valkov, S.; Parshorov, S.; Andreeva, A.; Bezdushnyi, R.; Nikolova, M.; Dechev, D.; Ivanov, N.; Petrov, P. Influence of Electron Beam Treatment of Co–Cr Alloy on the Growing Mechanism, Surface Topography, and Mechanical Properties of Deposited TiN/TiO2 Coatings. Coatings 2019, 9, 513.
Note that from the first issue of 2016, MDPI journals use article numbers instead of page numbers. See further details here.
Related Articles
Comments
[Return to top]