A Facile and Efficient Protocol for Preparing Residual-Free Single-Walled Carbon Nanotube Films for Stable Sensing Applications
1
Chair of Nanoelectronics, Technical University of Munich, 80333 Munich, Germany
2
Pervasive Electronics Advanced Research Laboratory (PEARL), Department of Electronics and Computer Technology, University of Granada, 18071 Granada, Spain
3
Faculty of Science and Technology, Free University of Bolzano, 39100 Bolzano-Bozen, Italy
*
Authors to whom correspondence should be addressed.
†
These authors contributed equally to this work.
Received: 26 February 2019 / Revised: 11 March 2019 / Accepted: 14 March 2019 / Published: 21 March 2019
Abstract
In this article, we report on an efficient post-treatment protocol for the manufacturing of pristine single-walled carbon nanotube (SWCNT) films. To produce an ink for the deposition, the SWCNTs are dispersed in an aqueous solution with the aid of a carboxymethyl cellulose (CMC) derivative as the dispersing agent. On the basis of this SWCNT-ink, ultra-thin and uniform films are then fabricated by spray-deposition using a commercial and fully automated robot. By means of X-ray photoelectron spectroscopy (XPS), Fourier-transform infrared spectroscopy (FTIR), and scanning electron microscopy (SEM), we show that the CMC matrix covering the CNTs can be fully removed by an immersion treatment in HNO
3
followed by thermal annealing at a moderate temperature of 100 °C, in the ambient air. We propose that the presented protocols for the ink preparation and the post-deposition treatments can in future serve as a facile and efficient platform for the fabrication of high-quality and residual-free SWCNT films. The purity of SWCNT films is of particular importance for sensing applications, where residual-induced doping and dedoping processes distort the contributions from the sensing specimen. To study the usability of the presented films for practical applications, gas sensors are fabricated and characterized with the CNT-films as the sensing material, screen printed silver-based films for the interdigitated electrode (IDE) structure, and polyimide as a flexible and robust substrate. The sensors show a high and stable response of 11% to an ammonia (NH
3
) test gas, at a concentration of 10 ppm.
View Full-Text
►

▼

Figures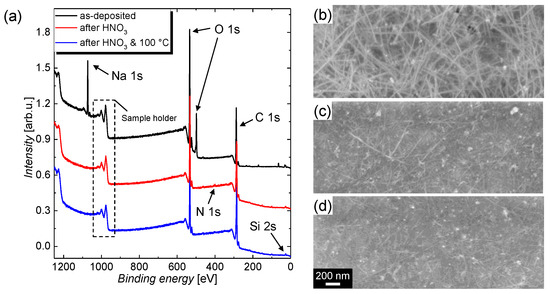 Figure 1
This is an open access article distributed under the
Creative Commons Attribution License
which permits unrestricted use, distribution, and reproduction in any medium, provided the original work is properly cited (CC BY 4.0).

Share & Cite This Article
MDPI and ACS Style
Loghin, F.; Rivadeneyra, A.; Becherer, M.; Lugli, P.; Bobinger, M. A Facile and Efficient Protocol for Preparing Residual-Free Single-Walled Carbon Nanotube Films for Stable Sensing Applications. Nanomaterials 2019, 9, 471.
Note that from the first issue of 2016, MDPI journals use article numbers instead of page numbers. See further details here.
Related Articles
Comments
[Return to top]