Optimization of the Load of Transition Metal Oxides (Fe2O3, Co3O4, NiO and/or PdO) onto CeO2 Nanoparticles in Catalytic Steam Decomposition of
n

-C7 Asphaltenes at Low Temperatures

1

Grupo de Investigación en Fenómenos de Superficie—Michael Polanyi, Departamento de Procesos y Energía, Facultad de Minas, Universidad Nacional de Colombia, Sede Medellín, 050034 Medellín, Colombia

2

Química de Recursos Energéticos y Medio Ambiente, Instituto de Química, Universidad de Antioquia UdeA, Calle 70 No. 52-21, 050010 Medellín, Colombia

*

Authors to whom correspondence should be addressed.

Received: 21 January 2019 / Revised: 26 February 2019 / Accepted: 2 March 2019 / Published: 9 March 2019
Abstract
The main objective of this work is the catalyst optimization of Fe
2
O
3
-, Co
3
O
4
-, NiO- and/or PdO- (transition element oxides—TEO) functionalized CeO
2
nanoparticles to maximize the conversion of asphaltenes under isothermal conditions at low temperatures (<250 °C) during steam injection processes. Adsorption isotherms and the subsequent steam decomposition process of asphaltenes for evaluating the catalysis were performed through batch adsorption experiments and thermogravimetric analyses coupled to Fourier-transform infrared spectroscopy (FTIR), respectively. The adsorption isotherms and the catalytic behavior were described by the solid-liquid equilibrium (SLE) model and isothermal model, respectively. Initially, three pairs of metal oxide combinations at a mass fraction of 1% of loading of CeNi1Pd1, CeCo1Pd1, and CeFe1Pd1 nanoparticles were evaluated based on the adsorption and catalytic activity, showing better results for the CeNi1Pd1 due to the Lewis acidity changes. Posteriorly, a simplex-centroid mixture design of experiments (SCMD) of three components was employed to optimize the metal oxides concentration (Ni and Pd) onto the CeO
2
surface by varying the oxides concentration for mass fractions from 0.0% to 2.0% to maximize the asphaltene conversion at low temperatures. Results showed that by incorporating mono-elemental and bi-elemental oxides onto CeO
2
nanoparticles, both adsorption and isothermal conversion of asphaltenes decrease in the order CeNi1Pd1 > CePd2 > CeNi0.66Pd0.66 > CeNi2 > CePd1 > CeNi1 > CeO
2
. It is worth mentioning that bi-elemental nanoparticles reduced the gasification temperature of asphaltenes in a larger degree than mono-elemental nanoparticles at a fixed amount of adsorbed asphaltenes of 0.02 mg·m
−2
, confirming the synergistic effects between Pd and Fe, Co, and Ni. Further, optimized nanoparticles (CeNi0.89Pd1.1) have the best performance by obtaining 100% asphaltenes conversion in less than 90 min at 220 °C while reducing 80% the activation energy.
View Full-Text
►

▼

Figures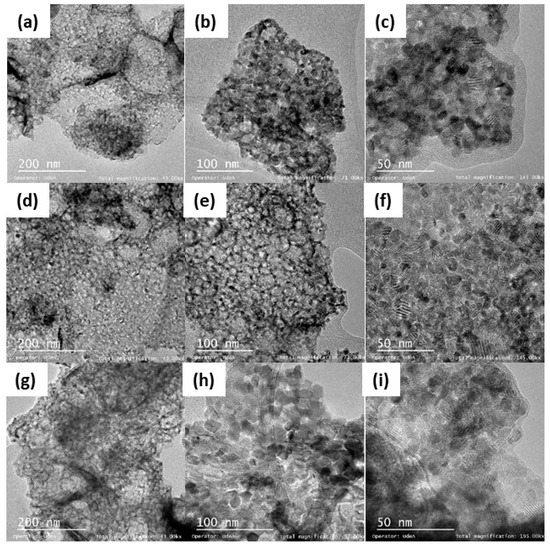 Figure 1
This is an open access article distributed under the
Creative Commons Attribution License
which permits unrestricted use, distribution, and reproduction in any medium, provided the original work is properly cited (CC BY 4.0).

Share & Cite This Article
MDPI and ACS Style
Medina, O.E.; Gallego, J.; Arias-Madrid, D.; Cortés, F.B.; Franco, C.A. Optimization of the Load of Transition Metal Oxides (Fe2O3, Co3O4, NiO and/or PdO) onto CeO2 Nanoparticles in Catalytic Steam Decomposition of n-C7 Asphaltenes at Low Temperatures. Nanomaterials 2019, 9, 401.
Note that from the first issue of 2016, MDPI journals use article numbers instead of page numbers. See further details here.
Related Articles
Comments
[Return to top]