Photocatalytic and Photo-Fenton Catalytic Degradation Activities of Z-Scheme Ag2S/BiFeO3 Heterojunction Composites under Visible-Light Irradiation
1
State Key Laboratory of Advanced Processing and Recycling of Non-ferrous Metals, Lanzhou University of Technology, Lanzhou 730050, China
2
College of Physics and Electronic Information Engineering, Qinghai Normal University, Xining 810008, China
3
School of Science, Chongqing University of Technology, Chongqing 4000054, China
*
Authors to whom correspondence should be addressed.
Received: 25 January 2019 / Revised: 28 February 2019 / Accepted: 5 March 2019 / Published: 9 March 2019
Abstract
Z-scheme Ag
2
S/BiFeO
3
heterojunction composites were successfully prepared through a precipitation method. The morphology and microstructure characterization demonstrate that Ag
2
S nanoparticles (30–50 nm) are well-decorated on the surfaces of polyhedral BiFeO
3
particles (500–800 nm) to form Ag
2
S/BiFeO
3
heterojunctions. The photocatalytic and photo-Fenton catalytic activities of the as-derived Ag
2
S/BiFeO
3
heterojunction composites were evaluated by the degradation of methyl orange (MO) under visible-light irradiation. The photocatalytic result indicates that the Ag
2
S/BiFeO
3
composites exhibit much improved photocatalytic activities when compared with bare Ag
2
S and BiFeO
3
. The optimum composite sample was observed to be 15% Ag
2
S/BiFeO
3
with an Ag
2
S mass fraction of 15%. Furthermore, the addition of H
2
O
2
can further enhance the dye degradation efficiency, which is due to the synergistic effects of photo- and Fenton catalysis. The results of photoelectrochemical and photoluminescence measurements suggest a greater separation of the photoexcited electron/hole pairs in the Ag
2
S/BiFeO
3
composites. According to the active species trapping experiments, the photocatalytic and photo-Fenton catalytic mechanisms of the Ag
2
S/BiFeO
3
composites were proposed and discussed.
View Full-Text
►

▼

Figures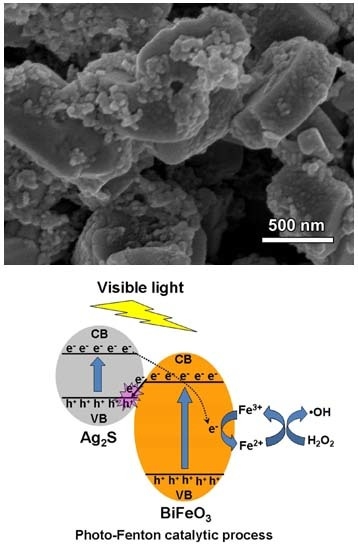 Graphical abstract
This is an open access article distributed under the
Creative Commons Attribution License
which permits unrestricted use, distribution, and reproduction in any medium, provided the original work is properly cited (CC BY 4.0).

Share & Cite This Article
MDPI and ACS Style
Di, L.; Yang, H.; Xian, T.; Liu, X.; Chen, X. Photocatalytic and Photo-Fenton Catalytic Degradation Activities of Z-Scheme Ag2S/BiFeO3 Heterojunction Composites under Visible-Light Irradiation. Nanomaterials 2019, 9, 399.
Note that from the first issue of 2016, MDPI journals use article numbers instead of page numbers. See further details here.
Related Articles
Comments
[Return to top]