Wave-Induced Seabed Response around a Dumbbell Cofferdam in Non-Homogeneous Anisotropic Seabed
1
Department of Bridge Engineering, School of Civil Engineering, Southwest Jiaotong University, Chengdu 610031, China
2
School of Engineering & Built Environments, Griffith University Gold Coast Campus, QLD 4222, Australia
3
Department of Civil Engineering, Shanghai Jiao Tong University, Shanghai 200240, China
*
Author to whom correspondence should be addressed.
†
These authors contributed equally to this work.
Received: 25 May 2019 / Revised: 9 June 2019 / Accepted: 13 June 2019 / Published: 19 June 2019
Abstract
Cofferdams are frequently used to assist in the construction of offshore structures that are built on a natural non-homogeneous anisotropic seabed. In this study, a three-dimensional (3D) integrated numerical model consisting of a wave submodel and seabed submodel was adopted to investigate the wave–structure–seabed interaction. Reynolds-Averaged Navier–Stokes (RANS) equations were employed to simulate the wave-induced fluid motion and Biot's poroelastic theory was adopted to control the wave-induced seabed response. The present model was validated with available laboratory experimental data and previous analytical results. The hydrodynamic process and seabed response around the dumbbell cofferdam are discussed in detail, with particular attention paid to the influence of the depth functions of the permeability
and shear modulus
. Numerical results indicate that to avoid the misestimation of the liquefaction depth, a steady-state analysis should be carried out prior to the transient seabed response analysis to first determine the equilibrium state caused by seabed consolidation. The depth function
markedly affects the vertical distribution of the pore pressure and the seabed liquefaction around the dumbbell cofferdam. The depth function
has a mild effect on the vertical distribution of the pore pressure within a coarse sand seabed, with the influence concentrated in the range defined by 0.1 times the seabed thickness above and below the embedded depth. The depth function
has little effect on seabed liquefaction. In addition, the traditional assumption that treats the seabed parameters as constants may result in the overestimation of the seabed liquefaction depth and the liquefaction area around the cofferdam will be miscalculated if consolidation is not considered. Moreover, parametric studies reveal that the shear modulus at the seabed surface
has a significant influence on the vertical distribution of the pore pressure. However, the effect of the permeability at the seabed surface
on the vertical distribution of the pore pressure is mainly concentrated on the seabed above the embedded depth in front and to the side of the cofferdam. Furthermore, the amplitude of pore pressure decreases as Poisson's ratio
increases.
View Full-Text
►

▼

Figures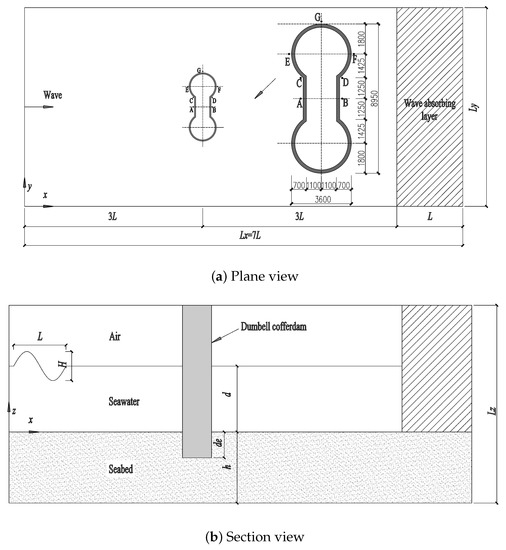 Figure 1
This is an open access article distributed under the
Creative Commons Attribution License
which permits unrestricted use, distribution, and reproduction in any medium, provided the original work is properly cited (CC BY 4.0).

Share & Cite This Article
MDPI and ACS Style
Chen, L.; Jeng, D.-S.; Liao, C.; Tong, D. Wave-Induced Seabed Response around a Dumbbell Cofferdam in Non-Homogeneous Anisotropic Seabed. J. Mar. Sci. Eng. 2019, 7, 189.
Note that from the first issue of 2016, MDPI journals use article numbers instead of page numbers. See further details here.
Related Articles
Comments
[Return to top]